ALVARADO — The Alvarado Indians face their toughest test of the season against No. 8 Brownwood in a Class 4A Division I Region II area playoff game Friday in Denton.
Alvarado (9-2) won its ninth consecutive game in last week's 35-28 bi-district victory over Paris while Brownwood (10-1) stomped Castleberry, 61-14, in its playoff opener.
Alvarado coach Jeff Dixon was straightforward in the challenge that comes with facing the state-ranked Lions.
"Brownwood will be the best team we've seen to date," Dixon said. "Their record is what it is for a reason. They've lost only one to Waco La Vega, who's the defending state champion. They're averaging close to 40 points a ball game and giving up a little over 10 points a ball game."
Aside from a 31-14 loss to No. 3 La Vega on Nov. 1, Brownwood has out-scored its other 10 opponents this year by a combined 402-82.
The Lions average 37.8 points per game on offense and allow just 10.3 points per game on defense, including four shutouts this season.
"Offensively, they are explosive," Dixon said. "They've got one young man, No. 12 A.J. McCarty, that is probably their best athlete. He's their best player. ... He is a threat. But they also have Zach Strong, who is 6-foot-5 and 210 pounds as a receiver. He's a threat. They also have No. 2, Isaiah Campos, who runs very, very well. He's a threat. Another receiver, No. 7 Royshad Henderson, is a threat.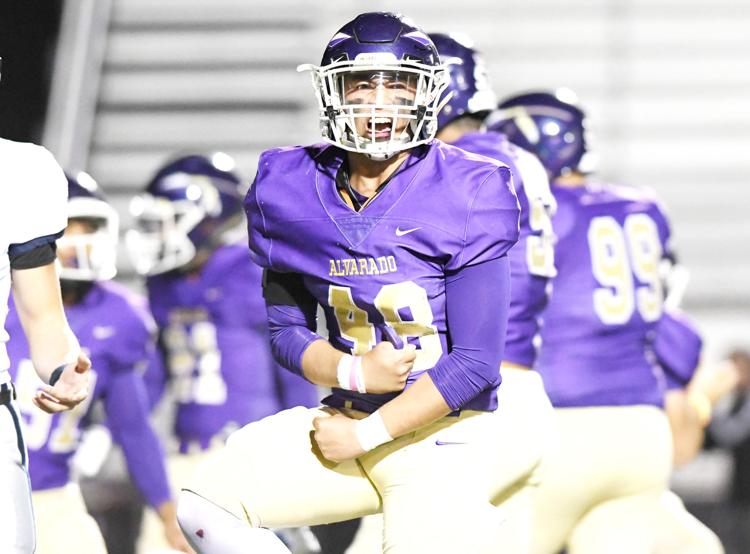 "Their running back, No. 20 Reece Rodgers, is elusive and faster than you think. And their quarterback, No. 6 Drew Huff, is a dual-threat. He throws and runs well. So they have weapons at every scoring position there is offensively. They score a lot of points."
Huff has completed 63 percent of his passes for 1,798 yards with 17 touchdowns against only two interceptions. Huff also has 643 rushing yards and eight touchdowns on 78 carries. Rodgers has rushed for 1,559 yards and 25 touchdowns on 192 carries. And McCarty, a Baylor commit and state triple jump champion, has 38 receptions for 964 yards (25.4 yards per catch) and nine touchdowns. As a team, the Lions average 20.7 yards per reception.
While Alvarado's defense has been rock solid since its first two outings, Friday will be a huge challenge for the Indians' defensive unit that is surrendering 20 points per game. To help the defense out, Dixon said the Alvarado offense has to control the ball.
"They pose a challenge in every area offensively," Dixon said. "So what we have to do is keep them on the sideline. We'll make plays and I feel we'll apply pressure because our defensive front is our strength. So I feel we'll apply pressure, but if they get many opportunities, they'll make plays. The best thing we can do is get first downs on offense and keep their offense on the sideline."
As impressive as Brownwood's offense has been, the Lions' defense has dominated in its own right, led by linebackers Rowdee Gregory and Cooper Swanzy.
"Their linebacker play and safety play leads the way," Dixon said. "Their bell cow on defense is No. 5 Rowdee Gregory, and he is a returning all-district guy out of a tough, tough district. He's by far their best defensive player. He makes a lot of plays. Their other inside backer, No. 26 Cooper Swanzy, is there, too, and they both run well and make plays."
Several of the Lions' go-to weapons on offense also play on the defensive side of the ball, so Alvarado will have to deal with the elite playmaking ability by those specific players all night.
"They're a 3-4 defense, and those same athletes on offense play on defense, too," Dixon said. "McCarty, who is their best offensive player, also plays corner, and [Henderson and Strong] also start on defense in the secondary, so they don't ever leave the field. They're athletic on the back end and their linebacker corps is also solid. I think that's probably the strength of their defense. Up front, Theo Bryant is the biggest young man they have. He's 6-foot-3, 285 pounds. He plays both ways. Other than that, they're just sound in what they do and play well."
On the other side of that coin, if the Indians can possess the ball on offense, Dixon said they hope to wear down some of Brownwood's two-way players.
"They play a lot of kids both ways and we don't," he said. "So that needs to be in our favor in the fourth quarter. If we're getting first downs throughout the game, it will wear on them a bit, which will affect them offensively as well."
If Alvarado's big key to slowing down Brownwood's offense is to control the ball with its own offense, the Indians have a great option in senior running back Colby Sampson, who has 2,373 rushing yards and 25 touchdowns on 311 carries — the definition of a workhorse.
"It's going to be another rugged night for us," Dixon said. "We'll have to be content with four- to six-yard gains. Colby's a workhorse and he's up to it. He's in good shape. Physically, he's recovered, and it's amazing how quickly he does. He's had a good week. I feel like he will have a big ball game. And Isaiah Hernandez, our fullback, continues to take a little off of him."
Dixon said they can't commit self-inflicted mistakes offensively that will put them behind the chains.
"We can't make many mistakes," Dixon said. "If a three-and-out happens, it happens. But it doesn't need to be because we fumbled a snap or jumped offside and moved back five yards or have an unnecessary holding penalty. It's going to be tough enough to get first downs, so we don't need to stop ourselves. To win games like this, you need to play mistake-free football. It's going to take that to beat a caliber of team like Brownwood."
In last week's 35-28 win over Paris, the Indians gave up a couple of big returns on special teams, and Dixon said that has to improve moving forward.
"We've got to play better in special teams," Dixon said. "We've worked on that. We've addressed some issues. We've made a couple changes to try to help us in that area. It would be a shame if that phase of our game costs us an opportunity to advance. Special teams is critical."
Both teams have been solid in the turnover battle all season — Alvarado is plus-17 in the turnover margin while Brownwood is plus-14 — so if either team manages to find an edge in that area, they may have the upper hand.
Kickoff between the Indians and Lions is scheduled for 7:30 p.m. Friday from UNT's Apogee Stadium in Denton.
The winner of Alvarado vs. Brownwood will advance to the regional round against the winner of No. 1 Argyle and Stephenville.