DENTON — In a thrilling Texas high school football playoff game, the Alvarado Indians overcame a 27-point deficit to take a 35-34 lead before No. 8 Brownwood kicked a late field goal for a 37-35 win Friday at UNT's Apogee Stadium in the Class 4A Division I area playoffs.
The Indians (9-3) fell behind 27-0 late in the first half and were down 34-7 with under 4 minutes left in the third before Alvarado came roaring back with 28 unanswered points.
Even in bitter defeat, Alvarado coach Jeff Dixon said he couldn't have been more proud of the character and resilience his players showed.
"They don't ever give up," Dixon said. "I'm just proud of them. I don't know what else to say about it. They've done this before a couple years ago against Kennedale. We came back and scored 34 points in the fourth quarter. They just don't give up. We preach about not watching the scoreboard and just keep playing, and that's what they did and it gave us a chance to win. I'm proud of them."
Alvarado came through clutch on a number of plays in the second half, including a 35-yard touchdown run by fullback Isaiah Hernandez on fourth-and-10 to cut the lead down to 34-28 with 5:47 left, as well as a 62-yard pass from Josh Syrus to Jake McCullough on fourth-and-7 to set up Colby Sampson's go-ahead two-yard touchdown run with 1:33 left.
But Brownwood (11-1) went 47 yards in 59 seconds, aided by a defensive pass interference penalty and a 17-yard scramble by quarterback Andrew Huff, to set up a 34-yard field goal by Zach Strong with 28 seconds left that proved to be the winner.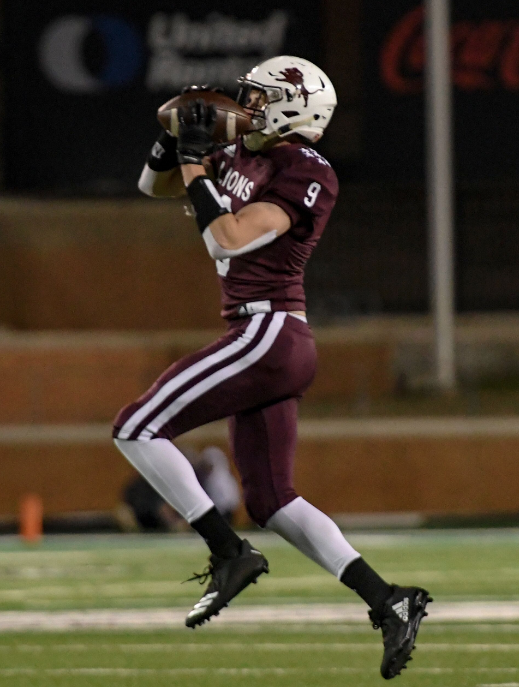 Alvarado's desperation throw from midfield was intercepted by Brownwood's Landon Harris as the Lions survived.
Facing a 27-0 deficit after Reece Rodgers scored on a four-yard run — his third TD of the opening half — with 29 seconds left in the second quarter, the Indians found some momentum in the closing seconds of the half.
Syrus threw to Cale Svendsen for a 16-yard gain, then Svendsen pitched to Hernandez on the hook-and-ladder play, and Hernandez took it 31 yards down the sideline for a touchdown with 3 seconds left, as Alvarado trailed 27-7 at the half.
The Lions reclaimed a 27-point lead as Huff hit Strong for a 59-yard touchdown pass for a 34-7 lead with 8:37 left in the third.
Alvarado answered on its next drive as a 26-yard pass from Syrus to Ty Ford set up a one-yard Sampson touchdown run with 3:37 left in the third quarter.
Alvarado's defense then forced Brownwood into its first punt of the night, and the Indians drove inside the 10. But on fourth-and-1 from the Lions' two-yard line, Sampson was dropped for a loss of one — the only one of his 38 carries where he lost yardage — as the Indians turned it over on downs.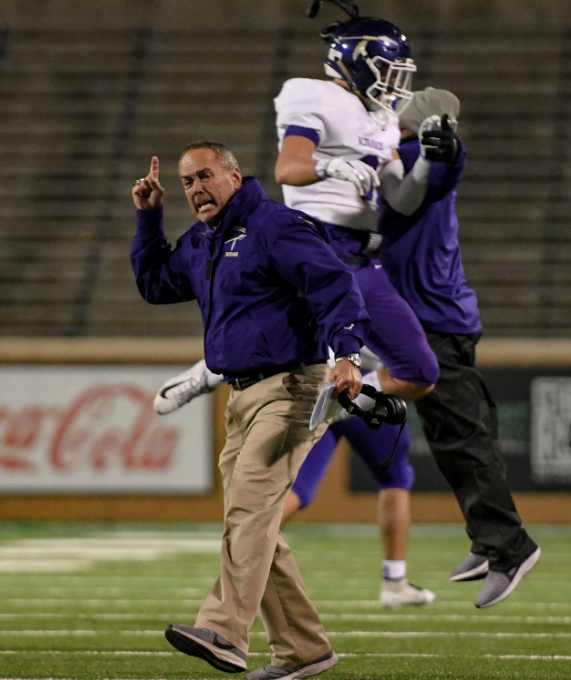 But Alvarado's defense again came through with a three-and-out and another punt. Three plays later, Syrus found a wide-open Peyton Alvey for a 25-yard touchdown pass to cut the lead to 34-21 with 7:37 left to play.
The Indians then recovered an onside kick on the ensuing kickoff, and Alvarado was in business. On fourth-and-10, Hernandez scored from 35 yards out on a fumblerooski-esque trick play to make it a one-score game at 34-28 with 5:47 remaining.
On Brownwood's next possession, Rodgers picked up 34 yards on the first play, but on third-and-8, Alvarado's T.J. Shackelford came up with a huge 10-yard sack, which forced the Lions into another punt.
After only a five-yard punt, the Indians were faced with a fourth-and-7 from their own 36 when Syrus hit McCullough on a quick slant in stride, and McCullough raced 62 yards before being tackled at the Lions' two-yard line.
After a penalty and five-yard run by Sampson, the bruising senior running back scored from two yards out, and Pedro Diera's extra point gave the Indians a 35-34 lead with 1:33 left before Strong's game-winning field goal.
Even though the Indians dug themselves a 27-0 hole in the first half, Alvarado was able to move the ball up and down the field, but a disastrous 10 seconds put the Indians in a bind.
Alvarado took the game's opening kickoff and marched 59 yards on 15 plays, eating up 7:59 off the clock. On third-and-7 from the Lions' 14, Sampson appeared to pick up a first down on a seven-yard run, but a late flag was thrown for a block in the back. Two plays later, the Indians turned the ball over on downs.
Then the Lions scored on their opening possession on a five-yard Rodgers run early in the second quarter. On the ensuing kickoff, a short kick at the Alvarado 30 bounced backward and Brownwood's Rowdee Gregory recovered.
On the next play, Huff connected with Adonis McCarty for a 35-yard touchdown pass. In a span of 10 seconds and just two offensive snaps, it went from being a scoreless game to a 14-0 deficit for Alvarado.
"That penalty hurt, and then we gave them points because of the special teams debacle, and next thing you know it's 14-0 just like that," Dixon said. "When we got down three scores, we kind of panicked a little bit. But we got some momentum back and we felt good at halftime because we knew we could move the football."
Sampson finished his brilliant senior season with 170 rushing yards and two touchdowns on 38 carries.
Syrus showed great poise in being forced to pass more than usual facing a big deficit as the senior quarterback completed 10-of-22 passes for 212 yards with two touchdowns and two interceptions, and he also played every snap defensively at cornerback.
"He played every snap, offense and defense," Dixon said. "He left it all out there. He's a kid with phenomenal character. I don't know if I've ever seen a young man play the kind of game he did tonight. He left every ounce on the field."
Hernandez had 59 rushing yards and a touchdown on five carries to go along with the 31-yard touchdown on the hook-and-ladder play.
Alvarado out-gained Brownwood in total yardage, 447 to 385.
Dixon said the Indians' senior class, which brought the program its first district title since 2011, will be missed.
"They mean a lot to me and to this program," Dixon said. "You build your program around guys like that. We had strong leadership from within this year, we really did."
Brownwood advances to the third round of the playoffs where it will face No. 1 Argyle.