ALVARADO — In four of the previous six seasons, Alvarado has fallen one game short of a district title. The Indians can claim their first district championship since 2011 with a win Friday over Dallas Wilmer-Hutchins.
It was the same scenario for Alvarado a year ago — beat Wilmer-Hutchins for the District 8-4A Division I championship, but the Eagles took advantage of multiple Alvarado turnovers for a 42-35 upset win.
"The kids have been looking forward to it for a year," Alvarado coach Jeff Dixon said. "We just didn't close the deal a year ago. They're thrilled to have an opportunity to win a district championship at home. We're pretty excited about it."
In 2016, Alvarado lost to Midlothian Heritage, 17-14, to finish one game shy of a district title. In 2015, Alvarado lost to Kennedale, 56-21, to finish a game short of a district championship. And in 2013, the Indians fell to Stephenville, 41-7, to — you guessed it — finish one game shy of a district title.
But now's the time for the Indians to secure their first district title since 2011, a special season for Alvarado which reached the Class 3A state title game.
"This is a pretty special group," Dixon said. "The leadership is solid. I just think it would be a great reward for the work and commitment and the buy-in. These seniors and this team bleeds purple and gold. For them to be able to be a part of that history [by winning a district title], I know they would be excited about that."
Dixon said he expects the Indians to have learned a lesson from last year's disappointing loss to Wilmer-Hutchins as they watched the district title slip away from their grasp.
"We had too many turnovers," Dixon said. "They played a good ball game but we certainly helped them. We gave up a two-touchdown lead at halftime. You can't give gifts, and we did.
"You can't turn the ball over and win big ball games. We've been creating more turnovers and winning ball games this season. If anything, I think our kids have learned that. You can't make mistakes against good teams and expect to win."
The Indians (6-2, 4-0) have steamrolled district opposition so far this season, out-scoring their first four league foes by a combined 193-27. 
Wilmer-Hutchins (5-3) enters Friday's showdown with a 3-1 record in district play, having dropped a district game vs. Carrollton Ranchview, 34-33, on Oct. 12. But the Eagles can still secure at least a share of the district title by beating Alvarado and Dallas Hillcrest over the final two weeks.
Wilmer-Hutchins started the season slow as starting quarterback Kyle Douglas, Jr. — the preseason favorite for district MVP — missed games recovering from an injury. But since he's returned, the Eagles have gone 3-1.
"He played a year ago and he's a top recruit," Dixon said. "He had been injured; he didn't play their first three or four ball games. The first game he played this year was against Ranchview. He's a difference-maker. Their record is not indicative of the kind of team they have. Without him, they're very average but with him they're above average. He made the difference last year; he had a great game against us a year ago."
Douglas completed 29-of-41 passes for 369 yards and four touchdowns in Hutchins' win over Alvarado last season.
"We've got to cover better," Dixon said. "We didn't cover very good a year ago. We allowed them to throw five-yard flat routes and high-percentage passes up and down the field. We've got to do better than that, and I believe we will. We'll apply pressure on him, and I think the heat we apply will cause him to have to throw in a hurry, which will benefit us."
Jalin Moore, who caught a TD pass vs. Alvarado to tie the game last year, is Douglas' go-to threat in the passing game this season with 648 receiving yards and 10 touchdowns on 21 catches.
"They've got several receivers who are athletic but he's the guy they go to," Dixon said. "He's a good ball player and they try to get the ball to him."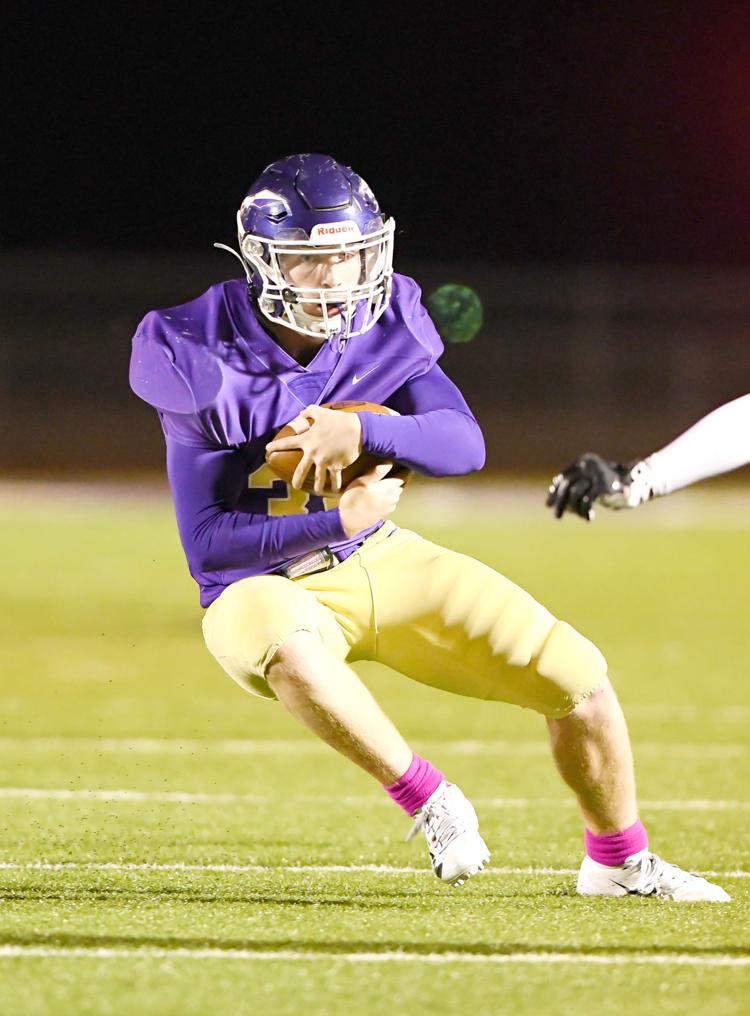 As always, Alvarado's offense will look to grind out tough yards and win the time of possession battle to play keep away from Douglas and the Eagles' offense. While the Indians have run the ball at will against everyone they've lined up against so far this season, Hutchins' defensive front presents a unique challenge.
"Their quickness is impressive," Dixon said. "They're big in some areas but more than anything their front people are just fast. They'll slip between a gap in a hurry, which can cause issues. They created those turnovers a year ago because of their speed. We have to make sure we're gap sound and be sound with our technique and steps to prevent those kinds of things from happening."
Alvarado senior running back Colby Sampson enters the game with 1,761 rushing yards and 18 touchdowns on 219 carries — and that includes hardly playing in the second half of four district games.
Dixon said he hopes Friday night's final home game at Charles Head Stadium is a memorable experience.
"I think it will be a great atmosphere," the Indians' 15-year head coach said. "It's senior night, last home game, and this is for a district championship. I expect it to be high energy. I'm looking forward to our kids playing well. I think they're playing confident right now and I think they'll be just fine."
Kickoff is scheduled for 7:30 p.m. Friday.