ALVARADO — After dominating District 8-4A Division I by capturing an undefeated district title, the Alvarado Indians lead the way in all-district voting with 21 selections across superlative honors and first- and second-team accolades, including league MVP.
Alvarado senior running back Colby Sampson was a unanimous selection for MVP after rushing for 1,104 yards and scoring 14 touchdowns in just six league games to lead the Indians to their first district championship since 2011.
Sampson had his best performances in league play — all 200-yard games — against the other three playoff teams from the district in Carrollton Ranchview, Dallas Carter and Dallas Wilmer-Hutchins. In blowout wins over North Dallas, Hillcrest, and Pinkston, Sampson rushed for an average of 136 yards per game in the first half alone.
"Very deserving," Alvarado head coach Jeff Dixon said. "He was, by far, the standout in the district. He is a very humble guy. It was never about him. To see him get some recognition was great for him but also great for our program and our school.
"I guess what really made him stand out was his durability. He really got stronger as the game went. By the end of the third quarter, teams didn't want to tackle him. One week he'd run for 40 carries and you think you've got to take it easy on him, but he'd say the next week that he's good to go. He's not very big but he's strong and a physical runner. That part was impressive."
Sampson finished the 2019 season with 2,543 rushing yards and 27 touchdowns on 349 carries.
Joining Sampson as an all-district superlative recipient is senior Kody Price, who was a unanimous choice for offensive lineman of the year.
"That young man is a true picture of a 'program ball player' for Alvarado," Dixon said. "His work ethic and paying attention to detail was impressive. He's extremely smart. He separated himself. It was a phenomenal year for him. He's a true technician. He has physicality, leadership and work ethic. It was unbelievable what he was able to do."
The Indians' final superlative award is coaching staff of the year, which Dixon said is a true staff honor and not just an individual award.
"I'm kind of biased, but I don't feel like there's anybody in our district that outworked our staff," Dixon said. "I feel like they are deserving of that honor every year. I was thrilled to see that they recognized our staff, from offense to defense to special teams — everybody.
"I could read all their names, but coach [Scott] Svendsen, our offensive coordinator and QB coach, and coach Jason Davis, our defensive coordinator who joined our staff late last year — under their leadership, our coaches thrive and respond and I'm thrilled for them. I think all of our coaches had a great year and we won a lot of ball games that people didn't think we could, and it's because of them."
To go along with the three superlative awards, Alvarado received eight selections on the first-team offense and four selections on the first-team defense.
A fitting tribute that reflects on what Alvarado football is all about is that six offensive linemen garnered all-district honors. In addition to Price's superlative award, senior center Jarett Watson, senior guard Christiam Jimenez, senior tackle Zach London, and junior guard Bradley Cappers received first-team accolades while junior guard Jayson Watson was a second-team nod.
"Every position is important, but with what we do the backbone of Alvarado football are the guys in the trenches," Dixon said. "They never really get the recognition and they don't score the touchdowns, but without them we can't run the kind of scheme we feel like we have to run to win championships. They're workhorses. To have all five of your starters receive first-team, and then we had Jayson Watson make second team, that's just great. All six deserved it."
Dixon said in addition to those six players, he's equally proud for the other back-ups, who served key roles in practice.
"Even those who didn't play much and didn't receive all-district honors, you have to see how those guys practiced for us," Dixon said. "They served our defense ... running opponents' plays. Those guys never skipped a beat. They were all pretty impressive. It's a credit to our coaches and system and what we do. Coach [Jeff] Stockton and coach Aaron Estes did a phenomenal job. Can't say enough about them."
Joining the offensive line as typically under-appreciated positions, Alvarado senior Peyton Alvey at tight end and senior Isaiah Hernandez fullback each received first-team honors.
"There's two guys that are critical in our offense," Dixon said. "You would think it would be our running back, but it really isn't. It's the fullback and tight end in our scheme that really pave the way for the success of our offense. It was one of the better offensive years we've ever had. And those two guys exceeded expectations. ... There wasn't a better fullback or tight end in the state as far as I'm concerned than those two guys."
Rounding out Alvarado's first-team selections on offense are senior quarterback Josh Syrus and senior kicker Pedro Diera.
"The coaches recognize that kind of leadership [Josh has] is special," Dixon said. "It isn't always about yards or completions; it's about running a huddle and managing a team. He was a coach on the field. We would give Josh options and he would pick out of those options as far as what play to run. He was a definite coach on the field. His presence will probably be missed as much of anybody's because of that.
"Coach Svendsen compares him to Joe Montana in that he has ice in his veins. We could be winning by three touchdowns or losing by three, and he's the same, and that's what's impressive about him."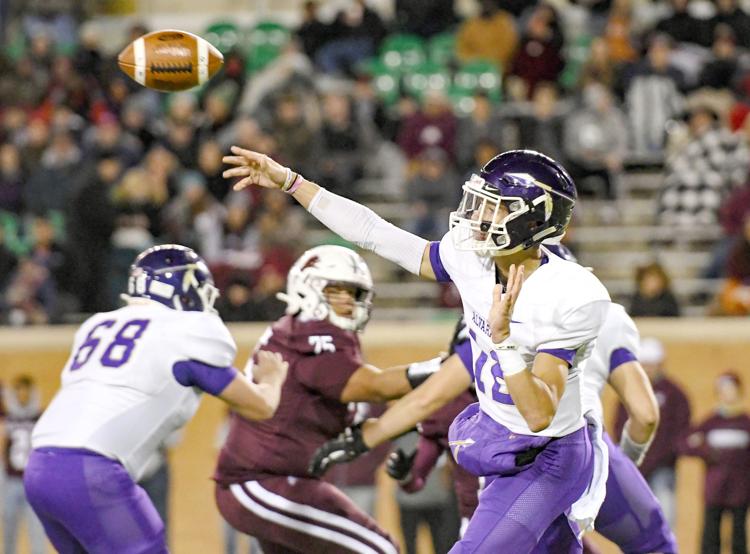 Syrus threw for 433 yards with seven touchdowns and one interception to go along with two rushing touchdowns in district action. Diera was a consistently reliable kicker for the Indians as he scored 44 points on extra points and field goals in six district games.
Leading Alvarado's defensive selections are first-team recipients in senior lineman T.J. Shackelford, senior linebacker Alex Rodriguez, senior cornerback Mason Caruthers, and Alvey at punter.
Rodriguez finished with 53 tackles in six district games, including 18 in a win over Dallas Carter, as the Indians' leader at middle linebacker.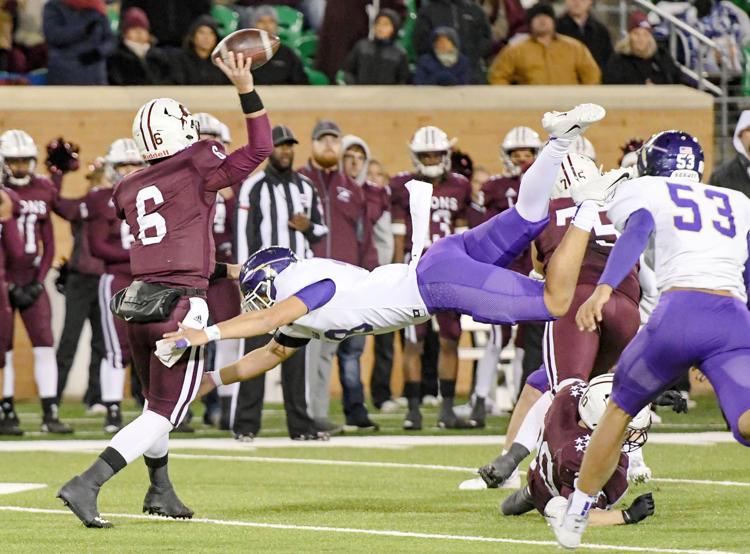 "Alex Rodriguez played a year ago and people knew he was a good ball player," Dixon said. "We had a new defensive staff and scheme, and without the leadership from within, especially Alex, they don't respond. Alex was the bell cow and he was first to buy into our new scheme, and the team followed. He had a lot of tackles and he's deserving of first-team honors in a district with some pretty good linebackers."
Shackelford burst onto the scene after making a position change and he went on to register an impressive 13 sacks in six district contests.
"Every year, you have a guy who steps up and fills the void of those who graduated," Dixon said. "Entering the season, we didn't know who that would be on the defensive front. T.J. started his career in the secondary then moved to outside linebacker for a while then played defensive tackle and defensive end this year. That's a picture of a guy that says, 'Whatever it takes to help the team, I'll do it.' He did that and he shined.
"Teams couldn't block him. He deserved a superlative, to be honest. Nobody blocked him all year and his effort was unbelievable. His number of sacks were among the top in the state. I'm proud of what he did for us this year, it was pretty amazing."
Caruthers was key for the Indians' secondary with four passes defensed and an interception to go along with 14 tackles.
"Mason is one of our finer athletes in the program," Dixon said. "He's very talented. At one time he was a running back for us and a couple years ago he moved to defense for the betterment of the program. We put him on everybody's best receiver when we played man-to-man. Our district had quality receivers and he shut them down. I think he's good enough to play on Saturdays."
And Alvey's first-team nod at punter gave him a rare double-selection as a first-teamer on offense and defense. Dixon said his punting was valuable for the Indians as Alvey averaged 35.2 net yards per punt.
"We didn't have to punt a lot but when we did he stepped up and he had the best leg in the district," Dixon said. "For us to win, it's ball control and field position. We want to play the percentages — it isn't about scoring every possession, but it's about getting first downs. If we get two or three first downs and they stop us, then we punt the football and make them go 85 yards or more. And he was able to do that consistently. He's a conventional punter that could boom it."
Garnering second-team honors for the Indians on defense are senior defensive lineman Jonathan Canales-King, sophomore defensive lineman Kolby Koonce, junior linebacker Brayson Fuller, junior cornerback Hagan Magee, and senior safety Brey Isclaw.
Dixon said he was pleased with the Indians' selections in all-district voting but felt like senior wide receivers Jacob McCullough and Cale Svendsen should've made the cut.
"You want your kids to be recognized but it's tough because we're kind of the lone wolf in that Dallas ISD district," Dixon said. "It's a democratic way of determining all-district, and you never know how it will go. They got it right mostly. However, I feel like they did miss in one area, but that's just the nature of it.
"Offensively, we had every starter with the exception of our two receivers receive all-district first-team honors. I thought that was not indicative of their play. I think any team in our district would love a Jake McCullough and a Cale Svendsen to be on their team. Those guys caught everything. We just happen to run a scheme where we may throw 10 times a game and they throw 50. They didn't accumulate the stats that may warrant all-district selections. That was the only disappointing piece was those two guys were left off but they understand."
McCullough and Svendsen received honorable mention, along with linebacker Jason Boulton, tight end Israel Torres, and defensive linemen Brendyn Jarmon, Cesar Reyes, and Chris Orenday.