BLUM — The Bobcats have already made school history by reaching the program's first-ever football state championship game, but Blum isn't satisfied with that — the Bobcats are only interested in being the first group to win the state title and return home with the championship hardware.
Riding a 12-game winning streak, Blum (12-2) is scheduled to face McLean (13-1) at 11 a.m. Wednesday at AT&T Stadium in the Class 1A Six-Man Division I state championship game.
After last week's 52-30 win over Jonesboro in the state semifinals, Blum head coach Cooper Thornhill said there wasn't a lot of celebrating going on as the Bobcats are focused on what's next.
"Our goal at the first of the year was to win a state championship," Thornhill said. "We told them we wanted to be excited that we won that ball game, but our goal is to win state. We're not going to be satisfied with just getting there. It's something to be proud of but they deserve to win one with as hard as they've worked and the effort they've put in. With the athletes we have, it's in our grasp to win it, so that's what we expect of them and that's what they expect of themselves. The standard we set is not accomplished yet."
Blum's playoff run has been a bit of a revenge tour — the Bobcats beat Union Hill in the second round after having their season end vs. Union Hill in last year's playoffs, then Blum avenged a week 2 loss to Jonesboro, and now the Bobcats have another shot at redemption by facing a McLean team that beat them 65-38 on Aug. 31.
"McLean beat us the first game of year and now we get a chance to beat them in the last game of the year and finish it off right," Thornhill said.
Blum has overcome plenty of adversity this season, including an 0-2 start and a number of key injuries.
"We had high expectations entering the season, but then to start off 0-2, it's a wonder I'm still the coach," Thornhill joked. "It was not fun for seven days. But we had lots of injuries. Our starting tailback was out, our starting quarterback had two fractured vertebras. It was not looking good."
Those early-season injuries forced Blum to play a few underclassmen in new roles.
"During that time, we had to put two freshmen and a sophomore in starting spots, and nobody wants to do that," Thornhill said. "We were down to our third-string QB, freshman William Young, and we also had a freshman center for four games and a sophomore offensive end. We never even had them on the depth chart, they were JV kids.
"We didn't have any other options. But they all got it figured it out real quick and were eager to learn. They've earned starting spots. We've been able to move some seniors around in key other spots that has made our team a lot better."
After Blum's tough start to the 2019 season, where the Bobcats lost their first two games by a combined 41 points, Thornhill's wife — who has battled cancer three different times in the past few years — showed him a photo. And that photo wound up being what the Bobcats rallied around.
"My wife showed me this picture of a little 3-year-old boy who has leukemia and he's on the toilet throwing up," Thornhill said. "And his 4-year old sister is there patting him on his back. I really took that to heart. We sat in our locker room and I showed that picture to our boys, and told them this is real life. This 4-year-old girl is patting him on the back and being there for him. Nobody coached her to do that. She did it because it was true family."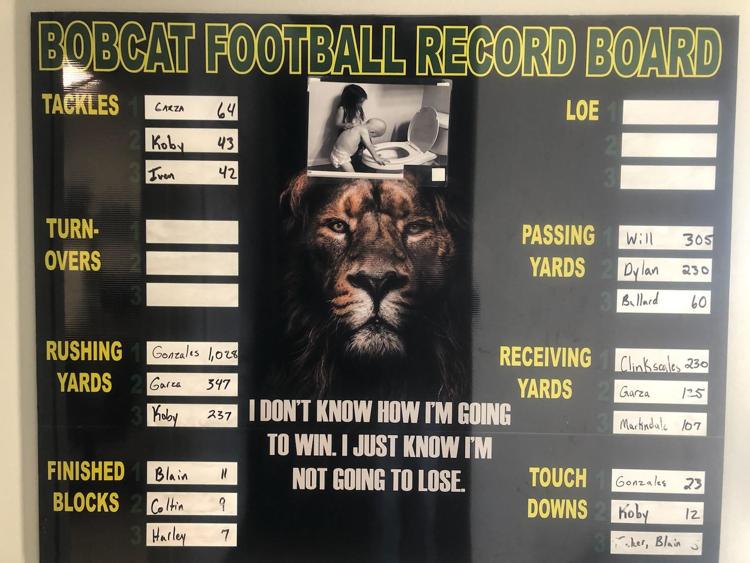 Thornill explained how that image helped transform Blum into a true team, and how it also gave the Bobcats more to play for on and off the field.
"We've got a locker room full of 14- to 18-year-old boys who have every opportunity to be a family instead of being selfish," he said. "I put that picture in our locker room, and our kids see it every day. 
"It's on our record board, which says 'I don't know how I'm going to win, I just know I'm not going to lose.' That was our football slogan, but I called that boy's mom and told her, 'There's lots of people thinking about you. This is the slogan we have, and it's for you, too. Your little boy doesn't know how to win, but we know he's not going to lose to cancer.' From that point forward, it changed to being a family for us. That was the difference in the turning point in our season."
After Blum senior quarterback Dylan Vardeman, a four-year starter, suffered an injury on the fifth play of their first game of the season, he was out for nine weeks. But what Vardeman did during those nine weeks was a huge example of selflessness and leadership for the team.
"He never missed a practice," Thornhill said. "Most kids that are injured, they sulk and feel sorry about things. But he was our leader and he never missed a practice or Saturday film for nine weeks. That's the difference in this team is our senior leadership is unreal from guys like Dylan Vardeman and Blain Garza."
Having overcome adversity early on, the Bobcats have been a well-oiled machine since, winning their playoff games by an average of 28.5 points per game. But now they face a tough McLean team with everything on the line.
"It's going to be an unreal game and atmosphere," Thornhill said. "You're going to get the best effort from both sides. We went down there and they beat us, but it was a 68-42 ball game, and our dynamic is completely different now. This group really plays for each other. They play for more than themselves. That's how you get to a state championship. 
"You'll see the two best running backs in the state. [Ben] Crockett from McLean had 500 yards rushing last week. Our running back, Coltin Gonzales, rushes about 25 times a night but he's averaging about 13 yards per carry. You're going to see two polar opposite teams. You're going to see one that's 95 percent run and we're about 60-40. We're more balanced. But they're the most physical and powerful team in Texas. We've got great team speed and fairly good physicality. They don't have great speed but unreal physicality."
Thornhill said he likes Blum's chances if they're able to establish their run game early and put pressure on McLean's run game.
"We need to establish our running game early and catch them trying to stop it," Thornhill said. "Once they start bringing more pressure to stop the run, we'll put the ball in the air. So we need to establish the run game to set them up and then get behind them. 
"Defensively, we've got to pressure to stop their run game. We have to tackle in the open field. We won't be able to match their physicality, but our speed will get more numbers in the backfield. We'll be able to generate more pressure due to our athletic ability in space."
Gonzales has 2,163 rushing yards and 39 touchdowns in 13 games this season. Koby Clinkscales has rushed for 492 yards and 10 touchdowns on just 39 carries. And Garza has rushed for 467 yards and six touchdowns on 46 carries. Garza also leads Blum defensively with 83 tackles on the season with two fumble recoveries and three sacks.
While state championships in any place and in any sport are vastly important for a community, that may go tenfold for Blum.
"Dylan Vardeman's grandfather, David Stuart, played on the first football team at Blum 50 years ago this year," Thornhill said. "This means a lot to people like him. Blum's never made it here. He attends every cross country meet, every football game, every volleyball game, every athletic event. He told me he's been waiting for this for 50 years. He asked, 'You know how many thousands of games I've been watching?' He said he wants to see Blum football win state before he dies, and now he has a chance for his grandkid to be a senior on this team. That's how important it is to the community."
In the past couple of weeks, Thornhill said he's had some Blum residents and fans a little upset with him about something.
"Before the playoffs, we ordered probably 200 or so playoff shirts," he said. "And I've gotten hundreds of phone calls and emails from people wanting us to order more of those shirts since we ran out. But I've told everyone no; if we win it, I'll order another one. I really do think we'll win it."