KEENE — Tuesday saw a shuffling of the coaching deck in Johnson County as longtime Keene Head Coach and Athletic Director Jason Hill was named head boys basketball coach at Godley High School.
Hill's career with Keene ISD spanned 21 years, including 18 seasons as the Chargers' head basketball coach and 16 years as Keene's athletic director.
"It is with sadness and yet excitement that Keene ISD announces that Keene Athletic Director Jason Hill is going to Godley as their new boys basketball coach," Keene ISD Superintendent Ricky Stephens said in a Facebook Live press conference. "Coach Hill has been a major part of so many great moments in Keene athletics the past 20 years that it is hard to imagine a Charger game without him. His devotion to the student-athletes and his willingness to bleed blue is greatly appreciated. Keene ISD and I personally wish Coach Hill good luck as he starts this new adventure. We will miss you and your family immensely."
This past season, Hill won the 300th game of his head coaching career, with all 300 victories coming in Keene. In his 18 years as a head coach, Hill led the Chargers to the playoffs 13 times, including a trip to the regional semifinals in 2006.
Hill said the decision to leave Keene was a tough one, but that decision to join the staff at Godley was primarily family-driven. Hill's wife, Ammie Hill, is a principal at Godley ISD while their three kids attend Godley schools.
"My wife is a principal at the fifth- and sixth-grade campus and all my kids are there," Hill said. "That's pretty much what sparked the move. I know a lot of people at Godley. The fact she's there and my kids are there, it's appeasing to get our family all at the same school district.
"I've had the opportunity to compete against Godley for years. I feel like they've had a good basketball tradition in the past. I kind of want to get in there and try to re-establish that. I've always respected the kids and families and fans in Godley as well as the people on the school board."
While Hill is excited about joining the Wildcat family, he spoke extensively about how grateful he is to Keene ISD.
"I'm leaving a great family atmosphere in an amazing school district and I get an opportunity to go to another amazing school district so I'm excited about that," Hill said. "I want to thank some people who helped me get to this point. First of all, I'd like to thank Wanda Smith for giving me my first head coaching position. After that, the support of Kevin Sellers, the [former] superintendent at Keene ISD. I'd also like to thank Dr. Stephens as we've worked together the past seven years and for his support. And also Sandy Denning. I'd also like to thank all administrators I've had the opportunity to work with and thank them for their support as well as the board of trustees who gave me an opportunity to be a head basketball coach and have supported me over the years.
"I'd also like to thank the parents and the community. It's been great being at Keene and having the support of the parent base and having the community back us. It's been an amazing journey. I really want to thank the players I've had the opportunity to coach all these years and the coaches I've been able to coach with as well. It's been a great journey. I've built some great memories and I'll never forget Keene ISD."
Hill's departure from Keene ISD left three voids that needed to be filled: athletic director, head boys basketball coach and head boys cross country coach.
With prior experience as an athletic director, Keene Head Girls Basketball Coach John McFarlin was the logical choice to take over as Keene ISD's new AD.
"Coach McFarlin came back to Keene ISD four years ago and has made a tremendous impact, not only on the athletic program but more importantly in the lives of students," Stephens said. "Coach McFarlin was the athletic director at Blum ISD, where he took his team deep into the state playoffs in multiple sports, before returning to Keene. His knowledge of the inner workings of athletics, budgets and his ability to develop trust in his players, parents and peers makes him the perfect fit to lead Keene ISD athletics into the future."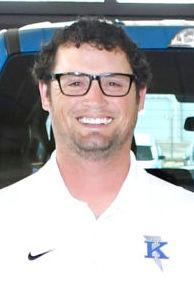 McFarlin has led the Lady Chargers to immense success, including a record-setting 2018-19 season, over the past four seasons. And with four years of experience as an athletic director at Blum ISD from 2012-16, McFarlin is excited to have the opportunity to lead Keene athletics.
"I just want to say how excited I am to have this opportunity," McFarlin said. "I was hired here in 2007 by Coach Hill, so I've been fortunate to learn from him. I consider him a mentor of mine. As Dr. Stephens mentioned, I was an AD at Blum, and a lot of the stuff we did there were things that Coach Hill taught me when I worked under him. To be able to come back the last four years and work alongside him and learn from him more is invaluable to me. I'm very thankful to Coach Hill for that, and to be able to call him a good friend is icing on the cake.
"I'm excited about the opportunity to be [athletic director] here. My family loves it at Keene. I've said multiple times in the past that I want my kids to graduate from this school district and this is another step in being able to make sure that happens. We're looking forward to getting started. Coach Hill's thumbprints are going to be on this program for a long time. There's a lot of good things there and I'm looking forward to helping expand it, get out in the community and just really continue to grow this athletic program and help make this school district be as good as it possibly could be."
McFarlin's first act as Keene's athletic director was to promote Keene Assistant Coach Billy Coffin to the Chargers' head basketball coaching position. Coffin spent the last 10 years as Hill's right-hand man as Keene's assistant basketball coach.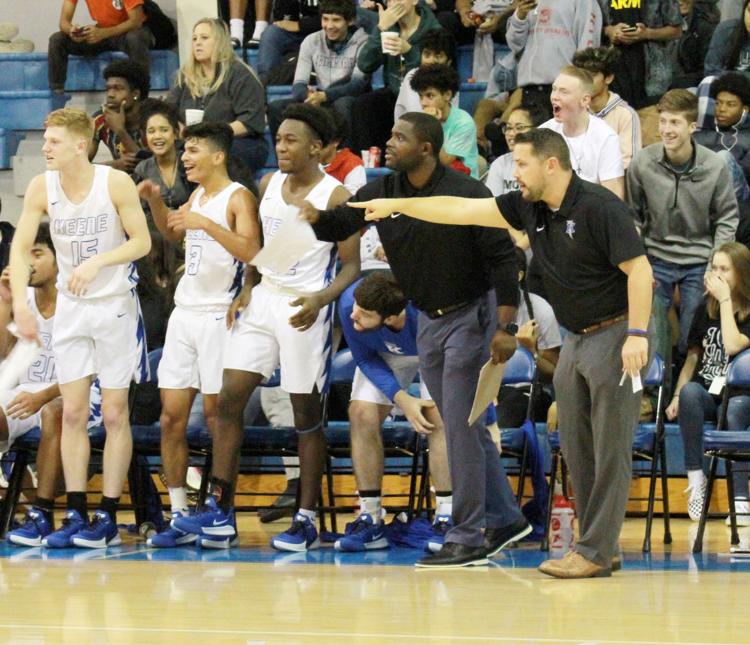 "I just wanted to say thank you to Coach Hill," Coffin said. "I've been here 10 years with him working side by side. He's been a great mentor and someone to learn from. I'm forever grateful for the opportunities he's given me. I want to say thank you to Dr. Stephens and the new AD, Coach Mac, for giving me this opportunity to be the new head basketball coach. I'm excited to see what we can do here at Keene and grow the sport and grow the community around Keene athletics."
Coffin's coaching career started as a graduate assistant at TCU in 2007 then he coached at Fort Worth Country Day in 2009 before joining Keene a year later.
"Coach Coffin has been at Keene ISD for 10 years and has been Coach Hill's right-hand man," Stephens said. "He is loved by the kids and holds them to a high standard both athletically and as young men. His dedication to KISD and his willingness to do whatever it takes to make his program the best it can be is a trait that earned him this position. We look forward to seeing the passion and drive that Coach Billy Coffin brings to Keene ISD."
Coffin, an El Paso Burges High School graduate, was awarded the Texas Association of Basketball Coaches Class 3A assistant coach of the year honor for the 2016-17 season. Coffin said what he's most excited about with his first head coaching opportunity goes beyond the X's and O's.
"I think one of the biggest things I'm looking forward to is being able to put more of my thumbprint on so many kids' lives," Coffin said. "Really one of the biggest things I want to see is these young students grow into great men who are great husbands, great fathers and great citizens. ... As far as basketball, I'm looking forward to continuing to build what Coach Hill brought to the program and sprinkle the things I've learned in and continue to teach the game.
"I'm pumped. I think Keene is a great place to be. We've got an amazing staff. Dr. Stephens' vision and what he's been able to do in his short time at Keene has been unbelievable. I'm excited to keep growing that and fulfill his vision of what we want Keene to look like down the road."
McFarlin started his coaching career with Keene from 2007-10, and when he left for Blum, Coffin was hired as his replacement. And now the two will be working together as Keene's two athletic leaders.
"I've gotten to know Coach Coffin really well," McFarlin said. "We've worked alongside each other the last few years. He's ready for a head job and he's been ready for a while. The fact we've been able to hold onto him this long was special. I'm excited for him. He's earned it. ... I know the community is happy for him and he's going to do a great job in that role."
And filling the vacancy of boys head cross country coach will be Marlon Greenswood, who has been the Chargers' head track coach the past two years. Greenswood was a member of LSU's outdoor track and field national championship team in 2002.