When I arrived in Cleburne as the Times-Review's new sports editor in July 2012, Jeff Cody was already four years into retirement after a hall-of-fame coaching career for Cleburne basketball. But that didn't stop Coach Cody from treating me like one of his own.
Not many communities or school districts are fortunate to have employed a coach who led their basketball program for 36 years to the tune of 700-plus wins, numerous playoff victories and a hall-of-fame career, but Cleburne is blessed and fortunate to claim Cody.
I don't need to list Cody's accolades — I'm sure most of you reading this are already well aware of his accomplishments — but he spent 36 years of his 45-year coaching career in Cleburne, where he won more than 700 games [for his career, Cody won more than 800 games]. He led the Yellow Jackets to the playoffs 25 times, including six regional tournament appearances, two state tournament appearances and a state runner-up. After retiring in May 2008, Cody was inducted into the Texas High School Basketball Hall of Fame in 2009.
Cody clearly knows the game of basketball and he clearly experienced immense success as a basketball coach — his résumé speaks for itself. But what makes Cody truly special is everything else on top of his legendary coaching career.
From the first time I met Coach Cody, he has treated me not only like one of his former players — which is a tremendous honor to me — but he's also treated me like family. I imagine hundreds, if not thousands, of Cleburnites have their own special Coach Cody stories or memorable interactions with the legendary coach.
On several occasions over the past eight years, Cody has invited me to lunch to spend time just catching up, where we talk about basketball and sports, but also life. He also calls me from time to time just to check in on me and my family. As much as I enjoy hearing about his incredible basketball stories, it means even more to know he cares about me on a personal level. And I'm sure the majority of his players can echo that sentiment.
On our most recent lunch get-together, I asked Cody if it would be OK for me to turn my recorder on so I could share our trip down memory lane with you, the reader. He agreed. So, sit back, relax, and enjoy some of Coach Cody's fondest memories from his coaching career.
(Parts of this conversation has been edited for brevity and clarity.)
T-R: Take me back to the beginning of your 36 years here in Cleburne. What were those first few years like?
Cody: "We came here in '72. Back then 5A was the top classification in the state. Cleburne was 5A and probably the smallest 5A school in the state. We were in there with Killeen, Temple, Bryan, the Waco schools and Corsicana. It was a pretty rough league, to say the least. Here in Cleburne, they only played eighth-grade basketball at the time. Seventh grade was intramural. I think Jerry Cunningham in '66 won a zone here and that was one of the really good teams here. But they had struggled in basketball. A good friend, Pete Hobby, helped me get in here, and I appreciate Doug Johnson, who was the head football coach and athletic director, for giving me an opportunity.
"The community stuck with me through some pretty hard times. I had some businessmen that went to work and helped me develop the Little Dribblers program. I had a lot of good friends that worked in that program. Eventually through that is how we were able to become competitive in basketball. I'll always remember those people who helped me get this thing started. I could start naming a lot of people but I'd be scared to death to forget somebody. They know who they are.
"I'm very thankful for all of those people that went to bat for me when times weren't very good. Truth be known, I might could've gotten fired. I always talk about the players involved in my program and how special they were, but I also want to say the same thing about the parents and how special they were, and our great fans we had here and all the people who worked in our Little Dribblers and summer league programs. I'm greatly indebted to all those people because they helped make this a success.
"We weathered the storm early. Because I had good people in this community, as long as I was working hard and doing right and trying to develop a program, they were going to make sure I was allowed to do what I needed. I'm so appreciative and thankful for the people who took care of me when I first came to Cleburne because they could have easily fired me after my first two or three years because we couldn't beat anybody."
T-R: When did Cleburne basketball reach that point of turning the corner?
Cody: "We really had to learn how to win here. And you have to not only learn how to win, but you have to learn how to compete first. I worry about our society today because, do we really know how to compete and know how to win in this society? Do we know how to earn something or do we just want it handed to us? The guys who played in my program worked. They knew I was in it for the long haul.
"I can think back to some of those guys who played when it was really tough. I'll never forget those guys because they laid the foundation. They took a lot of tough whippings but they fought and they played hard and they believed. Because they believed and stuck with it, that helped us get going. I'll never forget those guys that played for me those first few years when we went through that tough transition to get to the good times. With some of the heartbreaks those guys had, I wish they could've experienced the good things we did later on.
"Ricky Burnett's team in 1977-78 was the first time we finished .500 in 5A, and that was a tough league, that Arlington league. Those teams had some good players and big players. After that season, the team gave me a trophy with a basketball on it and it had all their names. The thing I remember about that — and we were dropping back to 4A the next year, which that helped — was it said on there something like, 'Champs next year.' I can't remember exactly what it said on there, but that's when things really got going for Cleburne basketball. 
"Donnie's [Cody] group, the group that graduated in '81, was the first district champions. Chris Hall's group was the first group as third graders that came all the way through, and that group went to the state tournament. I think Spike Owen and Perry Rosser and Eddie Pruitt and that group might have played Little Dribblers a couple years and they won the zone and we got beat in zone playoffs.
"I guess one of the top highlights was when Spike and Perry and that group were seniors and we won the zone. We felt like we finally made some headway. Then the next big headline was Donnie's senior year when we won the first district championship in the history of the school and made it to the regional finals. That was big. We had to win a tiebreaker playoff game. I'll never forget, with about 17 seconds left, Donnie made a steal and the score was tied. Vincent Warren hit a shot with about 5 seconds on the clock to put us up two. That was a big celebration that night because it felt like we got to the top of the hill. That hill was long and tough and steep."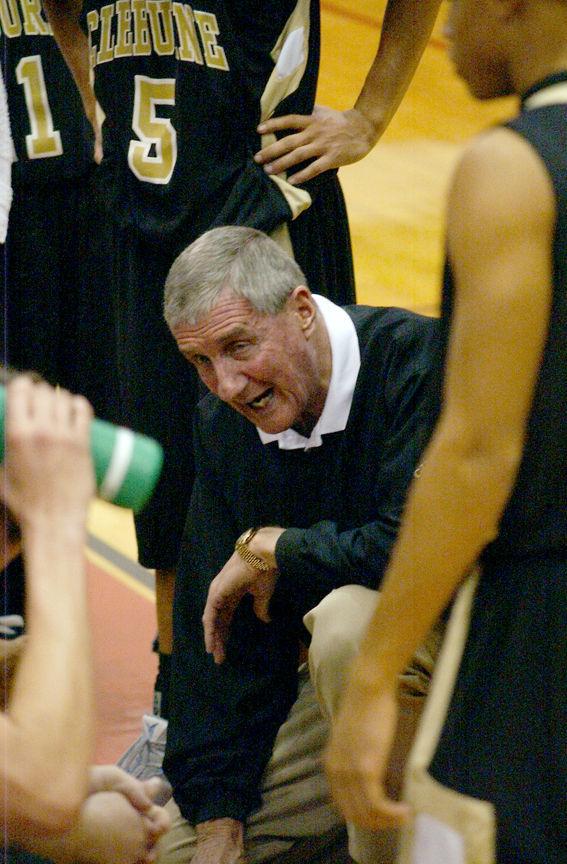 T-R: What were some of your most memorable games? If you could, what games would you love to go back and relive?
Cody: "We had a lot of big ball games out here. We were 5A in 1990-91 and we finished in a three-way tie for second place back when only two teams made the playoffs. Arlington Sam Houston won the district. On Monday night, we played Arlington Martin and we won on a shot at the buzzer by Wes White. The second night, we won on a shot at the buzzer by Eric Anderson to get into the playoffs. And then we played Dunbar on Saturday night in bi-district in front of about 5,500 people. 
"Next year, we won the district and we were really good. We were 6A and we were really good. Had we been in 5A, I don't think anybody could've beat us, I really don't. We go through a tough district — we're playing Arlington Lamar and they're 6-foot-9, 6-foot-7, 6-foot-6, and I'm talking about athletes and real players. We lose our first three district ball games and come back and win the district. Weatherford had their best team in years, maybe ever; they won 22 games but didn't even make playoffs. We play O.D. Wyatt in bi-district and they had just inched into the playoffs, they were like 14-13 or something. They upset us in bi-district. Long story short, O.D. Wyatt goes all the way to the state tournament. That's what basketball is a lot of the time; when can you get on a roll?
"The Mansfield game here in 1990-91, it was standing-room only and that catwalk was packed to the wall. Good thing the fire marshal didn't come out. Back in those days, they had a game of the week; Craig Way and Preston Pearson did a game of the week and that game was their game of the week. We built a little stage behind the scorer's table to put them to where they could see the floor. We won the ball game and beat them pretty good that night, I think.
"I can't forget about our first trip to Austin in 1984. We had regional finals at Boswell against Wichita Falls Hirschi. We had always struggled beating those guys, and they beat us earlier in the year. It was a nip-and-tuck ball game down to the end. We had gone to the regional finals twice and gotten beat. In the last 17 seconds, we go down and miss a shot. They get the rebound and their star player calls time-out and they didn't have any left. Of course, their coach was trying to wave it off but I'm telling them, 'he called time-out so you have to give them the tech.' Those officials did not want to call the tech. But they did. We make two free throws to put us up one. And now it's our ball out of bounds, but we throw it away. They come down, take a shot and miss. I'm blocked off and I can't see what's happening but I saw big Al Smith going for the rebound and bodies were going everywhere. They call a foul and I'm thinking it was on Al, but they call it on Hirsci. So Al's got a one-and-one with probably 3 seconds left. Chris Hall was an all-state guard on that team, and I've got him back on defense because if we miss we have to make sure they don't Hail Mary it. Al Smith misses the first free throw, they rebound it and outlet it, but Chris steals it and makes a deep shot at the buzzer so instead of winning by one we won by three. That was the one where we really knew we could get over the hump. It was a tremendous celebration."
T-R: Let me interrupt you and ask about a specific game. Everybody always tells me about 'The Everman Game.'
Cody: "Oh yeah. That was one of the biggest and greatest ball games was Everman in 1997. We turned over a thousand people away that night. People were lined up all the way around the gym waiting to get in. Everman was really good and we were really good. Everman had ripped off like 26 straight wins and they were nationally ranked. They had a kid named Lightfoot who could light it up. We catch them in a tournament earlier in the season and they beat us by 18. Well, I held out Drew Wallace because he had a sprained ankle. 
"At the end of the first round, they're riding a 26-game winning streak and we beat them by double digits in front of a full gym. Going into the last game, Everman has to beat us at home to force a tiebreaker for first place. Well, they beat us by 3. We didn't handle the situation very good at the end of that game. I wanted to flip for first and second and just get ready for the playoffs, but they wanted to play a tiebreaker game because they wanted to be district champions. So we meet after the game and he asks, 'Where do you want to play at?' And I said, 'I'm going to flip you home and home. If we're going to have a tiebreaker game, we're going to flip home and home because you can't beat me in Cleburne but I'll whip you in Everman. You only beat us 3 tonight and that's not enough to brag about.' So the first flip, we flipped to see if it was going to be neutral or home-and-home. I won that flip, so now we're flipping for home, and I win that flip. 
"They're coming to Cleburne on Monday night. So Saturday morning we have a practice. Alan Grantz was my assistant. We were pressing hard at the end of the previous Everman game to get the ball and give ourselves a chance to win and we didn't handle it very well. So last 15 minutes of practice, Alan Grantz is working on end of the game situation, and I say, 'Coach, that's enough we've got to play Monday, we need to go in.' But I'll be doggone, we're down about 9 going into the fourth quarter. We came back and with about 17 seconds left my point guard fouls out. I think we're down maybe one point so we foul and they go to the free throw line. They make both free throws to go up 3 so we've got to hit a 3 to tie it. We run a set play, Drew Wallace comes off a double pick and he hits a 3 with 3 seconds left to tie it. They call time-out.
"Well, here's almost that same situation we had on Friday night. So we put a man on the ball and we're denying Lightfoot. We don't want Lightfoot to have the ball, period. We force their point guard up the sideline right in front of our bench and we roll into a double team. Just as Terry Conerway is coming from the side, their point guard goes behind his back, the ball comes up in Conerway's hand, he turns and lays it up at the buzzer. You ought to see the student body explode onto the floor. That's one of the more memorable games."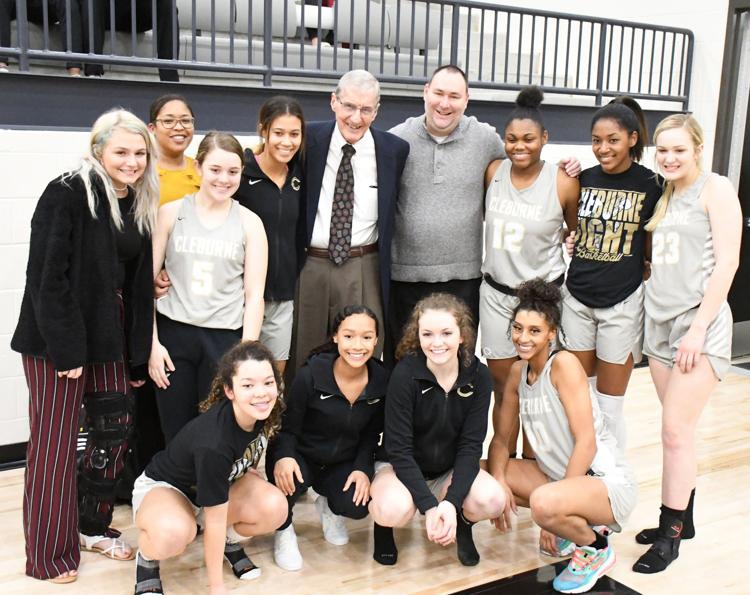 T-R: After taking time to examine several of Cody's plaques and game balls and medals, I ask Coach Cody, 'what does all of this mean to you?'
Cody: "I was very blessed to start under Fred Weir, head football coach and athletic director, in Granbury out of college. He taught me how to be a professional, how to do things the right way, and he was a great teacher on the football field. I translated that into basketball. He was a great teacher on the field. He could teach every position on the football field. I was so fortunate to start there. We played for a state championship in football in '66 over there [one of the medals he has hanging on his wall].
"So I've had the opportunity as an assistant coach to be on a team that played for a state championship in football, I was assistant baseball coach here when we played for a state championship, and I took a team to the state semifinals and state finals and we went to the regional tournament five years in basketball. I never won it. I had a lot of great experiences. I just wish I could've won the last one, but it didn't happen. 
"There's another great game, semifinals in '87 at the state tournament. I believe we're down 11 going into the fourth quarter against Kerrville Tivy. We come back, Justin Traweek makes some big steals. We finally win by 5 or 6. We played Dallas Hillcrest for the state championship that year. We stayed with them the entire game but just couldn't make any shots down the stretch.
"Some of my best ball teams were when we were 5A, and my daughter would say, 'Dad, it's not really fair.' Two of my best teams that were really good, we got moved up to 5A. If we had stayed at 4A, we would probably have got to the state tournament and maybe won it — but that's life.
"What people don't realize, it was hard to get into the playoffs because only one team made it back then for many of those years. It was even harder to get to the regional finals. And then it was even harder to get to the state tournament. People don't understand how hard it was to get there. Our goal was to get into the playoffs every year and hope we can get a run together and make it to state at some point, maybe not every year, but have a chance every year."
T-R: What did it mean to you getting to stay in one place like Cleburne for 36 years?
Cody: Carolyn and I always talk about this. The Lord has had a hand in where we've been and what we've done. I'm thankful our kids didn't have to move around a bunch. They got to experience great things here in Cleburne. It was a tremendous blessing for me and my family to stay here so long. My kids got to graduate Cleburne High School. A lot of people that's friends with our family, they'll tell you the only reason they kept me around is they loved my wife, and that's probably right. We were extremely blessed. I had four jobs in 45 years. How many coaches can say that? I moved from Granbury to Andrews, Andrews to Boswell, Boswell to Cleburne, and that was it. We had a lot of good times here. 
"One of my top memories for me was being able to coach my own son. He may not have liked it — Carolyn didn't like it either. I had a neighbor, Albert Archer, and he said one time, 'Donnie doesn't have a daddy to talk to coach for him, so I'm here to chew you out for Donnie.'"
Cody's wife, Carolyn: "It was a family effort. Our kids grew up in a gym. Janet was probably two or three weeks old for her first basketball game. One time when we were at Boswell, I dropped Donnie off at the gym on game day. The man at the gate said, 'son, you can't go in there.' He kept telling Donnie you can't go in. Donnie finally put his hand on his hip and said, 'Look, my dad owns this gym. You just go ask him if I can come in.' And he got in. That was when Donnie was in kindergarten or first grade. 
"Donnie grew up being around the gym and football field. People don't realize, but Donnie is probably the biggest Yellow Jacket fan in town, and we've got some passionate fans. But Donnie is a Yellow Jacket through and through."
T-R: Coach, you're still very active in the community and CISD and especially the game of basketball, helping coach teams or players here and there. Now 12 years into retirement, why do you still stay so involved in basketball?
Coach Cody: "Carolyn, come tell him why it's important that I stay involved in basketball."
Mrs. Cody: "I'll just tell you, when he dies, they'll do an autopsy and I guarantee they're going to find little orange balls and white balls flowing in his blood stream. It's in his blood and DNA. He was born to do what he does. God gave him a talent and a passion that's just unbelievable. God had a plan and He has blessed us in so many ways."