The District 11-4A co-champion Godley Lady Cats and Midlothian Heritage Lady Jaguars account for more than half of the selections on the all-district volleyball team.
Godley and Midlothian Heritage each went 11-1 in league play, splitting their two district matches before Midlothian Heritage won a tiebreaker contest to determine playoff seeding. And the two teams' dominance over the rest of the district are evident by combining for 15 of the 29 all-district selections.
The Lady Jaguars' eight total selections and three superlative awards lead the district, including Grace Sweeney as MVP, Kensey Clifton as co-setter of the year and Emilee Casey as server of the year.
Godley garnered seven total selections across superlative awards, first-team honors and second-team recognition.
"I am very proud of my girls for their accomplishments this season," Godley Coach Courtney Hammett said. "They worked for it, earned it and definitely deserved it."
Headlining Godley's all-district representation are senior Emma Burke as the hitter of the year and sophomore Baylee Mobley as the newcomer of the year.
Burke's hitter of the year award is her third straight all-district superlative honor. Last year, Burke was the all-district server of the year. And in 2019, Burke was voted the all-district newcomer of the year.
"Emma was a vital part of our offense all season long," Hammett said. "Front row, back row, all across the net — she executed well in all aspects of our offensive scheme. She finished the season with 122 kills in district alone and this doesn't include the amount of effective swings she had that put other teams out of system after her attack. She is not only powerful but smart and intentional with every touch of the ball."
Mobley was a key addition to the varsity squad, helping provide another go-to attacker for the Lady Cat offense.
"Baylee was impactful from day one," Hammett said. "Her presence on the court alone motivated our side of the net and intimidated the other side of the net. She finished district with 156 kills, 23 aces and 98 digs. Her skill took our team to new heights but her knowledge of the game and smart decisions taught the rest of the team a whole new side of the game. She was a huge contributor to our success this season."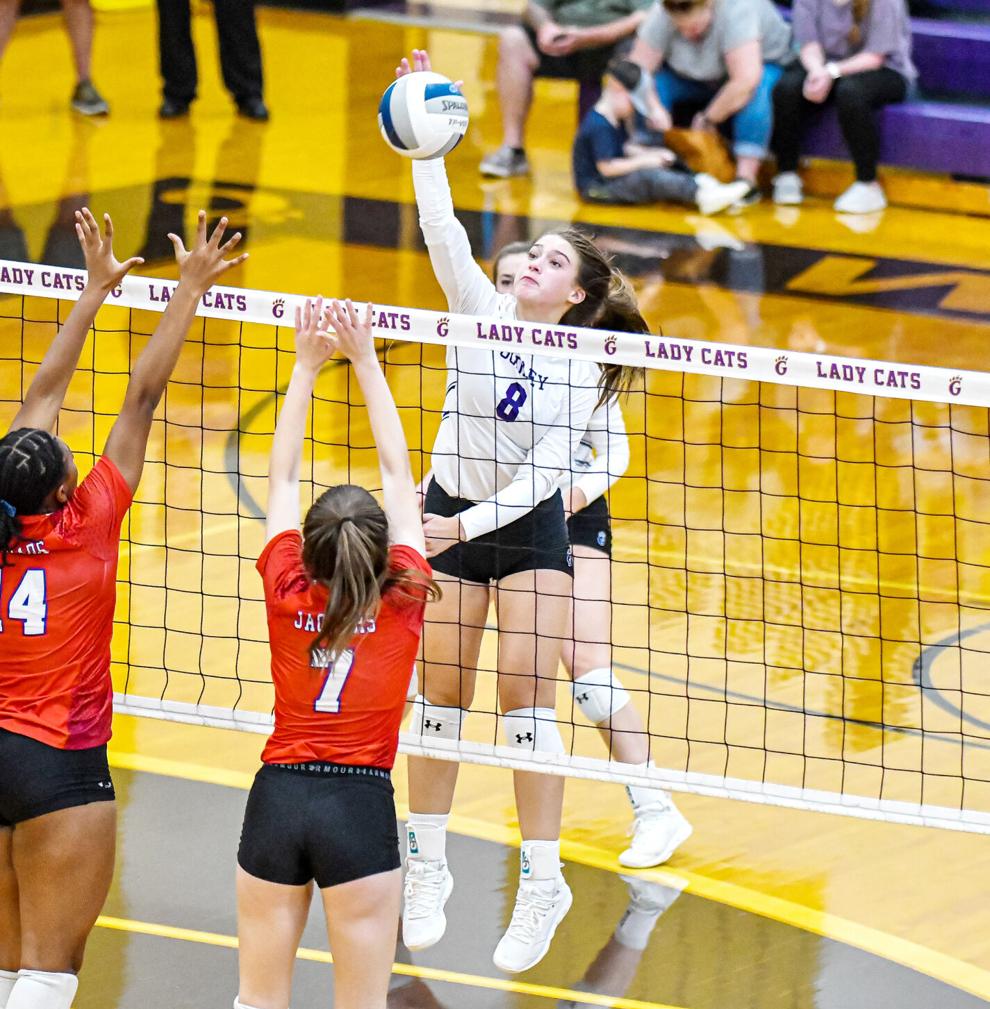 Along with the two superlative awards, the Lady Cats also had two players receive first-team honors in seniors Landry Karnes and Taylor McFarland.
"Landry was our starting setter and always had a great connection with her hitters," Hammett said. "Her defense improved tremendously this season as well which made her an all-around force. Her leadership on the court will be missed.
"Being almost six feet tall and having an insane vertical, Taylor put up a huge block that every hitter dreaded going up against. In addition to her block, she could put the ball down on offense. Both will be hard positions to fill next season."
Rounding out Godley's all-district accolades are a trio of Lady Cats with second-team recognition in senior Brooke Hickey, sophomore Logan Reed and sophomore Brynn Staton.
"Brooke was our other middle opposite of Emma and she grew leaps and bounds this season," Hammett said. "She became one of the smartest athletes I've ever coached. Her court awareness was incredible and you could always count on her to find the open spot and put the ball there. 
"Logan is a sophomore who has immense potential in this game. She is an overall incredible athlete who succeeds in every sport she pursues — volleyball, basketball, track — but her growth and improvement specifically in volleyball this year excites me for what she has in store for us next year.
"Brynn is a sophomore and one of my setters. She is a natural at the position and has a lot of promise and potential. Her court awareness, recognition of situations, and athletic skill is impressive. She has a huge heart for the game and is one of my most coachable kids."
Alvarado awarded only 3 all-district selections
Despite finishing tied for third in District 11-4A, the Alvarado Lady Indians received only three all-district selections.
The 2021 season was one of the best in Alvarado volleyball history as the Lady Indians finished the season with a 27-11 record, including a bi-district championship before an area-round loss to Aubrey, a regional finalist.
"This was an epic season for the Lady Indians — our best season in the 14 years I've been here," Alvarado Coach Jill Barkey said. "It was a joy coaching this team. All of them were about the team: playing for each other, winning for each other. I was a bit disappointed that Alvarado only got three girls honored [on the all-district team] considering we tied for third, but that's how it goes sometimes. I know how well they did and so does our community and we are proud of them."
Ferris — the team Alvarado tied for third with in the standings — received five all-district selections while fifth-place Waxahachie Life matched Alvarado's three selections. Hillsboro, which went 2-10 and only beat last-place Venus, had only one fewer all-district selection than the Lady Indians.
Leading the way for Alvarado on the all-district team is junior Jaiden Wright as the blocker of the year — her third straight superlative award.
"She was newcomer her freshman year and blocker of the year the last two seasons," Barkey said. "Having her play all the way around this year completely changed our defense. It was needed and she stepped up and did great adding that role this season."
Alvarado senior Sam Newman is the Lady Indians' lone first-team selection.
"This is Sam's second year to receive this honor," Barkey said. "She's a strong leader and helps keep the team morale up even when we falter. Over the last two years she has been our most consistent hitter and passer. Those are big shoes to fill now that she's graduating."
And Gracie Farmer received second-team honors to round out the Lady Indians' representation.
"Gracie Farmer is our setter extraordinaire," Barkey said. "I was disappointed she got second team. Obviously I'm partial, but I believe she deserved first team. She's our quarterback and she runs the floor. She played a huge role in Jaiden's and Sam's success on the net."
Venus' Keely Wallen received second-team honors as the Lady Bulldogs' lone all-district selection.