One hundred years ago, Zonta International was founded in Buffalo, New York, during a time when women had professions, but did not yet have the right to vote. 
To celebrate women's achievements since then, the Zonta Club of Johnson County hosted a luncheon Friday to specifically honor women in Johnson County who were the first to fill a service role.
Zonta Club Johnson County President Dianna Ward welcomed guests, including past and present members of Zonta.
"We are so pleased to have you with us today to celebrate Zonta International's 100th birthday," she said. "Zonta Clubs in 63 countries are having events today similar to this. The celebration follows the sun from New Zealand to Hawaii, over 47 hours."
Cleburne Mayor Pro Tem John Warren proclaimed Nov. 8 as Zonta International Centennial Day in Cleburne.
"Your tenure as a Zonta Club proves that the sky is not the limit," he said. "This is just the beginning."
Zontian Tiffany Strother introduced women in Johnson County who were the first to fill a service role.
• Vera Calvin, mayor of Burleson.
• Nell Dixon, executive director of the Cleburne Chamber of Commerce.
• Stephanie Pribble, firefighter for the Cleburne Fire Department.
• Mary Ann Hayden, president of Zonta Cleburne.
• Sydney Hewlett, judge of the 18th District Court.
• Linda Linstrum, president of the Cleburne Rotary Club.
• Katherine Raines, mayor of Cleburne.
• Arlene Wohlgemuth, state representative of Johnson County.
Strother then displayed a photo of her grandmother.
"People always ask me why I'm involved in this and why gender equality is so important to me," she said. "These are pictures of my grandmother; she's 14 years old. In high school in San Antiono she volunteered for the [United Service Organizations].
"While volunteering, she hung out a lot in the airplane hangers because she loved airplanes. There was a gentleman there, who was probably an airplane mechanic, and she said to her, 'Hey, do you want to come fly one of these things?' And she said, 'I'm a girl.' And he said, 'Do you want to learn, or not?'
"She told me that and it stuck with me all these years. She was flying airplanes before she ever drove a car, and before she married my grandfather in 1945 she was only a few hours short of obtaining her pilot's license. 
"So, she was my hero and always my biggest cheerleader. Being No. 12 granddaughter out of 13, I got most lectured about getting out and empowering women and making sure there is gender equality. 
"So, I do this for my grandmother, but most importantly my daughter. Because I want her to grow up in a world where we don't have luncheons for this — where women are honored. It's just what happens because we are all capable of doing it."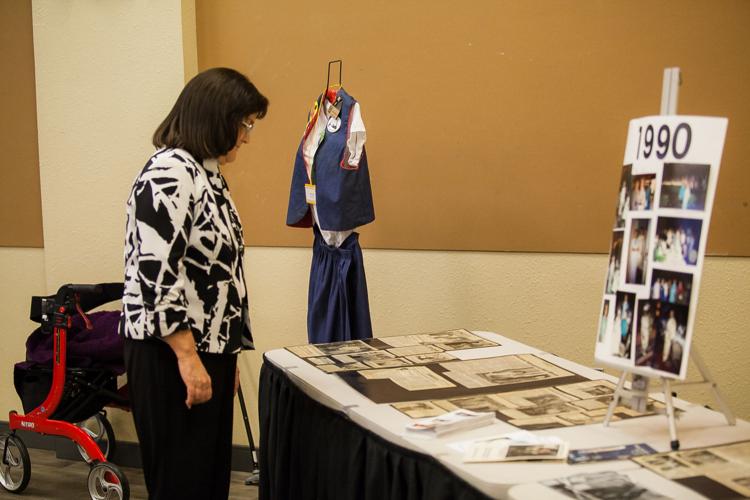 Zonta Club of Johnson County was chartered in 1981 and was sponsored by the Fort Worth Club.
Projects and programs support Legal Aid of Northwest Texas, Johnson County Family Crisis Center, sexual assault nurses at Texas Health Resources, APPLES School Program, scholarships for high school students and more.
Zontian Barbara Yoder said the club will soon begin its annual 16 Days of Advocacy, including decorating Winston Patrick McGregor park with orange ribbons.
"We have done this for the last four years," she said. "We want to bring awareness to issues of violence, particularly of violence against women."
The second annual Winter Frolic Casino Party is set for Feb. 15 at the Cleburne Conference Center, 1501 W. Henderson St.
For information, visit Zonta Club of Johnson County on Facebook.
Those interested in becoming members can email Ward at diannaward0117@gmail.com.