A tribute to the memory of Stephen Hafford, in his achievements on the football field and the impact he had on hundreds of students as a teacher, coach and mentor will be carried by members of the Yellow Jackets throughout their 2019 season.
Hafford, a 1985 graduate of Cleburne High School, remains one of the most recruited players in the Yellow Jackets athletic program for his talents and performance in both football and basketball. He went on to play two seasons in the Baylor University men's basketball program.
His love for sports led to a career as an educator and coach, with the majority of his service spent with Cedar Hill ISD. Hafford's "assists" as a coach included a state championship in basketball for the Longhorns in 2005, followed by the 5A state title in football in 2006.  
Hafford's initials and his jersey number — 15 — are imprinted on a decal that has been placed on the helmets of every member of the varsity team. The helmets continue to feature the two gold stars added last year, reflecting Cleburne's 1920 and 1959 state football championships.
Following the passing of Hafford in May of this year, Jackets head coach Casey Walraven began contemplating a way to honor Hafford for his legacy as a player and educator, seeking advice from Hafford's Cleburne football teammates.
"I wanted to be sure whatever we did would reflect our desire to memorialize Stephen's dedication to the Jackets and all the players and students he worked with as a teacher, coach and mentor," Walraven said. "Being a player from Cleburne, as well as a coach who impacted a lot of kids, I felt it was something we should honor. I knew about Stephen through word of mouth. His name would often come up as a great player in football and basketball. You can tell he's been a great influence wherever he has been. I look at this recognition for Stephen as a team effort involving our coaching staff and the community.
"A lot of our players may not know who Stephen Hafford was — but they will.  I believe wearing his number on their helmets into every game will help our kids. They need to know there are people who have gone before them who established and have contributed to the legacy of Cleburne High School. We need to do our part to pass that on to future students."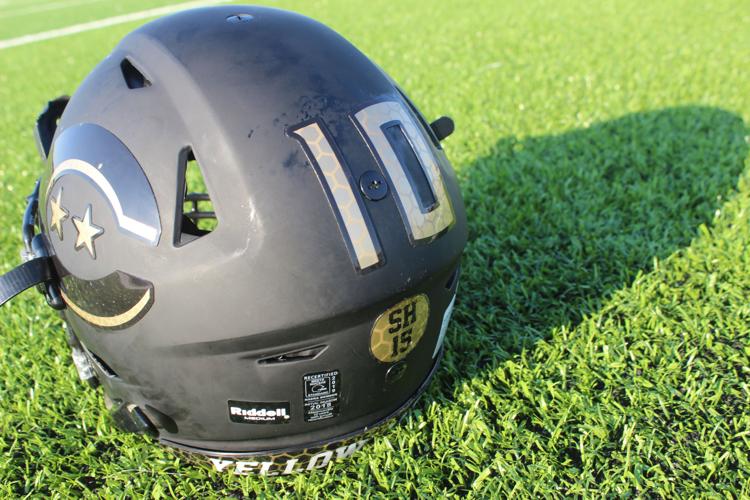 Cleburne offensive coordinator Benjamin Lackey counts Hafford as a colleague. Both were on the Cedar Hill football coaching roster in the 2017 season.
"Even though we had never met before then, I knew who he was," Lackey said. "Coach Hafford's name was prominent on the 2006 state championship plaque. He was among those 'pioneers' who got the Cedar Hill football program going at that level. That group of coaches took it and ran.
"Stephen almost had a larger than life presence. You could see his passion for kids, football and doing things the right way. He truly cared about what he did for a living. When news got out about Stephen's death, you could tell he was so loved and respected by coaches and kids alike. It was especially hard for the kids. 
"They meant so much to him — and he to them. It's a great tribute to Stephen when you start with his roots in Cleburne, then see all the great things he did in coaching and what he did as a man. It's a great picture."
Cleburne football teammate Randy McKinney, who honored his fellow Yellow Jacket one last time in sharing memories of Stephen at his celebration of life, believes the tribute being made by the 2019 football team is quite appropriate. McKinney saw glimpses of Hafford as a future coach in their playing days. 
"Stephen was the ultimate teammate," McKinney said. "He was all about the success of the team. His leadership style was steady and confident. 
"He would pat you on the back when needed, and he would chew you out when needed — but it was always in a constructive manner. He was a captain, our quarterback and our teammate. Stephen Hafford was a leader and a winner in every sense of the word."