Glen Rose resident Melissa Graddick said she knew she'd found her calling in December 2016 after gazing across the grounds of the Appomattox Courthouse National Historical Park in Virginia.
"I saw these beautiful wreaths sitting on these graves of Civil War soldiers," Graddick said. "I took a picture and went over and picked one up and the tag on it read Wreaths Across America."
Before that, Graddick had never heard of the organization.
"I had no idea." Graddick said. "My brother lives in [Lynchburg, Virginia] and we just happened to be going through the park. But when I saw the wreaths I looked at my husband and said, 'We have to get involved in this.'"
Graddick and her husband, Barry Graddick, have since become involved in a major way and will soon be heading to South Carolina to deliver a truck load of wreaths to several cemeteries.
U.S. Rep. Roger Williams, R-Austin, and Cleburne Mayor Scott Cain personally thanked the Graddicks on Wednesday morning at The Depot.
The couple, who own and operate Mid America Xpress LLC, a trucking company through which they deliver dry goods throughout the 48 contiguous states logging roughly 13,000 miles per month. Since 2017  they've carved out two weeks each December to help deliver wreaths, and place them on the graves of veterans.
"Imagine basically shutting down their business and revenue stream for two weeks to give back to our veterans who have given us so much," Williams said. "Call it the Texas spirit or the American spirit, but whatever you call it, it's certainly evident in what you're doing."
The Graddick's initiative, Williams said, displays true patriotism and grass roots can do attitude.
"I think it shows those in the federal government that the private sector can do thing much better than the federal government," Williams said. "The federal government didn't tell you all to do this. You did it because it's the right thing to do. I'm a small business owner like you and I know that great things happen when the government stays out of our lives and what you two are doing is one of those great things right here."
Cain agreed.
"I think the congressman is right," Cain said. "If government will get out of the way small businesses will lead and show us the way forward. You [two] have done that. What a shining example."
Cain called it fitting that Wednesday marked former NFL player and U.S. Army soldier Pat Tillman's birthday. 
"He chose to put aside fortune and fame to answer the call of service and what you two are doing is also answering that call of service to make sure that we never forget the sacrifices so many paid for our freedoms. You're both outstanding examples to all Americans of what true patriotism is."
Cain also commended Williams for his dedication to veterans and active military members.
"I've not seen a greater advocate than Roger Williams has been," Cain said.
It's easy in the day to day of everyday life to forget the respect and honor owed to our service men and women, Cain said.
"I want to encourage all of our community to follow [the Graddick's] example in small ways, or big ways," Cain said.
Cain, in a aside to Cleburne Railroaders President John Junker, suggested that the Graddicks would be ideal candidates to throw out the first pitch in the Railroader's upcoming season.
"Can you throw a strike?" Williams asked Melissa Graddick.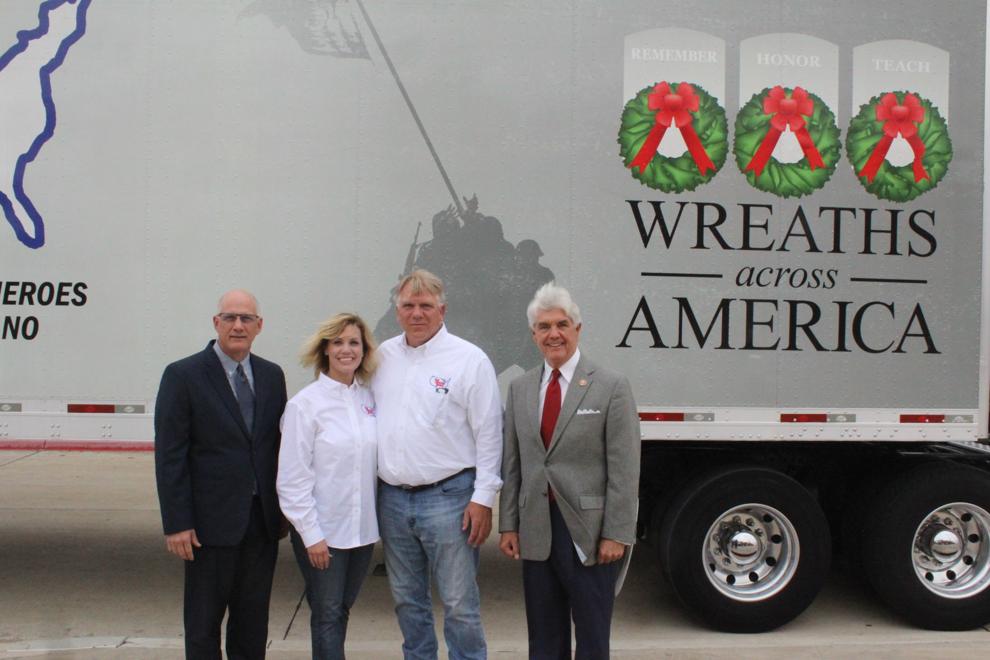 Wreaths Across America began in 1992 after the owners of the Worcester Wreath Company in Maine entered late December with a surplus of unsold wreaths, according to wreathsacrossamerica.org.
The extra wreaths reminded Worcester Wreaths owner Morrill Worcester of his boyhood. Worcester worked as a paperboy for the Bangor Daily News when he was 12. He won a trip to Washington D.C. that same year and a visit to Arlington National Cemetery ignited a lifelong respect for veterans in him.
Years later, with extra wreaths on hand, Worcester decided to give back by placing wreaths on the graves of veterans each Dec. 14, which is now National Wreaths Across America Day. The organization, through the help of volunteers, now lays wreaths on veterans' graves in more than 1,600 cemeteries in all states as well as the sea and other countries.
The Graddick's helped out in 2017. In 2018 they donated use of their company's tractor trailer to haul the wreaths. Last year they visited cemeteries in Alabama and Florida including a stop in Panama City, which was still largely destroyed and rebuilding following a hurricane.
"Truck parking is a major issue," Barry Graddick said. "But we had cemeteries there fighting over which one we were going to park our truck in. They wanted us to park by the road where people could see it."
A visit to the Tallahassee National Cemetery last year proved inspirational as well.
"When we pulled in we didn't realize there was a funeral going on for a veteran at that time and that [the veteran's] family had no idea who we were," Barry Graddick said. "Everybody stopped and was looking at our truck. But when I apologized to the funeral director afterward he said, 'No, it's all good. I told [the family] about [Wreaths Over America] and now they're coming to the ceremony. They thought it was a sign because you all pulled in as they were lowering him.'"
Deck out in a patriotic wrap, the trailer of the couple's truck sports an American flag, Wreaths Over America's logo, headstones of veterans and a depiction of the Battle of Iwo Jima.
Others have volunteered  and some 200 trucks now participate in the yearly event.
"It's been really cool," Melissa Graddick said of the her and her husband's truck. "When we're driving people slow down to look at the trailer and give us thumbs up and honk."
That is most people do.
"There have been some naysayers," Melissa Graddick said. "I can't lie."
Barry Graddick said he's been called names over his truck's decoration.
"I said, 'C'mon  guys. I'm a Navy veteran and spent four years on a submarine,'" Graddick said. "They just couldn't past the fact that we spent money wrapping that trailer."
That, Cain said, is as ridiculous as the man who last year complained about Santa Claus in Joshua and Cleburne.
"Who can complain about remember veterans who gave them  the very freedom to complain?" Cain said. "They ought to be saying thank you. But you know what? There are more great Americans like you, me and the congressman who honor our veterans."
The Graddicks said they're just looking forward to taking off early next month for South Carolina and encouraged others to visit Wreaths Across America's website to learn more and to start a local chapter for cemeteries in their towns. The organization lays wreaths at both national and regular cemeteries.
The Graddick's also voiced support to the Dallas/Fort Worth National Cemetery's Fill-the-Truck Campaign, which seeks donations to purchase 20,000 wreaths and encouraged residents to support that campaign as well.