A local student has a new crown to add to her collection. 
Joshua High School senior Haven Watts, 17, was crowned queen of the 127th annual Pioneers & Old Settlers Reunion Wednesday night.  
She has also been crowned Little Miss of Texas 2011 and Junior Miss of America 2018. She was sponsored by Watts Productions. 
First runner-up was Grandview High School student Natalie Eddy and second runner-up was Alvarado High School student Harlee Owens.  
All 12 contestants introduced themselves, with the top six answering a question from former queen Brittany Oviedo of Alvarado, who served as emcee for the contest.
Watts is active in FFA, student council, National Honor Society, choir, dance, theater and art. She started a charity called, Humble Wishes, and sends gifts to chronically ill children and teenagers across the United States. 
She is an ambassador for the Make A Wish Foundation, which allows her to speak to groups and businesses about the importance of donations for future wishes for children and teens across north Texas. She is also a member of the Youth Advisory Council at Cook Children's Medical Center in Fort Worth. 
Oviedo asked Watts if she feels that social media is a positive or negative influence on her generation.
"I feel that social media is a positive influence because there are good social media hashtags and influencers on social media," Watts said. "So take for instance Instagram. There are positive body hashtags to get girls to see that it's OK to love yourself and your body and love who you are."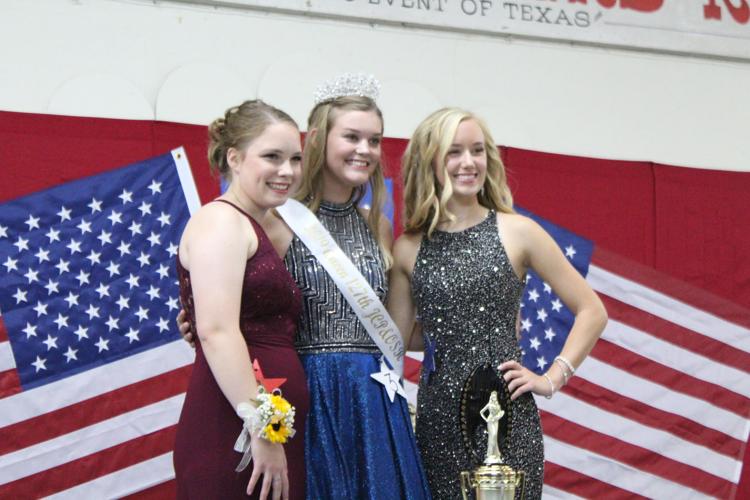 After she was crowned 2019 queen, she said she was excited to represent Johnson County. She wanted to show other young girls that anyone can participate in a pageant. 
"You can show other people that's it's OK to be confident and to be themselves and go for it," she said. "I think it's crazy. It's super awesome and super fun. It shows people that you can do anything. I'm very excited."
2019 Pioneers & Old Settlers Reunion queen contest
The show continues
Before the queens contest, the parade was held downtown. Reunion Association President Lloyd Keith Renfro welcomed guests during an opening ceremony at the reunion grounds.
The baby contest was held Thursday.
A Texas Old Time Fiddler's contest begins at 6 p.m. today. 
On Saturday there will be a bake off for cakes, pies, breads and other sweets. There is a $10 entry fee for each item.
Drop off time is between 10-11 a.m. with public judging from 11:15 a.m. to 12:30 p.m.
Judges fees are $5 to taste six items or $10 to taste 13 items. Winners will be announced at 1:30 p.m.
Desperado, an Eagles tribute band, will perform a free concert at 7 p.m.
Bob Baze will lead an old time gospel at 4 p.m. Sunday.
Parking each night will be $2, except for Sunday when it will be $5 for the concerts.
A carnival will go on during each night of the reunion.
Rides will be open from 6-11 p.m. Wednesday through Thursday, and 6 p.m. to midnight Friday and Saturday.
Wristbands cost $25, however, some rides require additional tickets.
Make sure while you are there to sign the reunion guest book, which will be kept on a table near the northeast side entrance to the Pavilion building, and take your place in Texas history.
Reporter Jessica Pounds contributed to this article.
2019 Pioneers & Old Settlers Reunion parade