The Cleburne Times-Review recently published two magazines, the annual Cleburne This is Texas and 2018 Grandview Zebra Football State Champs, a commemorative magazine highlighting the Zebras' state championship.
"Working on projects with our community is always an enjoyable experience," General Manager Dale Gosser said. "We love using our resources and talents to create products that benefit our community. The Cleburne This is Texas magazine is one of our longest running publications and each year it gets better and better."
The 2019 edition of Cleburne This is Texas can now be found at the Times-Review, 108 N. Anglin St.; the Cleburne Chamber of Commerce, 1511 W. Henderson St.; and other locations throughout town.
The free 84-page publication profiles Cleburne A-Z with sections on history, parks, museums, education, economic development, recreation, entertainment, events and tourism sites. Feature articles in this year's edition cover J.N. Long Cultural Arts Complex, the chamber's 100th anniversary and Cleburne ISD's partnership with Southwestern Adventist University.
An attached supplement, the Cleburne Chamber of Commerce Business Referral Guide, contains information about the Cleburne chamber and a directory of chamber members.
Times-Review reporters and staff wrote and designed the publications.
The chamber distributes Cleburne This is Texas to area hotels, doctors offices and other locales throughout town, chamber President Cathy Marchel said.
"I am so, so pleased," Marchel said. "It really turned out fabulous this year. I love how we had the variety of things the community offers so it was a lot of really cool stories and more detail in-depth about the different things to do around town."
The magazines were debuted at the chamber's annual awards banquet on Feb. 1.
"I get a copy every year and consider it to be a useful, wonderful resource," Cleburne businessman Peter Svendsen said. "We don't get phone books anymore like we used to. That's why Cleburne This Is Texas is such a useful publication, both for people who are new to town and for those who have lived here forever. It helps facilitate those connections everyone wants to make because it collects all the information on our businesses, history and things to do and see in Cleburne in one easy-to-use magazine."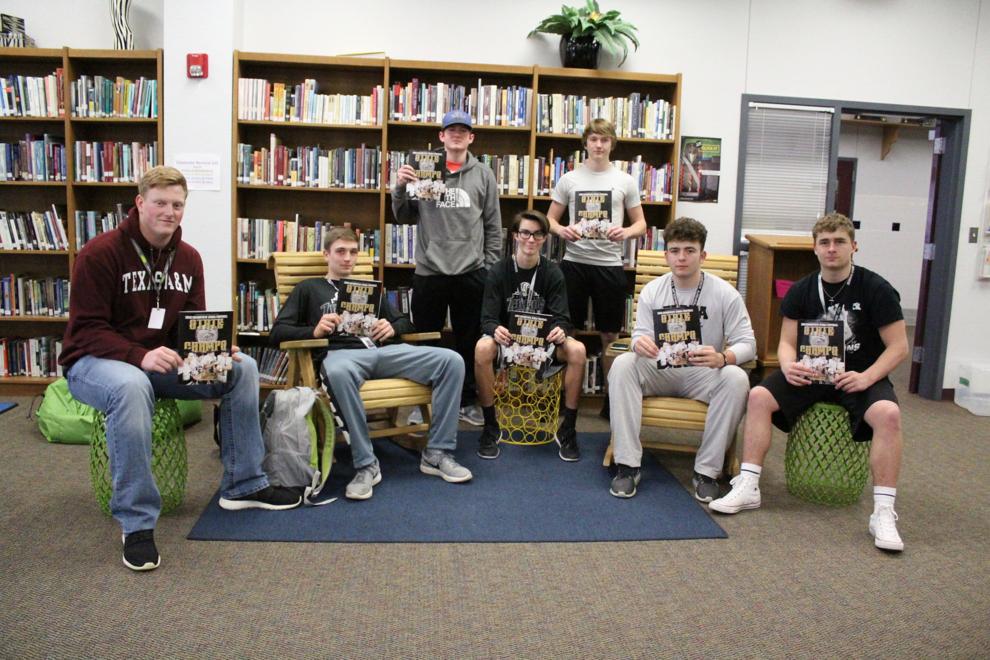 Grandview magazine
The Grandview magazine is available at the Times-Review, Grandview schools and several Grandview businesses.
"Winning a state championship is a monumental moment for every player, coach and fan," Gosser said. "This was something special we could do to help share their historic victory.
"Sports Editor A.J. Crisp did a great job covering the Zebras throughout the season and this magazine is a fitting end to the season coverage."
The free 48-page publication includes features about the team's journey to state, such as Linebackers Coach Clint Jentsch and his sophomore son, quarterback Dane Jentsch, sharing a state title victory and the Zebras domination of the Cleburne All-Johnson County Football Team.
Another highlight is the Zebra Football Day proclamation presented by the Johnson County Commissioners Court on Jan. 28.
"I think the commemorative magazine is another example of our community stepping up to support these great student-athletes and their unbelievable accomplishment of winning the state championship," Grandview High School Principal Kirby Basham said. "I think it's really special that Johnson County bonded together with all of the communities and especially the Times-Review supporting Grandview the way that they have. 
"I think it's a great keepsake that these kids and parents will be able to hold onto and relive that amazing season over and over again."
The commemorative magazine also includes an autograph page for family, friends and fans to make it a keepsake.
"The magazine is amazing," Grandview senior lineman Cade Bennett said. "An awesome way of telling others about our season. This is definitely something I'm going to keep forever. It's an awesome reminder of hard work pays off, no matter what others say."