HOLT Cat Cleburne received the 2019 Adopter of the Year award during Wednesday's Cleburne Chamber of Commerce quarterly luncheon at the Cleburne Conference Center. 
The Adopt-a-School program is a partnership with Cleburne ISD and the chamber to enable students to participate in unique activities, expose them to new ideas and learning opportunities and provide much-needed equipment and materials for teachers and schools.
The company was nominated for the award by the district's Career & Technical Education department, who has partnered with Cleburne High School to offer students paid internships for students who want to pursue a career in the heavy equipment industry, according to the chamber's program. 
"Holt is the largest Caterpillar dealer in the U.S., and we are blessed with this partnership," CISD CTE Director Mark McClure said. "We are also working with Holt Caterpillar in a collaborative effort to create a training facility in our newly remodeled CTE Center. 
"If this dream comes to fruition, students with a passion for a career in the heavy equipment industry would have the opportunity to begin learning in the ninth grade in a lab designed for this purpose. Holt Cat is truly making a difference in the future of our students."
Many people from all over the state are touring the new academic wings of CHS, which opened in January, McClure said.
"That's exciting to me that we have people coming from all over the state of Texas and beyond to see what Cleburne ISD is doing because that means one thing to me, and that is that Cleburne ISD is doing things right," he said. 
Students who enroll in CTE courses are getting their foot in the door in the work field that interests them the most, he said.
"What's important to note is CTE in Cleburne is for everyone," he said. "It's not just for students that aren't going to college. We got 96 percent of students at Cleburne High School that come through our [CTE] program each and every day." 
Many students are taking more than one CTE course, he said.
To give community members a taste of what students are learning, two CHS students discussed how CTE courses have made a difference in their lives.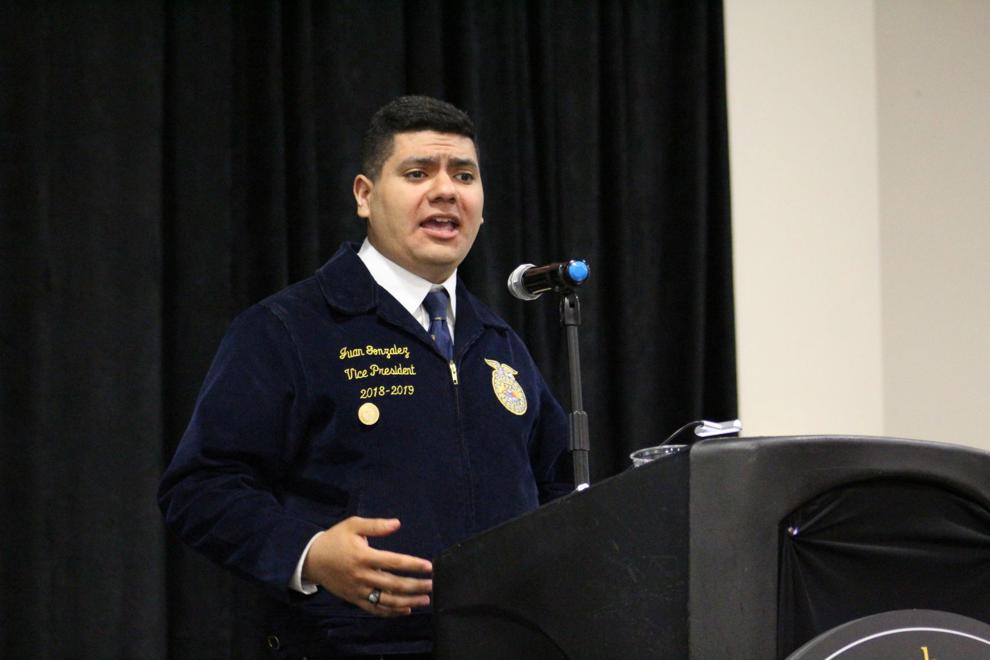 CHS senior Juan Gonzalez has participated in the school's FFA program where he has gained memories, life lessons and relationships with many people. He knew he wanted to pursue a career in the welding field, but before he could do that he had to take an agriculture introduction class.
Not long after that, he said his teacher encouraged him to by on the junior FFA skills demonstration team where they were taught how to wire lights and brakes for trailers.  
"Not only just wiring trailers but we learned how to publicly speak and be able to stand in front of crowds and be able to communicate just as I'm doing right now," he said. "I will be forever thankful to the FFA for those lessons because not only do they serve me purpose now but they will continue to help me in my future."
From helping fellow exhibitors show their animals and other projects, he said he found his passion for the agriculture industry. It has also helped him develop a relationship with his dad.
"We spent hours in the shop where he taught me to measure, cut and weld," he said. "Then, he would watch and advise as I used those skills to produce my project for that year. ... I just want to thank the community of Cleburne, the CTE and the FFA for the opportunities to be here and grow not only as a leader but as a person." 
He plans to study soil science at Tarleton State University in the fall. 
CHS senior Gwen Wells has participated in the school's health science program, but it hasn't always been easy for her.
"In the fifth grade, I was placed into foster care in a home with a loving family with electricity, a steady supply of food and running water," Wells said. "That was not something I had, and I was absolutely amazed with the support they had provided. 
"In the seventh grade, I was adopted by the same family. I was just so grateful to be a part of such a great community like Cleburne and be the third generation that graduates from Cleburne High School."
When she started high school, she had no life goals or future plans. It was during her sophomore year when she realized her passion for the health care field.
"It was something that just drew me in and caught me, and I could not leave," she said about the field. 
After taking her required courses, she and the other nursing students volunteered at local long-term care facilities three times a week to help take care of patients.
"The health science teachers that teach us give us opportunities for hands-on experiences that shape us from just young adults to caring individuals," she said. "We are gaining skills like communication all the way to skills needed in any basic health career ... Before the age of 11, I didn't have the means to dream a dream this big. With the CTE health classes, they have helped me plan for my future."
She plans to attend Texas State University in the fall with hopes to go to medical school afterwards.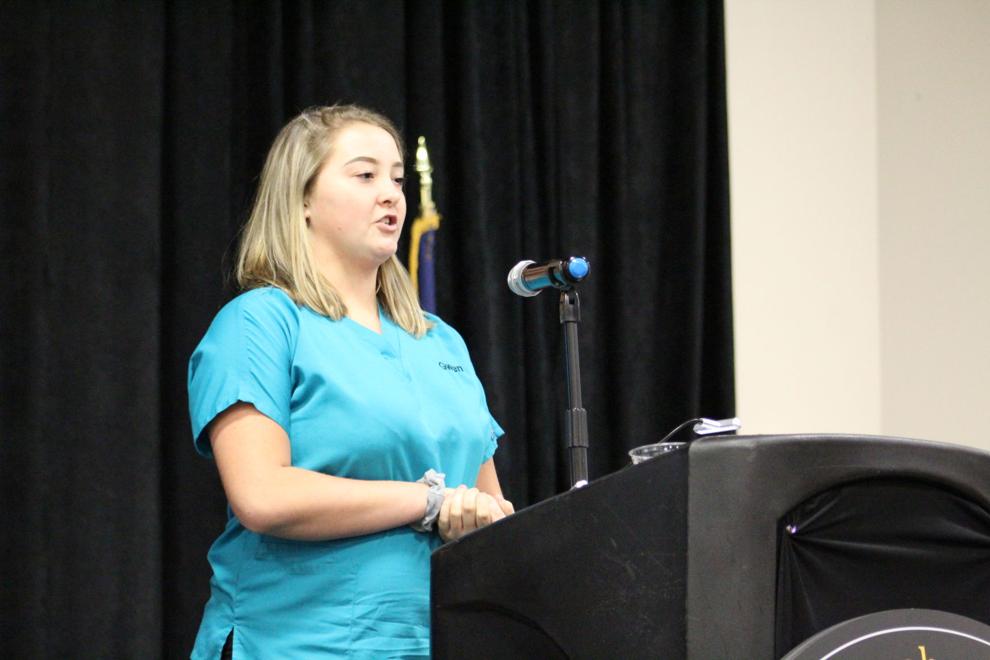 CISD Superintendent Kyle Heath thanked community members for their support.
"Because of your support, even though we may have had these programs in the past now we have tools and resources that can truly prepare our students for the world of careers, the world of work and the work on continuos learning," Heath said. "Good things start happening because of great people. I truly, truly believe this district has some great people. We're so fortunate to be here, to be a part of this and to be able to pass future learning onto our kids."