Several Godley High School students competed in a charity wheelchair basketball game to raise money and awareness for people with disabilities who participate in sports on Tuesday.   
As part of an elective course seniors could take for the first time this year, GHS senior Meritt McKittrick said she wanted to create the event to not only get the community involved but also help those who have physical disabilities and want to compete in sports.
In April 2006 when she was 5 years old, McKittrick and her mother were in a head-on collision on Texas 171. Doctors said she had a "stretched spinal cord" and ended up being paralyzed from the waist down.   
The accident didn't stop her from competing in several sports. For the past three years she's competed at the state level in track and field. 
"I wanted to take a game that I know about and show everyone it's not as easy as everyone thinks," she said about creating the event. "People think that it's easy to use just your arms, but as these kids saw it's really hard to just use your arms."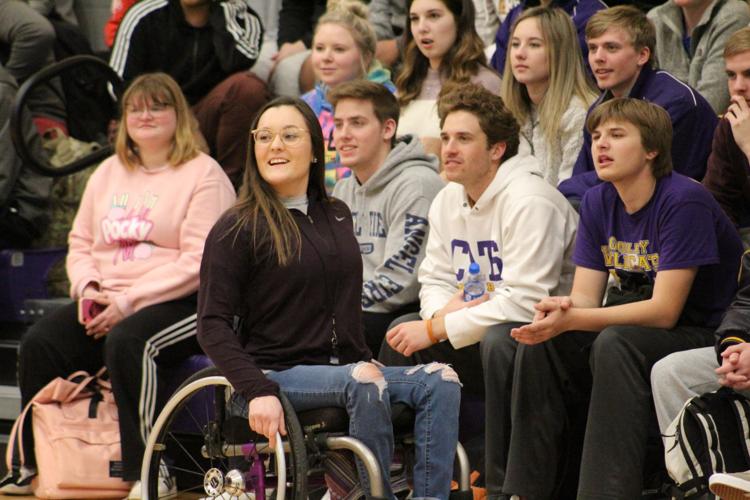 Six seniors competed against each other in two teams of three for a 15-minute game, with two minutes of over time. By the end of the game, all the seniors agreed their arms were tired because they weren't use to using their arms that much.  
Students who attended the game were charged $1 each. All funds will be donated to Southwest Wheelchair Athletic Association, which McKittrick said provides wheelchairs and other equipment for people with disabilities who want to compete in sports. 
GHS Principal Jason Karnes said the class encourages seniors to create a project by themselves to involve the community and to serve others. He said he thought the game was a great way to bring awareness and also raise money for a great cause. 
After the game, he and GHS Assistant Principal Ammie Hill raced the seniors across the basketball court.