Four Kauffman Leadership Academy seniors — Steven Green, Corey Hobbs, Caedmon Knapp and Thom Peugh — graduated from the school's inaugural commencement ceremony on Friday night at North Cleburne Baptist Church. 
KLA, which opened in August 2016, is Johnson County's first and only public charter school and is located in Cleburne.
After an invocation from NCBC Pastor Joe Smith, KLA Superintendent Theresa Kauffman welcomed guests to the ceremony. 
"I can't tell you how excited and proud I am to be standing here in celebration of all of your hard work and perseverance that you have shown," Kauffman said. "You four have worked very hard to get here. You have kept the strength to keep going when it was rough, and you did it."
It was in the summer of 2010 when she and her husband, Greg Kauffman, first walked through the school, which used to be Cleburne ISD's Irving Elementary School.
"Through hard work and perseverance — and yes, there were days that we wanted to give up, too — we opened the charter doors in August 2016," Theresa Kauffman said. "In that three years, we've grown from 54 student scholars to 115 student scholars this year. Each of these graduating scholars sitting here tonight has helped shaped our culture and the tone of Kauffman Leadership Academy."
Each teacher who has taught at KLA, each student who has walked through the halls and each business who has supported the school has helped create the school's culture, she said.
"You may be miles away, but we will be cheering on your success," she said. "Keep in touch with us. We truly value and appreciate each of you. We hope that you've learned about hope in an imperfect world and will continue to hold on to that hope. Continue to grow confident in your voice and your own power."
She said this year's salutatorian, Thom Peugh, represents what the school is all about: diversity, hope and success. 
"In the three years that I have known Thom Peugh, he has been a work in progress," Kauffman said. "From a seemingly shy, unengaged person to a very articulate scholar who was an officer in the [Parent Teacher Student Organization] and even wrote a play that the students performed."  
Peugh said he never thought he would graduate from school, let alone second in his class.
"I used to hate school," Peugh said. "I tried every excuse not to go. It was stressful, so I didn't do the work. Some teachers left me behind to focus on more hardworking students. My grades dropped, and I was left behind in the dust alone."
When he first came to KLA, he thought nothing would change.
"But I quickly realized that it was different," he said. "The teachers actually cared. I made lifelong friends, and my grades just kept improving. 
"KLA's motto is 'excellence is the expectation.' That doesn't mean you have to be making straight A's for them to be proud of you. As long as you're trying your hardest, they will be proud of you. They care about your education as long as you try your best."
He thanked this family for supporting him and encouraged future graduates to do well.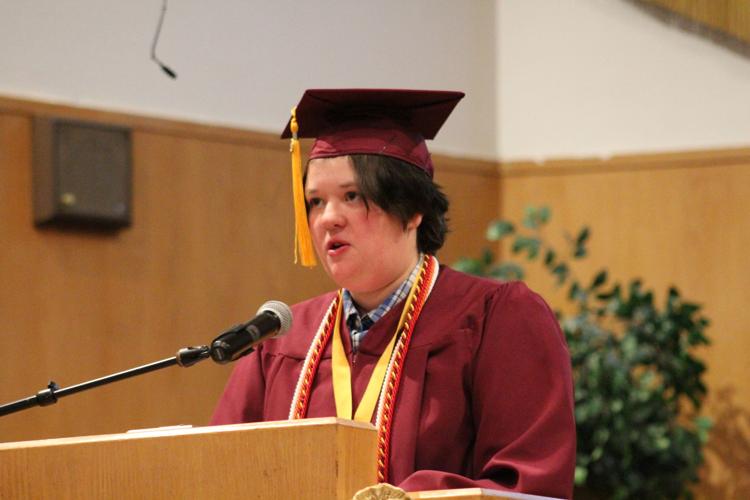 Kauffman said this year's valedictorian, Caedmon Knapp, is a student that every teacher dreams of having.
"He is polite to a fault," she said. "He is 100 percent attentive and curious about everything."
When she taught him home-schooling classes while he was in middle school, she asked him what he wanted to learn.
"He looked at me and said, 'I want to learn everything,'" she said. "As I've learned more about Caedmon and worked with over these years, I've come to realize he was exactly self aware. He does aim to learn everything."
Knapp said though their paths only first crossed roughly three years ago, they have been through thick and thin pushing each other to greater heights to surpass the challenges in front of them. 
"We have learned much a feat that may be contributed solely to the incredible teaching we have received from teachers who care for us to an extent we may have at times had difficulty understanding," he said. "Parker Palmer in his work, 'The Courage to Teach: Exploring the Inner Landscape of a Teacher's Life,' said that, 'Good teaching cannot be reduced to technique; good teaching comes from the identity and integrity of the teacher.' Each teacher here at Kauffman Leadership Academy has shown time and time again that their integrity matches their academic excellence making their teaching some of the most beneficial experiences in life." 
He said their time KLA has taught them many lessons, but the greatest of these may just be the growth of their mind sets and the development of their integrity towards the community. 
"The Habits of the Heart, which have pervaded our experiences at every turn, have equip us with an understanding of how to actively contribute to the communities we are a part of in everyday life," he said. "So as we moved forward into the future it is important to reflect on the habits we will use."
There are five things he encourages his fellow graduates to remember: they are all in this together, they value and appreciate each other, they should learn to hope in an "imperfect world," they need to grow confident in their own voice and power and work to strengthen their community every day.
"I am incredibly grateful to every teacher and scholar of Kauffman Leadership Academy for their support of our senior class," he said. "My gratitude extends further than just their support, however, as the lessons they have taught me both academically and about life are something that I know will accompany me until the end of my days. 
"In the three years that this school has been open, I have grown to understand each and every one of you to an extent that makes me proud to call you my KLA family. To those who have come and gone both fellow classmates and faculty, I am grateful, just as I am to those who stuck with us to the very end.
"For the active smile and happy demeanor of my friend Faith Norman who was taken prematurely from this earth, I am grateful. And lastly to every member of my family who has contributed to my growth since my birth by setting a good example for me to follow. I feel like the thank you's could continue forever."
To the teachers, he encouraged them to always teach with passion and to love the content they present to their students, no matter what the circumstances are. To his fellow students, never stop trying and always strive for greater heights. 
"Finally to All those present, Kauffman Leadership Academy is the place where excellence is the expectation," he said. "Strive for this excellence and build up this community where possible whether parent, teacher, scholar or another faculty member.
"As you grow here at the academy, I ask that this dream not be limited to the Kauffmans. No, instead of like I chose to do make their dream your own to have the passion and grit needed to make Kauffman Leadership Academy the best school it was meant to be."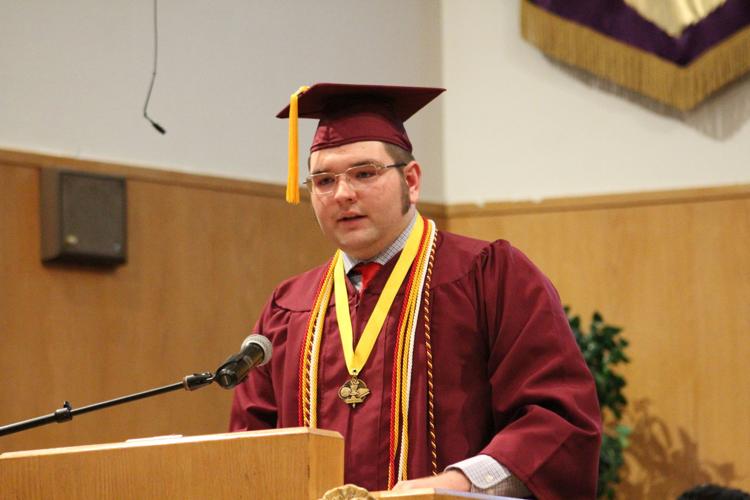 Johnson County Precinct 4 Commissioner Larry Woolley was the ceremony's guest speaker who encouraged the graduates to listen, pay attention, observe and watch what successful people do.
"Doors open and doors close," Woolley said. "When doors close, don't worry about it. That's one door closer to one that opens."
Nowadays, he said employers are looking for employees who have effective communication skills, can work collaboratively with others and also want somebody who can show up to work on time.
"Surround yourself with successful people," he said. "Listen to them. See what successful people do. Ask for advice. It's OK. Like I said, move forward all the time.
"There's a reason why your windshield on your automobile is so much bigger than your rearview mirror. You want to have a clear vision of where you're going. What you've done in the past, not so much. If you make mistakes, that's OK. You have to learn from them though and don't do it again."
He also encouraged them to follow their gut and always be able to communicate with others. 
For information about KLA, call 682-459-2800 or visit klacademy.org or the KLA Facebook page.