Just as it has the past seven years, the Cleburne Conference Center was filled with country music at Nashville Lights on Thursday night. 
Local, Texas and Nashville singer-songwriters performed songs for the 500-plus crowd to raise money for the Cleburne Education Foundation. 
CEF Executive Director Paige Harris said they're hoping to have raised $98,000, but will have the official numbers soon.
"We are very excited about our seventh annual Nashville Lights," Harris said. "We had a sellout crowd, and the songwriters did not disappoint. They were fantastic. We're so grateful to all of our sponsors and volunteers who make this event so special." 
The CEF, through grants and other programs, benefits Cleburne ISD students, teachers, programs and other needs. Cleburne resident Peter Svendsen, who has long been active in the music industry, helped organize Nashville Lights seven years ago, and the event has gone on to become its major fundraiser.
The event offers a mix of local and national songwriters, many of whom have penned chart-topping country hits for artists like George Strait, Blake Shelton and Brad Paisley.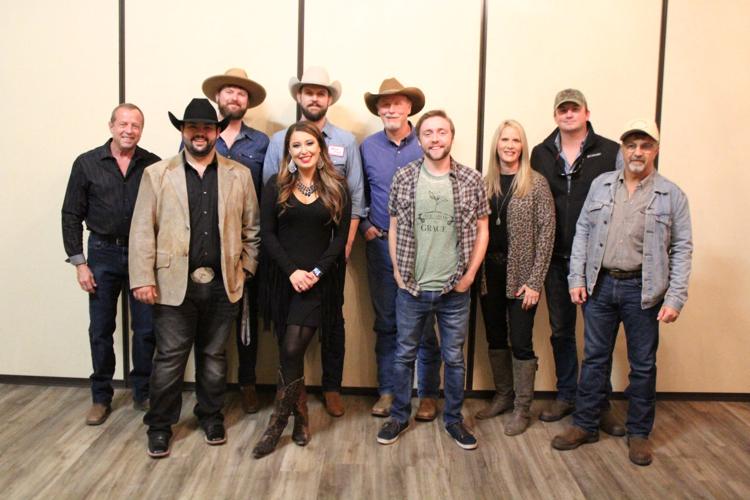 The show began with performances from the winners of August's Open Mic Contest, who were Alvarado's Brittany Oviedo and Fort Worth's Kiefer Detrick.
Oviedo has played live for three years and released her independent single in August, "Love Her Like You Loved Me."
She performed her songs, "Traces of You, "Love Her Like You Loved Me" and her newest song that is still unnamed, which she said is about how some people don't like to face their problems. 
Detrick has a degree in vocal music education but decided to pursue writing and recording his music shortly before college graduation. He has been writing music from the piano and guitar since he was in middle school. 
He performed his songs, "The Bright Side," "That's Love" and "Heaven When We're Through." He wrote his third song with his sister, so he asked Oviedo to sing his sister's parts of the song. 
Texas singer-songwriters Josh Grider, Drew Kennedy and Andrew Sevener followed. 
Grider is a New Braunfels-based artist, but he grew up in a small town in New Mexico. He began writing songs in high school. He performed his songs, "Good People," "Smallest Town on Earth" and "One Night Taco Stand."  
Kennedy was born in Virginia and performed there and in Maryland before moving to Houston after graduating from college. He later relocated to New Braunfels where he met Grider. 
While growing up, Kennedy said he was able to travel to many historical locations around the east coast. He met a girl from Nebraska who asked him if he could go with her to New York City to see the Manhattan skyline at night, which was the inspiration for his first song, "24 Hours In New York City."
He also performed his song, "Open Road," which he wrote with Grider. 
Kennedy said he appreciates the community for coming to the event since it was to raise money for the school district. His mother and wife are both teachers, he said. 
Sevener is no stranger to the stage. After winning the inaugural Open Mic Event in 2017, he continued performing and later earned a spot on NBC's season 16 of the "The Voice" when he was chosen to be on Blake Shelton's team. 
He performed his songs, "All In," "Hungover," and "Me, My Old Man and Steely Dan," which he wrote for his dad. He grew up performing in a band with his parents and performed at many local events over the years. 
Nashville singer-songwriters Phil O'Donnell, Chase McGill and Wynn Varble closed out the show. 
A Canada native, O'Donnell made his first trip to Nashville in 1983 and began developing his skills as a songwriter. He officially moved there in 1994 and started playing guitar. 
He's written songs for Blake Shelton, George Strait, Montgomery Gentry, Darius Rucker, Easton Corbin, Darryl Worley and Travis Tritt. 
O'Donnell performed "Doin' What She Likes" by Blake Shelton, "She Won't Be Lonely Long" by Clay Walker, "Tougher than Nails" by Joe Diffie and "Give It All We Got Tonight" by George Strait. 
It took 21 years to write "Tougher Than Nails," he said. 
McGill grew up in Columbus, Mississippi, and has written songs for Kenny Chesney, Luke Bryan, Blake Shelton, Little Big Town, Cole Swindell and Kane Brown. 
McGill performed "The Way I Talk" by Morgan Wallen, "Break Up in the End" by Cole Swindell, "Lose It" and "The Ones That Didn't Make It Back Home" by Justin Moore. 
Every Nashville writer has their "booty-shaking" song, which was "Lose It" for him and wrote "The Way I Talk" after people would comment on his country accent.
"I'm originally from Mississippi, but people always thought I was from Texas when they heard me talk," he said. 
Varble began to love country music at a young age when he discovered his dad's collection of classic country albums. He started playing guitar at 14 years old. He's recorded songs for Darryl Worley, Brad Paisley and Easton Corbin.  
Varble performed "A Little More Country Than That" by Easton Corbin, "She Ain't in It" by Jon Pardi, "Waitin' On A Woman" by Brad Paisley and "Have You Forgotten?" by Darryl Worley.
He said he wrote "Waitin On A Woman" when he was waiting in his truck for his wife to come out of the house so they could go to church and "Have You Forgotten?" about the 9/11 terrorist attacks. 
To view videos of the performers, visit cleburnetimesreview.com.