After 12 years of donating bicycles to children in need for the holiday season, Bikes 4 Angels celebrated its last year on Wednesday surrounded by family, friends, community members and volunteers.  
Waking up on Christmas morning to a new bicycle can be a fond memory for any child. However, some children have never owned, let alone ridden one before. B4A Founders Rick and Dee Curlee said they wanted to change that. 
The year before creating the organization, Rick Curlee said he was working as a teacher for Mansfield ISD when his principal asked if he could help deliver angel tree gifts since he had a red pickup. He agreed. 
Since they hadn't picked out an angel yet, the couple decided to go to Walmart and buy three different size bikes to give to children in need while they delivered the gifts. 
His school adopted five families for the holidays that year. At four of the families, they already had bikes.
When they got to the fifth family, the bicycles they purchased fit the children perfectly, and the grandmother asked how they knew that was what they needed.
He said he didn't know why he and his wife felt compelled to purchase the bikes or how they were the perfect fit for the family, but he knew they needed to share the "joy of giving" with their students during the next holiday season. 
"We feel so blessed that our community and businesses have been so welcoming in supporting Bikes for Angels, along with all the principals, counselors and teachers," he said. "The kids raising funds were  some of the most exciting faces you'll ever see."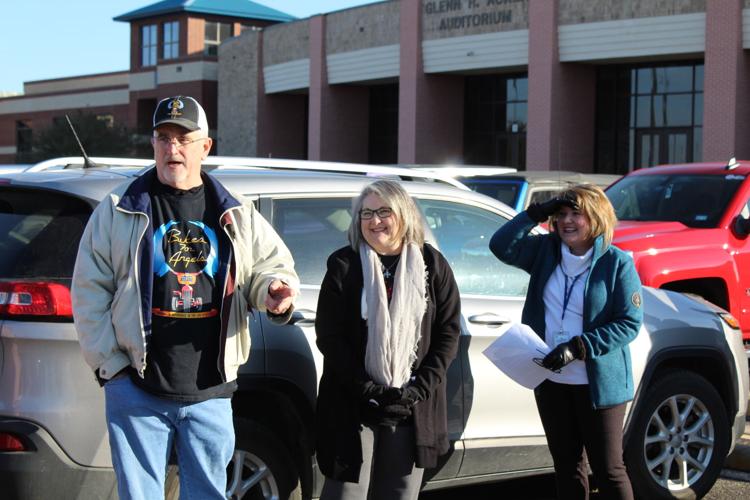 Several volunteers hauled 18 trailers full of about 868 bicycles on Wednesday to all five Joshua ISD elementary schools, two Burleson ISD elementary schools and several local organizations, including Children's Advocacy Center of Johnson County, Salvation Army, Court Appointed Special Advocates of Johnson County, Operation Blessing of Johnson County and the Johnson County Family Crisis Center.  
Over the years, they have raised enough money to donate over 6,800 bicycles to children in need, Dee Curlee said.
"We could not have done it without our community," she said. "They embraced us from day one. If we didn't know them, we know them now. We don't call them friends; we call them all family because without them this wouldn't have happen."  
After lots of prayer, she said they decided this was the last year for the organization due to them having some health problems. 
JISD Superintendent Fran Marek thanked the couple for their hard work.
"You know, we call it Bikes for Angels, but really and truly they are our angels," Marek said. "These babies are our angels where these bikes go to. But it wouldn't be possible without these two guardian angels who have seen the need.
"Our families, our children have benefited because these are the true angels right here. We just can't thank you enough for the commitment, the dedication, the time, the vision, the heart, the soul and just your genuine giving. Our community is blessed because of you." 
For more information, visit bikesforangels.org.