The Cleburne ISD board of trustees approved Cleburne High School Assistant Principal Jeri Hall as the district's new athletic director and Burleson ISD's Hughes Middle School Principal Ben Renner as the new principal at CHS during Monday night's meeting. 
Hall will replace Mark Walker, who resigned at the beginning of this month citing the time for "new challenges" as his decision to resign from the position.  
Hall is in her fifth year as an administrator at CHS, preceded by her first year on campus during the 2013-14 school year as a science teacher and coach. Prior to that, she was a science teacher and a girls athletic coordinator at Joshua ISD's Loflin Middle School for four years. Her first education position was a science teacher, head girls basketball coach and girls athletic coordinator at Grandview High School from 2005-09. 
Being a CHS alum, she and her family "bleed black and gold" and said she's excited to serve the community and the district's staff, coaches and student athletes. 
"It's a dream come true," she said about the position. 
She will continue to work at CHS until school is out and begin her new AD duties in June.  
Renner will replace Le'Ann Downs, who resigned in March to open an educational consulting firm. 
Renner, who has been principal at Hughes since 2015, has a total of 12 years of experience as a school administrator. He spent seven years as an assistant principal at JISD from 2003-10 and an assistant principal at Mansfield ISD. He began his teaching career in 1997 with Arlington ISD.
He said he's thankful for this opportunity.
"We're going to do great things," he said.
He will continue his duties at Hughes until school is out and start his new duties at CHS in June.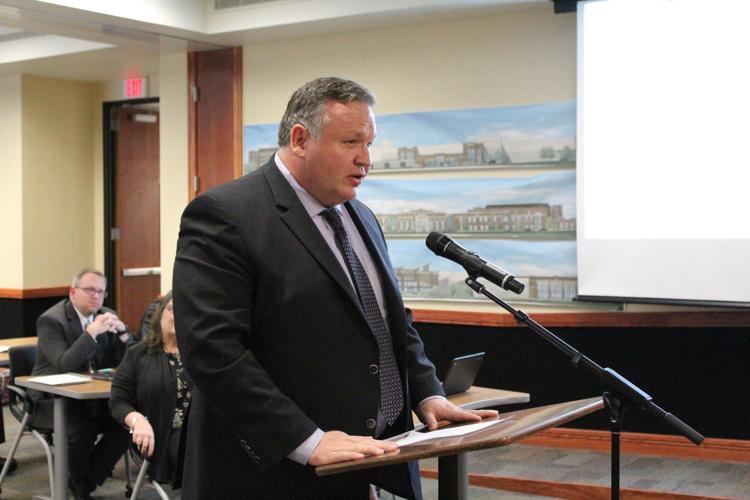 The board also promoted CHS Assistant Principal Karen Holweg as the school's academic associate principal. She was originally hired by the district last summer after coming from Tennessee. 
"I was very nervous when I came from a middle school to a high school," Holweg said. "The size of the kids are much bigger, but their hearts are just as big. ... I look forward to helping the staff, the students and Cleburne High School move forward with all the programs we'll be doing in the future."
CISD Superintendent Kyle Heath said they're excited for all three of the administrators and their futures with the district.
"Ben Renner comes to us with lots of experience at the secondary level," Heath said. "The superintendent at Burleson [ISD] was very impressed with the job he had done at Hughes Middle School. I think Ben will be a strong campus leader in unifying relationships and working in collaboration with our Career and Technical Education staff and students at CHS."
He said Hall has been an effective leader as both an educator and administrator.
"Jeri Hall is a proven administrator, teacher and coach," Heath said. "I have every confidence she can work with coaches, site coordinators and principals to grow our athletic programs. She will do a great job in supporting our existing coaching staff and recruiting new coaches when openings occur."
He said Holweg has done a tremendous job in her first year with the district.
"We have had many positive comments about Karen from the CHS staff regarding her leadership and professionalism," he said. 
Other business
Splash Station will soon have a new dome the facility uses during colder weather for CHS swimmers. The board approved to pay $38,237 for the dome.  
After the dome was vandalized in 2017, the district agreed to pay 50 percent of the cost for updating the dome liner and the LED lighting not to exceed $50,000, CISD Chief Financial Officer Sarah Taylor said. The city has agreed to pay the remaining amount, with the project totaling $78,617.  
In other news, Balfour Beatty Construction Co. Senior Project Manager Jeremy Blevins gave the board an update on the renovation of the old CHS facility into a Career & Technical Education Center.
In the arena, he said there are a lot of moving parts. Over the next month, they will complete installation of the handrails, paint the gym's deck, continue the installation of the exterior facade at the south entrance, install roof top units, install the elevator and build the concession area.