An incident happened several years ago at the old H-E-B Grocery store in Cleburne, Bethel Salter A.M.E Church Administrative Pastor John Warren recalled.
"I parked and went in the store," Warren said. "A white lady and her son, who looked like he was about 6 or 7, arrived at the door about the same time I did. He said, 'Mother, I don't like him.' She said, 'You're not supposed to' and she grabbed him by the hand and jerked him away like I'm some kind of monster.
"Now, that kid grows up. What does he think about Black people? You see where that came from? It's handed down. It was handed down to her."
The Rev. Kirklin Cross, pastor of The Meeting Place Church, spoke of a more recent incident.
"One of our pastors preached that because all lives matter, Black lives have to matter, too," Cross said. "Someone just yelled out during his sermon, 'No!'
"I knew those things and those folks are out there and they're comfortable being part of the Body of Christ. But we do them an injustice too by not telling them the full truth of the Gospel.
"So there's a great need because it's not just any race. There are racists in all races and we need to address that point as well. You can be a racist, but you can't be a Christian and a racist."
With those and other concerns in mind, several area pastors, Black and white, have called upon churches throughout Johnson County to sign on to the "Unified Statement of Faith Regarding Racial Discrimination."
Southwest Metroplex Baptist Association Executive Director Scott Whitson contributed to the document.
"The document wasn't prepared by me," Whitson said. "Wasn't prepared by just a white pastor. That's where the initial draft came from, but it was brought to the alliance in Burleson and we worked on it together.
"It's not a Baptist thing. It's a collection of pastors from various denominations and ethnicities working together."
Eight pastors met Thursday at Bethel Salter to discuss rollout of the document, about which roughly 100 area pastors have already been contacted.
Ascension Church Pastor Eddie Sheler sought the intercession of the Holy Spirit in his opening prayer.
"According to the will of God for his people that we would come together with you as one to break down the walls of division, hurt and sinfulness that have kept us apart for far too long," Sheler petitioned.
The need for action and idea behind the document arose last year, Whitson said, in wake of the Memorial Day killing of Minneapolis resident George Floyd and the protests, racial unrest and rise of Black Lives Matter that followed.
"We felt we needed to be more proactive in trying to address some of the issues our culture is facing," Whitson said. "We felt we needed to speak to this and not be complicit by just watching from the sidelines.
"So, all of that resulted in this statement regarding racial discrimination and social justice."
The document's purpose is fourfold, he said.
"One to help each church develop a public statement regarding racism and racial discrimination," Whitson said. "To adopt a specific policies and have something in writing."
A second goal, Whitson added, is to prompt pastors to action.
"To have a document written in such a way that pastors will preach on it occasionally," Whitson said. "Doesn't have to be every month. That's up to them. But it's also designed to help pastors recognize this is something they need to preach and teach on. What does God's word say on this?"
The document provides accountability as well.
"It specifies that when a spiritual leader recognizes off-color jokes, disparaging of other races they don't look over it and say, 'That's just how they are.'" Whitson said. "But they instead push pause and try to address it in a loving, biblical way. So, this helps us hold one another accountable."
Lastly, the document stands as a broad community statement of hoped for intent.
"We want people in our churches and in our community to know that racism and social injustice are not accepted in this community period," Whitson said. "We want that to be a very public statement.
"That is our intent, that our churches would unite and that we as people of faith would take the lead on coming out against racism and social injustice."
Feedback from other churches and religious organizations has been mixed, Whitson said, but mainly positive.
"Several church leaders have told me this is precisely what their members wanted and were looking for," Whitson said. "There have been some churches that have pushed on to the next step and invited guest speakers. One of our Anglo churches invited an African-American pastor to speak on these issues, which they say generated a lot of good conversation for their church."
On the other hand, hurdles remain.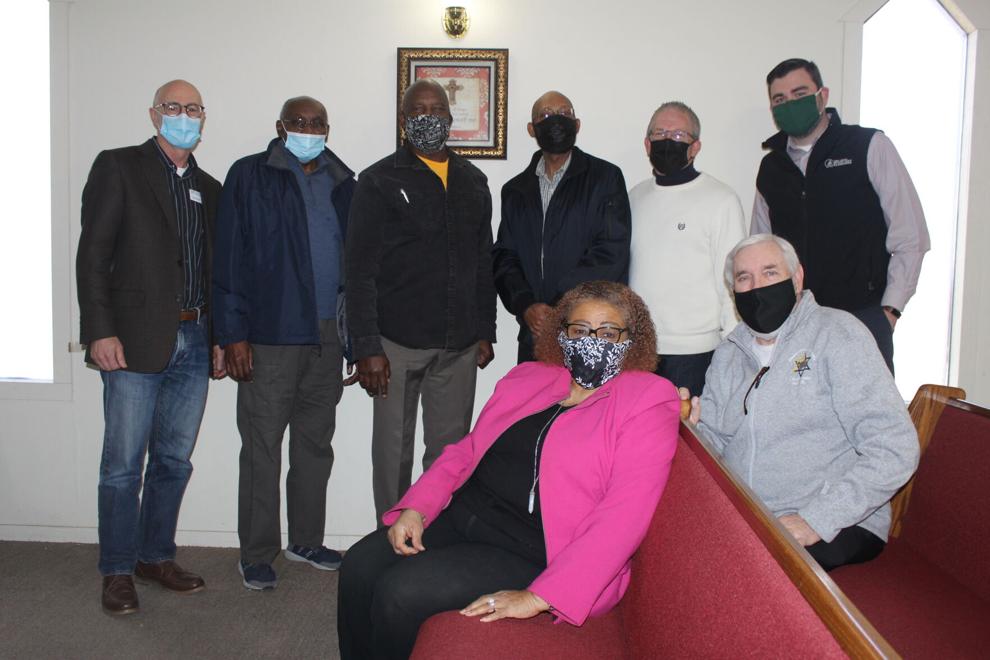 "It's also revealed where there's rubbing points," Whitson said. "There are still people who don't think this is an issue around here, don't see it around here. So it's a point of education. We've got to keep that message out."
Cross admitted that progress is difficult at times.
"It's an uncomfortable conversation even for pastors," Cross said. "I would love to say all pastors are onboard and know and want to do the right thing. But some pastors are in the same position some of their members are in. They're in the same culture. And, if they're in a church where nobody is talking about these issues then that feels normal for them.
"But our first goal with [the document] is that in order to get to the sheep we need to get in touch with the shepherds first, get the shepherds onboard. Then, hopefully, they will go to the sheep."
Burleson Pastor Ron Williams of Faith to Faith Ministries said he's seen evidence of as much, too, unfortunately.
"A lot of white pastors are afraid of preaching on these issues because they're worried about how their congregation will feel about it or possible push back, or their jobs being on the line," Williams said. "That's got to be prayed on. That's got to be broken. I call that old school."
The rollout remains ongoing. The pastors involved are working on contacting additional churches and encourage those who have not been contacted yet who wish to come on board to contact them.
Cross added that for true change to occur the process must involve more than a cursory signing of a document condemning racism.
"Maybe in the next month or so we find a way to invite the pastors of the churches that have adopted the [document] to come together in person or through Zoom, maybe have one or two address the group," Cross said. "That could also give a feel of how broad support of this is and help those already onboard to embrace it more."
Others voiced hopes that the document may encourage the various churches to join together more often in tackling racism and other issues and outreach projects.
In addition to supporting the goals of the document, Warren created a monthly program titled "The Color of Compromise" in hopes of fostering dialogue and increased understanding. The program is open to the public with the next installment at 11 a.m. Feb. 18 at Bethel Salter, 106 Olive St.
"Rev. Cross and others have talked about how we have to address racism and other issues that separate us in a proactive way," Warren said. "I realize that can be difficult, but those conversations also need to start if we ever hope to move forward. I realize that some white people think we are accusing them of being involved in it if we try to discuss racism. But my thought is, if we approach it from the history aspect, how did all this get started? What are the causes of this? Why do you think the way you do about me? It's because someone told you something. We are all suffering from a generational curse and it was given to us. I think if people knew the history behind that their attitudes might be somewhat different. We can begin to understand that this has been given to us and now we're suffering from it. We have to come to understand that this is not good for the nation. How can we be fractionalized and face a common enemy?"
It's about perspective, understanding and conversation, Warren said.
"Why am I opposed to the Confederate flag for example?" Warren said. "You don't know because you never asked me. If you like it, that's fine for you. Maybe some of your relatives died in the Civil War and you focus on that and that flag is sacred to you.
"But they rode across my grandfather's porch in Georgia waving that flag and shooting into the house and rode their horses out into his garden and destroyed it.
"And if you knew that you'd understand that about me and I'd understand that about you and we can get past that.
"It's like when I used to teach at the high school and, in the common area before classes began, you'd see the cowboy kids over there, the Black and Hispanic students over here, the rich kids over in that corner. All of them focused on their differences but not knowing the reason why."