U.S. Rep. Roger Williams, R-Austin, credits his decisions to enter the public arena to former President George H.W. Bush.
"I called President Bush when I was considering running for Congress and he not only encouraged me to do so but served as my finance chair and did so until recently," Williams said. "Even before then he told me that the most noble calling of all is public service and that greatly influenced my decision to enter politics."
Bush passed away Friday at the age of 94. Williams joined the several thousand paying tribute to Bush who laid in state in the U.S. Capitol rotunda from Monday to this morning and will attend Bush's funeral today at the National Cathedral.
"We are very close to the Bush family and shared many memories together," Williams said. "We've visited them quite a bit in Kennebunkport, Maine. Some of my fondest memories are of [Bush] playing basketball with my girls. I remember one of my girls didn't have tennis shoes that day so [former First Lady Barbara Bush] went and got a pair of her tennis shoes and my daughter wore those. 
"Another thing I remember is that the basketball goal had vines growing on it and Barbara made George cut them down before they played basketball. I was thinking, 'For crying out loud. This is the president of the United States.'"
Bush also invited Williams to accompany him to Dallas to visit with the Rev. Billy Graham, Williams said, adding that it meant a lot to him to be with both while Graham prayed for the country and the president during a time of war.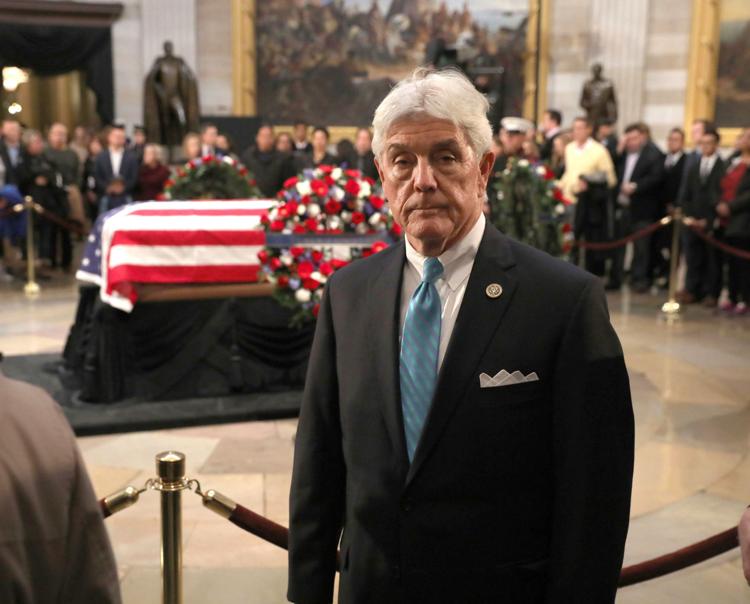 During another visit to Kennebunkport, Williams said he walked into the room to find Reba McEntire singing for the president.
Williams joked that his and the Bushes love of baseball solidified their friendship, Williams having played, and later coached, baseball at Texas Christian University. Williams, who went on to play professional ball, has for the past several years served as coach of the House Republican Congressional baseball team. They and the Democratic team meet annually in a game that dates to 1909 to raise money for local charities.
What has long been a much anticipated Washington D.C. tradition turned tragic in June 2017 after a gunman opened fire during an early morning baseball practice of the Republican team at Eugene Simpson Stadium Park in Alexandria, Virginia. Several were shot, including Williams' legislative correspondent Zach Barth. Williams suffered injuries as he and several others took cover from the shooter in the dugout.
"President Bush was one of the first one of the first to call me after the shooting and told me he and his family were praying for me," Williams said.
Williams said he considers Bush's son, former President George W. Bush, one of his closest and dearest friends. Williams said although he knew George H.W. Bush previously he and George W. Bush became close friends after Bush purchased the Texas Rangers in 1989.
"So I say baseball brought us all together," Williams said.
Bush's devotion to family greatly impressed him, Williams said.
"One day he and I were at his house in Maine eating breakfast," Williams said. "[Bush] was reading the New York Times, the paper was covering his face and he pulled it down, looked at me and said, 'I don't understand why they dislike my boy so much.' 
"I thought that was pretty powerful coming from a dad talking about his son."
Bush later tapped Williams to serve on the board of trustees of the George H.W. Bush Presidential Library and Museum at Texas A&M University.
"Course I'm a TCU Horned Frog so they always joked that I was a spy among the Aggies," Williams said.
Williams called Bush a dear friend and mentor.
"I think in the past few days since the president's passing it's become more and more clear to many how qualified he was as president and how much he loved his country," Williams said. "I'm not sure we'll see anyone like him again for a long time."