Furthering its move into the digital age of news, sports and feature coverage, the Times-Review released its first podcasts this week.
Dubbed "The Lighter Side," every episode will tell the story of the Johnson County community by celebrating and sharing stories from people who love their hometown.
The inaugural episodes feature exclusive interviews with Cleburne High School Head Baseball Coach Ross Taylor and Grandview High School sophomore Callie Welty.
Produced and hosted by Drew Myers with Open Mouth Communications, "The Lighter Side" is a look into the lives of Taylor and Welty and what drives them to be who they are and why they live in and love Johnson County.
Classic Chevrolet Buick GMC of Cleburne is the title sponsor of "The Lighter Side." Also sponsoring both podcasts is Royce's Best Value Pharmacy. 
"We have produced and created many platforms of distributing news and features, and this is just one more way for us to do that," Texas Regional Editor Dale Gosser said. "Moving into podcasts is a no-brainer. You can listen to 'The Lighter Side' on your phone, tablet or computer any time you want and listen at your leisure. It doesn't matter if you listen all at once or listen in excerpts when you have time.
"We especially want to thank our title sponsor, Classic Chevrolet, and Royce's Pharmacy, for their support of this new venture. We couldn't provide this new product without their support."
To listen to "The Lighter Side," the official podcast of Johnson County, all you have to do is visit cleburnetimesreview.com/podcasts.
The Times-Review will release two new podcasts a month every other Thursday starting in December. The next scheduled release is Dec. 12 and then again on Dec. 26.
"We are excited about this new venture into podcasting," Times-Review Managing Editor Monica Faram said. "I love this avenue of storytelling through audio. We hope to reach a whole new audience with 'The Lighter Side.'
"Ross Taylor and Callie Welty were great choices for our launch. Both have a love for their communities that they contribute so much to."
On the first installment of "The Lighter Side," Taylor said, "What I love about Cleburne, Texas, is that it's a one-horse town. Seriously, when I moved here I was looking for that. I like the idea that everybody in town gets behind one high school and everybody is going to support everything, hopefully. When we moved here 23 years ago, that's what we were looking for."
Welty, who is heavily involved and successful in showing livestock, explained why she loves Johnson County.
"What I love about Johnson County is the professional rodeo every year in June is put on, and this is where I found my passion, for not only rodeo but for helping people in the community and just being able to provide an entertainment that really brings them joy and just gives them something to look forward to every year," Welty said.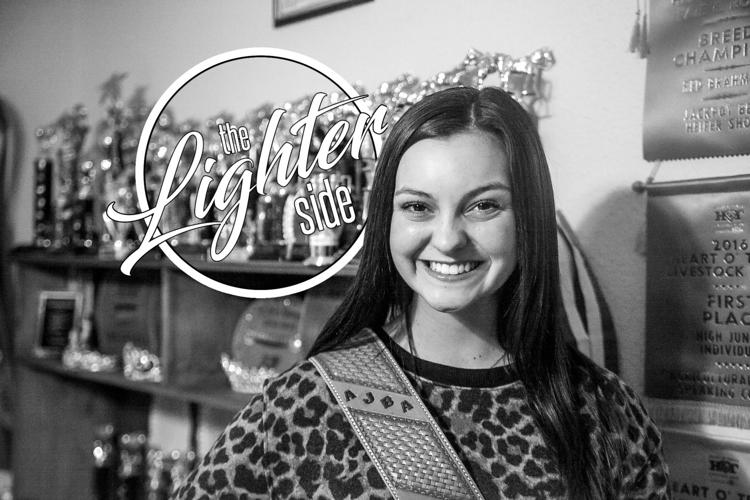 Myers, who has more than 500 podcasts under his belt, understands how important this type of communication is with listeners in the Johnson County area.
"The power of story is real," Myers said. "I just feel honored and blessed to help this community tell its story through the stories of the amazing people that live here. It says a lot about the newspaper embracing this progressive initiative. Every community should have the opportunity to share its story in this new out-of-the-box way."
To promote your business on "The Lighter Side," contact Advertising Manager Renae Alexander at 817-645-2441 or ralexander@trcle.com.