Two suitcases.
That's all Stuart and Claire Bucknell each carried with them when they immigrated from England to Cleburne in October.
"We sold everything we had," Claire Bucknell said. "We bought our home online, without ever seeing it, while we were still in England."
The move didn't happen overnight. The couple decided 16 years ago they wanted to live in America.
"England is cold, grey and drizzly," Stuart Bucknell said. "So when we got married we initially wanted to have our wedding at a beach in California. But when we landed in Los Angeles we started asking for someone who could marry us and they said, 'Oh no, you can't. You're English.' 
"You have to have blood tests and it takes two weeks to come through and we would only be here for two weeks. But they said 'You could go to Las Vegas and get married today if you want to.'"
So off they went in a rented convertible Ford Mustang and were married a few days later. For the next two weeks, the couple went sightseeing around the U.S.
"We drove 3,000 miles and saw a lot," Claire Bucknell said. "It was lovely."
But it wasn't just the weather that was enticing.
While they were honeymooning, Claire Bucknell told her husband if there was an opportunity for them to move here she would take it.
"It was beautiful, it was sunshine," she said. "But it was the people as well. In England, you don't speak to your nextdoor neighbor. You don't say hello. Whereas here, everybody says hey."
Back home in England, Stuart Bucknell worked on and off in pizza restaurants for 10 years and later became a truck driver.
"He was never home and we never got to spend time as a family," Claire Bucknell said. "Nottingham was becoming very much like a criminal place, and wasn't a nice place for children to be. When we were growing up you have the freedom to roam around the streets and you were safe, whereas now I wouldn't let them out the front door."
With their children — Ellie, 12, and Lewis, 10, — in mind, the couple finally made the decision to move to America and began doing property renovations to save up money.
"That's how we managed to build a bit of money to be able to come to America," Stuart Bucknell said. "It costs quite a bit of money unless you're a doctor or lawyer. The only way to come in properly is to invest in a business."
They decided they wanted to own a pizza shop and live in America, but needed to narrow down exactly where.
"We considered all of the states," Stuart Bucknell said. "But first you kind of discount the north because you think of places like New York City or Detroit and we wanted more southern hospitality.
"Then we liked California but it's phenomenally expensive and they've got earthquakes and stuff like that. So then it was pretty much Texas. I was very impressed with how clean and tidy Texas was. There is no graffiti or rubbish. I mean, occasionally you see stuff like that, but nothing like over there."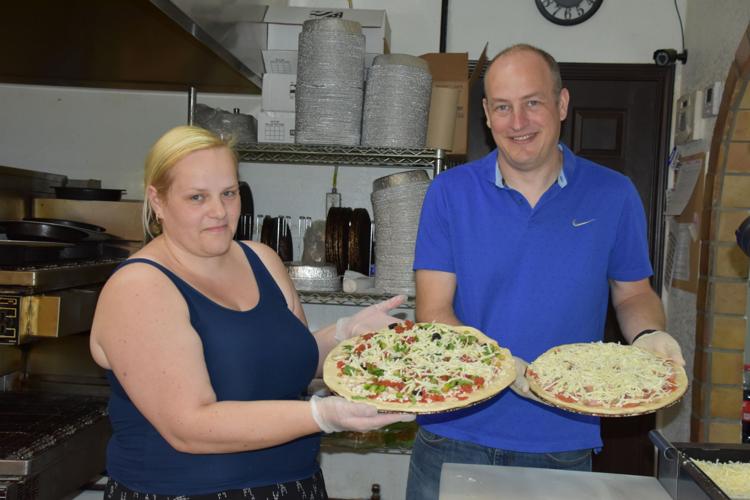 In 2017, the couple began applying for their visas through the U.S. Embassy. 
"Even with investing money it's still not an easy process," Stuart Bucknell said. "You can't even phone them to discuss things. Everything is done in email and they take on average two weeks to respond to one email."
Claire said if there were any issues with their application they were denied without explanation.
"If there were any issues it was just, 'No,'" she said. "And, 'A significant change needs to be made.' But they didn't explain what needed to be changed and you have over 80 pages of stuff. Nope, you figure it out."
When everything was finally squared away, the Bucknells searched for pizza businesses for sale in Texas.
Stuart Bucknell said 300,000 people live in Nottingham, so if they were going to change their life they were going to change everything.
"Smalltown, USA. So we researched small cities," he said. "We saw [Texas Royal Pizza] in Cleburne and that there were 30,000 people — one tenth of the size as of Nottingham. Crime isn't exceptionally bad. It was clean. There's no bad attitudes, everybody is like, 'Oh, excuse me, after you.' It really is the southern attitude people stereotype it to be."
They officially became the owners of the shop on Nov. 5.
"We are here all day, most of the time seven days a week," Stuart Bucknell said. 
And that means, Claire Bucknell said, it's all been worth it.
"In England, I was at home with the children and he was a driver and gone all the time," she said. "He was working night shifts, didn't see the children, get home and sleep during the day. Get up in the afternoon and be gone before they get back from school. Now, all of us are together and that's nice."