Tuesday morning saw the second Cleburne protest in as many days, both of which remained peaceful and absent the violence and destruction that derailed many similar protests in other American cities over the past week.
Four women displayed signs calling for peace and unity as they walked through downtown Cleburne on Monday afternoon in wake of the May 25 killing of George Floyd by Minneapolis Police Officer Derek Chauvin, who kept his knee on the right side of Floyd's neck for 8 minutes and 46 seconds, 2 minutes and 53 seconds after Floyd became unresponsive, according to the criminal complaint charging Chauvin with third-degree murder. Two other officers on scene held Floyd's back and legs while a third looked on.
Floyd's pleas of "I can't breath" caught on smartphone video and since gone viral quickly became a catchphrase of the many protests that followed, calling for, among other things, the arrests of the three additional officers.
The Monday evening protesters wound up at the Guinn Justice Center where they met and posed for pictures with Cleburne Police Chief Rob Severance and Assistant Chief Craig Huskey.
Severance also attended a Tuesday morning protest on West Henderson Street in front of Yellow Jacket Stadium, as did Cleburne Mayor Scott Cain.
The crowd of seven soon grew to 12 and has fluctuated throughout the day.
"I visited with them for part of the morning but we've checked back," Severance said. "It looks like people have been coming and going throughout the day and it's been pretty steady at about 20 or so people at any given time throughout the day."
Several passing by honked their horns, waved or gave thumbs up to the protesters.
"Thank you all for doing it right," one driver in a white SUV slowed down long enough to shout.
Stormy Burton, a Tennessee resident visiting friends, described himself as a peaceful protester.
"I'm here for George Floyd," Burton said. "We want to see justice for his death. We want to see all the officers arrested. We just want there to be peace. I don't want to see the rioting or none of that. I just want this to be a peaceful protest."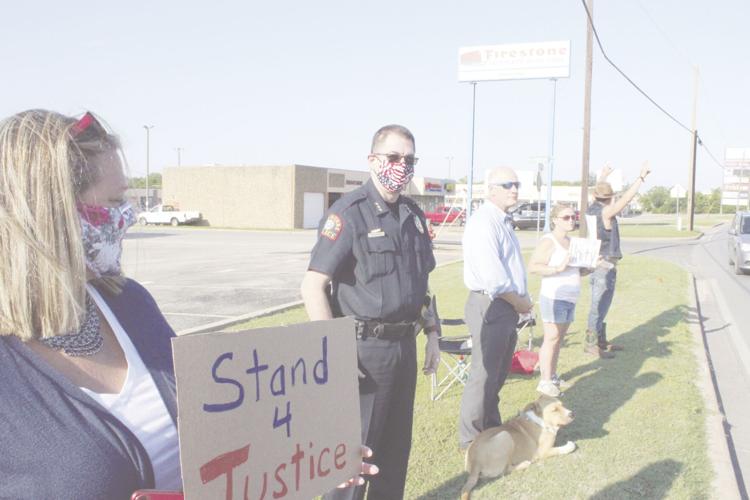 Cleburne residents Madison Heaps and Cameron Barrus waved signs at traffic on the opposite side of the line.
"We wanted to come out here as early as we could before we go to work," Heaps said. "We might come back on our lunch break as well. Mainly I'm here this morning to show my support for the Black Lives Matter movement."
Barrus said he joined his friend for the same reason.
"To stand for all the black lives that have been lost starting with George Floyd and those before him," Barrus said.
Cain and Severance visited with the protestors and posed for photos.
"Like many others across the nation we're calling out evil," Cain said. "What happened to George Floyd was evil. I think his brother said it best yesterday, 'Let's have peace on the left, justice to the right.' I would add that we all stand united in the middle and bring the two together. It's time to stand up against racism and it's also time for our country to unite."
That, Cain said, requires Cleburne working together.
"There are people in our community who are hurting and I want to stand there with them and let them know we hear them."
Severance echoed Cain's sentiments.
"Even though the tragic death of Mr. Floyd occurred in another part of the country it affects and saddens people here in our community as well," Severence said. "So I think it's important that we stand with people in our community and let them know that their police department supports them and we're here to protect and serve them."
Cleburne resident Kelly Hurlee said the right to peacefully protest is key among our freedoms as citizens of America. 
"Protests can make a change," Hurlee said. "And I'm out here today to show my support for that positive change."
It's important, Hurlee said, that people see and hear about the peaceful protests as well.
"I think it's important to know that these movements start with the best of intentions and the intent for change," Hurlee said. "A lot of the rights and freedoms we have come from peaceful protesting and standing up for justice and change. I would expect nothing less from this community than an organized, peaceful protest with our community leaders joining in."
It's also important for smaller cities to take part in such protests, Hurlee said.
"It's safer here honestly because the larger cities sometimes attract an element of folks who want to disrupt the good intentions and make it something it's not. This is about justice for everybody no matter your color, religion or beliefs."
Cain agreed.
"I think what we're seeing in a lot of other cities is you have people who are protesting and standing up and then there are people who are trying to capitalize and create chaos," Cain said. "So I think it's two different groups. I don't think you can lump them all together. I think it's the rioting and looting and violence is, it's not the answer. 
"But we do need to take steps in this country. It's sad when a family has to teach their child two different ways to encounter police officers because of the color of their skin. It's time we unite.
"The organizers of this protest made it really clear that they don't want to be commandeered by violence and things of that nature. That clouds the message and the message is peace on the left and justice on the right and, like I said, I'd add unity in the middle."