His attorney once referred to him as the 'poster child for how stupid the death penalty is.'
On Tuesday, Mark Anthony Soliz became the sixth Texas death row inmate to be executed, after he was put to death for the 2010 shooting of a 61-year-old grandmother at her Godley home during an eight-day crime spree. A spree that included thefts and another killing.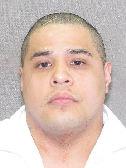 Soliz, 37, was pronounced dead at 6:32 p.m. after receiving a lethal dosage of Pentobarbital at the Huntsville "Walls" Unit — 13 minutes after the process began.
Soliz, who chose not to file a last-second appeal to the United States Supreme Court, was apologetic with his final statement towards the family of the victim Nancy Hatch Weatherly.
"I want to apologize for the grief and the pain that I caused y'all," Soliz said to the two members of the Weatherly family in attendance. "I've been considering changing my life, it took me 27 years to do so. I don't know if me passing will bring y'all comfort for the pain and suffering I caused y'all. I'm at peace."
Soliz's last statement lasted nearly five minutes.
"Execution Watch," a radio show covering Texas executions, reported that Soliz refused his last meal and that 18 protestors were on hand outside Huntsville's Walls Unit during his execution.
The same outlet reported that met with a spiritual advisor and family members beforehand and that family members said Soliz told them he was at peace with what was about to happen to him because he's accepted the Lord in his life and know where he's going.
Former Johnson County Sheriff Bob Alford attended the execution along with members of Weatherly's family. Alford said that although he's seen people die during his long tenure as a law enforcement officer he had never witnessed an execution until today. Alford described the experience as shocking and sobering.
"Everybody was shocked," Alford said. "That's not the man I brought down here seven years ago. He looked [Weatherly family members in the eye] and asked for forgiveness. He told [Weatherly's son] that he remembered what he had said to him during the victim impact statement after the trial and that that stuck with him and changed his life. The Texas Department of Criminal Justice people there told me that's not typical, that most of them are self serving right to the end. So he died right, asking forgiveness from the Lord and from the victims."
Alford said no members of Martinez' family attended the execution.
Alford called Soliz' 2010 string of murder and other infractions a "heinous two-county crime spree but added that it was sad and sobering to watch him die.
"Like I said, I've seen people die before on the side of the road from car wrecks and from other crimes," Alford said. "But I'd never seen someone die like that before tonight. Definitely it was a somber, sad time for everyone involved tonight. Now he deserved to die. Make no bones about that. He made his choices and did what he did on his own. But that doesn't mean you're not thinking about what's happening when you see someone put to death. It was peaceful with no suffering. Basically he went to sleep."
Alford said that death row inmates scheduled for execution are often brought to the Walls Unit one or even two days beforehand but that Soliz was transported earlier Tuesday morning from the Polunsky Unit about 35 miles from Huntsville where death row inmates are housed.
Alford said he personally transported Soliz from the Johnson County Jail to Huntsville seven years ago.
"I had a driver," Alford said. "I road in the front passenger seat with Soliz in the back seat behind me and there was another deputy back there to guard him."
Soliz didn't talk much during the trip down, Alford said. 
"We took him to intake at Huntsville," Alford said. "They shaved his head, gave him his uniform and had him headed out to [Polunsky Unit] within about 15 minutes. That was the first time I saw him show any remorse. He had a tear on his cheek. I think that was the wake up call, the moment he realized this is real."
Alford said the members of the Weatherly and Martinez families remain in his thoughts and prayers and mused that but for the fact that Soliz was a bad shot a lot more people would likely have been killed during his crime spree.
State and federal appeals courts and the Texas Board of Pardons and Paroles turned down requests by Soliz's attorneys to stop his execution throughout his appeals process, with the most recent denial coming last week.
Soliz's lawyers had argued for years that he suffers from fetal alcohol spectrum disorder, which left him with brain damage. His attorneys said the disorder is the "functional equivalent" of conditions already recognized by the U.S. Supreme Court as disqualifying exemptions to the death penalty, such as intellectual disability.
Prosecutors portrayed Soliz as a dangerous individual who killed Weatherly for a "pittance of property."
Soliz became the 15th inmate to be put to death in the United States this year, and the sixth in the state of Texas — the country's most active death chamber. Nine more executions are currently scheduled throughout the remainder of 2019, with one scheduled for 2020.
Soliz was sentenced to death by the 413th District Court for the June 29, 2010 shooting death of Nancy Hatch Weatherly in her home near Godley.
The week before Weatherly was murdered, Soliz and his friend Jose Clemente Ramos were known to have robbed strangers at gunpoint, shot a man in the ear, killed the driver of a beer delivery truck, pulled off a carjacking, burglarized homes and shot a man repeatedly in a drive-by.
Most of the crimes were in the Fort Worth area, but on June 29, Ramos and Soliz drove to Weatherly's home in Johnson County. When the victim answered the door, the duo pulled out a gun and pushed her inside to rob her.
Attorneys involved in the case said Weatherly had poor eyesight, and may have confused Soliz and Ramos for two men who did work on her property when she opened her door.