There's much labour, loads of love and nada lost in Plaza Theatre Co.'s comedy of errors presentation of "The Complete Works of William Shakespeare Abridged," which runs through Jan. 25. 
Unfamiliar, intimidated or flat out not interested in the works of the Bard? Ain't no thang. Sure, anyone familiar with Billy's plays is going to catch the scattershot whirlwind of entre nous references and puns. But so too the uninitiated are guaranteed to bust guts laughing through it all.
Three actors — Matt Victory, Jesse Bowron and Aaron Siler — play, more or less, all the characters in every Shakespeare play and in between just play themselves. Their gnat's attention span deliveries don't so much break the fourth wall as drunkenly barrel a dump truck through it much, based on Thursday's performance at least, to the audience's delight.
The play's the thing and the thing is helped greatly by the running commentary all three deliver along the way to ensure audience members are up on what play is up at any given moment in addition to miscellaneous Shakespearian fun "facts" and tidbits.
It hardly hurts that Bowron is a self-described expert in all things Shakespeare as affirmed by his official certification from PreeminentShakespeareScholars.com.
Siler early on kindly provides a refresher bio of Shakespeare detailing the Upstart Crow's 1564 English birth through his invasion of Poland and his final trip to Disneyland. We learn as well that Shakespeare, or at least the actors involved, have big love for Loaf'N Dog. Siler gets a bit confused, however, when it comes to Shakespeare's wife.
"Dude, that was "Catwoman.""
But no worries.
In a nod to historical accuracy, or maybe just Plaza budget cuts, Siler also plays all the play's women folk. While he's far from Jenna Coleman easy on the eyes his performances definitely highlight Siler's acting chops and versatility. Victory and Bowron shine as well throughout the footloose witty, wacky circus of chicanery, which here and there pauses for breath long enough allow members of the trio time enough to impart a truly dramatic delivery of Shakespearian soliloquy or sonnet.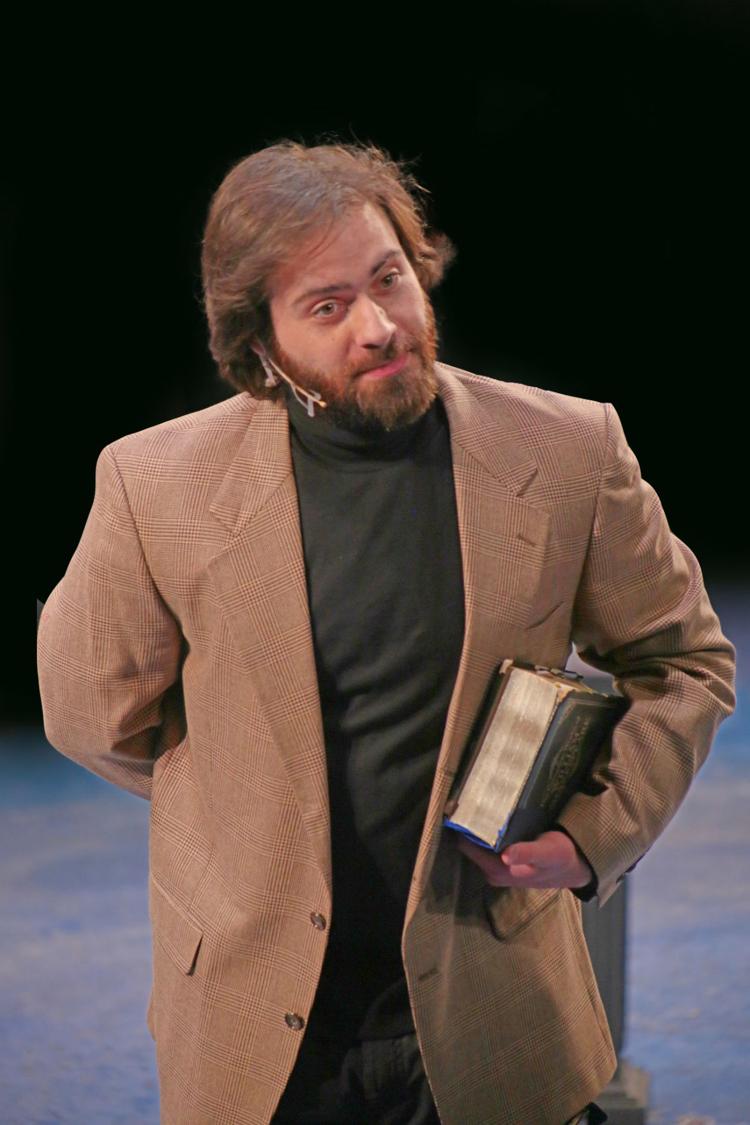 The three tackle "Romeo and Juliet" in 12 minutes. Figuring that's too long, they run through a mash up of the comedies in five minutes and cover all 154 of Shakespeare's sonnets in roughly 20 seconds. 
Although the actors advertise the play as antidote for modern culture's rubbish pile of reality TV, dumbed down entertainment and the women on "The View," it's also oodles of fun. Or, as one actor quips, "We're not going to do dry, boring vomitless Shakespeare."
True to form, Plaza delivers. Once Siler works out that "Othello" isn't a play about boats the trio bust a move via a bordering on plagiarism  song and dance number that has to be seen to be believed. To reveal more would be to spoil the surprise.
Yoko Ono, Tom Brady, the Average White Band and the shark from "Jaws"  somehow figure in along the way but fear not as it all makes sense in a weird, convoluted sort of way. 
Nor is the audience immune from the action from sing along participation to bouts of heisted clothing.
The performance runs about 90 minutes but flies by and feels more like 32.
My only gripe, and it's a small one, is, being my favorite Shakespeare play, I wouldn't have minded seeing more of crazy King Lear and his dippy daughters. "Go long Cordelia" indeed.
But, in the end, all's well that ends well and "The Complete Works of William Shakespeare" delivers a hell of a swell nutty night of nonsense for all. 
Many, I predict, will exit Plaza's Dudley Hall eager to dive into the complete works of Willy, pop in a DVD of "Throne of Blood" or at least climb a balcony or some such while others no doubt will stumble into the parking lot scratching their head but chuckling all the same.
Or, as Siler suggests at one point, if you don't like it, "Little House on the Prairie" is just around the corner.
For tickets, show times and information, call 817-202-0600 or visit plaza-theatre.com.