Val Sigler marvels over the fact that she managed to gather her family together Thursday evening for a photo shoot at the Guinn Justice Center.
"It took a little work," Sigler said with a laugh. "Very rarely are we able to get everyone together at the same time. Thanksgiving we had turkey dinner at midnight because that was the only time we could get everyone together."
Sigler, in between pictures, attempts with mixed results to keep the rest of her family on point.
"There they go again," Sigler jokes as her husband, Robert Sigler, and two sons, Tanner and Trevor Sigler, strike up another bout of cop talk. Trevor's wife, Vivian Sigler, mocks Tanner's mustache while one brother asks the other if he got his police badge from a Cracker Jack box. Robert Sigler muses that his sons are like night and day quipping that one required maybe 12 spankings in his life while the other went through about that many a week. Kidding around aside, his pride in what they've accomplished beams through.
All in the family are in one way or another connected to law enforcement or the justice system.
No doubt a host of errant Cleburne drivers still refer to Robert Sigler as that [insert the adjective of your choice] motorcycle cop. Trevor Sigler, himself now a Cleburne police officer, joked that he and his brother were well aware of their father's tough-as-nails stance on traffic infractions growing up.
"I've pulled some people over who see my name and say, 'Wait a minute, are you related to him?'" Trevor Sigler joked. "I say, 'No. Never heard of that guy.'"
That ruse fell apart, Tanner Sigler said, on at least a few occasions after Robert Sigler, now a Precinct 1 deputy constable, stopped to ask Trevor if he needed assistance.
Cpl. Robert Sigler retired from the Cleburne Police Department in 2017 after 25 years of service. 
During his time Sigler served as a motorcycle traffic officer, an advanced accident investigator, a SWAT team member with advanced sniper certification and a Texas Commission on Law Enforcement instructor.
Of his reputation for being a traffic law stickler, Sigler said he'd rather pull someone over than deal with possible tragic aftermaths.
"I'll miss making people drive better," Sigler said at his 2015 retirement party. "Contrary to popular belief, I didn't write tickets for the city, just to keep people driving safe."
Sigler received CPD's Officer of the Year designation in 2011.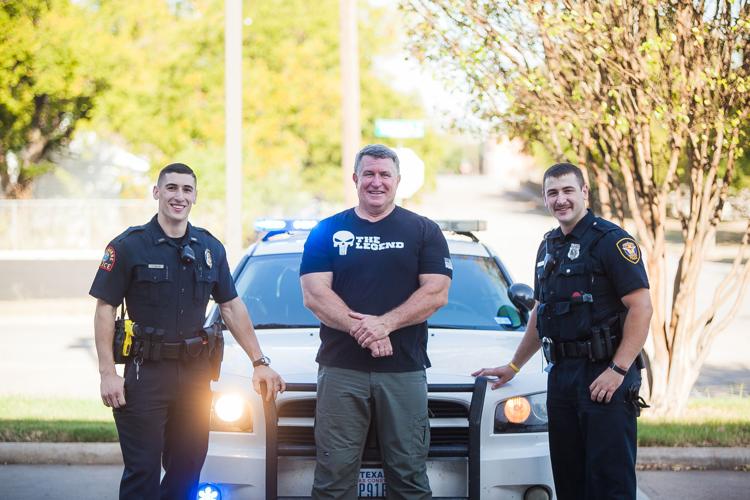 The Chisholm Trail 100 Club bestowed the Life-Saving Action Award to Sigler in 2016.
John Echols, 38, was traveling to work on his motorcycle at about 6:45 a.m. Nov. 6 that year on Industrial Boulevard when a truck turned in front of and struck him. Witnesses laster told police that they had the truck driver back up so they could flip the motorcycle off of Echols. 
Sigler, who was first on the scene, assessed the situation. Noting open fractures and heavy bleeding, Sigler grabbed a tourniquet from his patrol motorcycle and applied it to Echols' leg. 
John Peter Smith trauma surgeons later said that Sigler's actions not only saved Echols' life but his leg as well.
Born in Boston, Sigler lived in Michigan, Arizona and Washington growing up before enlisting in the Navy as his father had before him. He and Val Sigler later settled in Texas where he joined the Cleburne Police Department.
"I was out of the Navy and not sure what I wanted to do," Sigler said. "One day I was driving in Connecticut and yelling at the traffic because the other people were, driving silly. And my wife's yelling at me for acting silly and said, 'Don't worry about it. There's nothing you can do about it.' And I figured she was right. But then a light bulb goes off and I thought, 'Yeah I can. I can become a cop.'"
Though he remains involved in law enforcement, life is a bit more laid back now.
"Working with the constable's office you don't get the calls for service like the police department does," Sigler said. "[Precinct 1 Constable Matt Wylie] wanted Cleburne guys as his deputies because of the officer safety standards and street experience we have."
Precinct 1 Constable Matt Wylie concurred.
"I have four of them out here," Wylie said. "The experience matters. It's easier to teach a cop the civil side of things than to teach someone else the criminal side. But Sigler's a good asset to us. He puts everything he has into it."
Still, life as a deputy constable includes its share of excitement.
"We assist other agencies but the good thing we don't have to take the lead, though we can, and we don't have the constant call volume police officers or sheriff's deputies get," Sigler said. "So, after 25 years with CPD, I'm at a point where if I hear a good call come through I can show up to assist but then I don't have to deal with the paperwork afterward."
Sigler's sons, were it up to him, would've pursued different career paths.
"I told them they should become firemen, but they didn't listen," Sigler said. "I remember them asking me if I had it to do over would I have been a fireman instead? I said, 'Nah, I'd still be a cop.' So they said, 'Then why shouldn't we be cops?'"
Blue bloods
Tanner took a job with the Tarrant County Jail when he turned 18 and later gained customer service and management experience at a Burleson restaurant before joining the Fort Worth Police Department about two years ago.
Trevor and Vivian Sigler both also worked at the Tarrant County Jail before joining CPD, Trevor as an officer and Vivian as a dispatcher.
"Dad," Tanner Sigler answered when asked what inspired him to become a police officer. "He was a cop before we were born and it's just been that way our whole life."
Trevor Sigler agreed.
"Obviously the family connection plays in," Trevor Sigler said. "I never really thought of being anything else."
Their father, Trevor Sigler said, was not nearly as open about the realities of his job when Trevor and his brother were young as he is now.
"He actually got to witness some of it when he was a 8," Robert Sigler said. "Once they were dropping off lunch at the station and one of the other guys was bringing somebody in who had been pepper sprayed and crying and snot slinging all over. He was all over that asking me what happened to the guy and I told him he resisted and got pepper sprayed."
Tanner and Trevor Sigler both express gratefulness for their father's mentorship.
"In so many ways," Tanner Sigler said. "Like when I was going through the academy and there would be something in the penal, or especially the traffic codes, we'd be studying that I didn't totally understand. Because of dad's experience I could ask him about it and he would explain the real world application of it and it would be like, 'Oh, that makes a lot more sense now.'
Val Sigler agreed.
"Robert's been a fantastic mentor to the boys," Sigler said. "I couldn't ask for better. They grew up around law enforcement and he was a hands-on, involved father who helped guide them through."
Tanner Sigler said it was tough at times but good others growing up with a police officer for a father.
"Overall we had a lot of fun," Tanner Sigler said. "Through dad we learned a lot. We didn't always realize it at the times because we were kids but a lot of it later in life was, 'OK, that's makes sense now and I see where that came from.'"
Following his father's footsteps at CPD brings benefits and challenges, Trevor Sigler said.
"It can go both ways," Trevor Sigler said. "It's not a bad thing but then there are people who remember him and are not fans of the police. But, I've been here since December and so far so good, I've liked it a lot."
CPD Chief Rob Severance praised Trevor and Vivian Sigler for what they bring to the department.
"I joke with them that they need to bring anyone else from the Tarrant County Jail over who would be good for our department," Severance said. "But they've both been great assets to our team and, of course, Trevor's dad had a long and distinguished career with us."
Policing beats working in a jail, Trevor Sigler said. 
"It was good experience," Trevor Sigler said. "You learned how to deal with and talk to people who don't necessarily like you. But, a jail is probably the most negative place you can work." 
His brother agrees.
"Absolutely," Tanner Sigler said. "There's more freedom and more to do as a police officer. In the jail they don't really like you. That's true as a policeman sometimes too, but you also get people who do like police officers and appreciate what we do."
Trevor Sigler said he prefers working in a smaller department.
"It's closer to home," Trevor Sigler said. "Closer to where I grew up. You know all the other officers and form those relationships with them. Everyone of them has been extremely welcoming and helpful since I've been here."
Things are a bit different in the FWPD," Tanner Sigler said, which has about 1,500 officers versus Cleburne's about 55.
"Because there's different divisions, different units, just more room for upwards movement," Tanner Sigler said when asked what attracted him to a larger department. "I definitely plan to make a career of this and, with a department the size of Fort Worth, there's just a lot of different options of where you can go.
"And even though it's a larger department it's still very much a brotherhood. I work the southside and our team is really close. But even if we're up in the northside to help them or they're down where we are it's good. If they call for help or we call them for help, they're coming and going to back us up."
Tanner Sigler added that he likes the dynamics of a larger city.
"Because like I said, I work the southside," Tanner Sigler said. "A lot of people hear that and say, 'Oh, there's a lot of bad people in that part of town.' But the reality is there's way more good people there than bad people. That's something that's really opened my eyes in the last couple of years is the amount of good people there are there that I've come into contact with."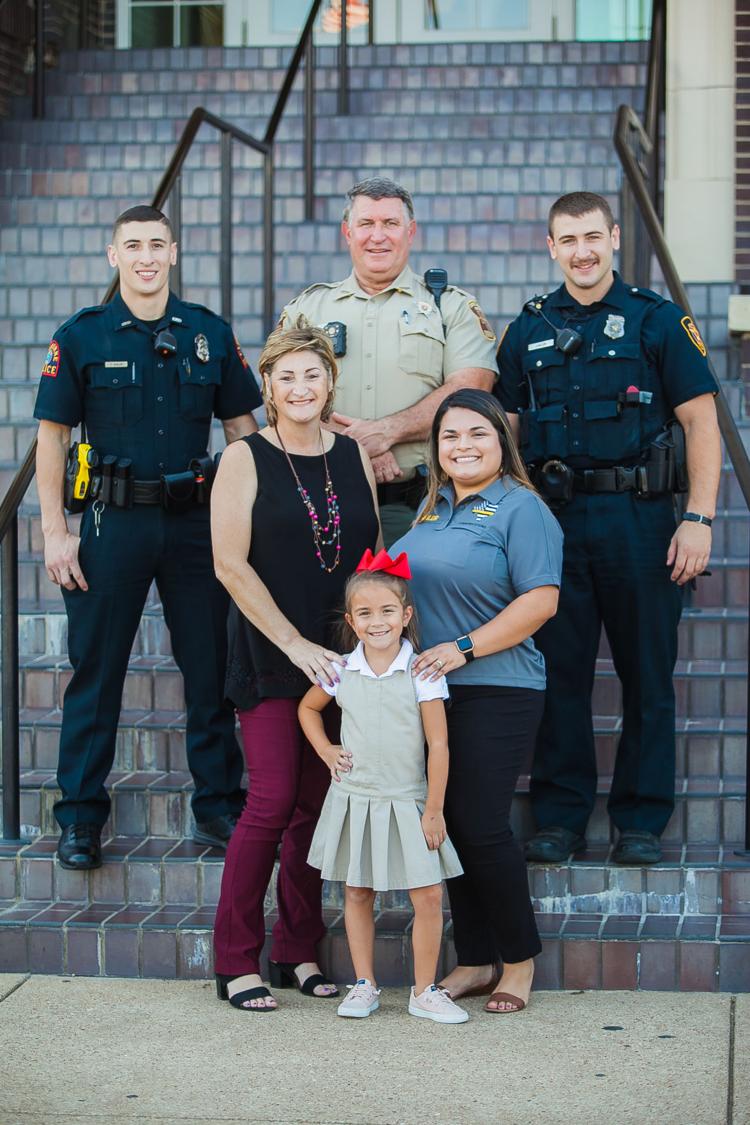 Vivian Sigler said she happy in dispatch and, for now at least, has no plans of becoming an officer.
"It's a lot safer," Vivian Sigler said.
Trevor Sigler credits his wife's dedication and adds that he wouldn't want her job. Johnson County Sheriff Adam King agrees and has on many occasions dubbed dispatch the toughest job in law enforcement.
"Sometimes it can be," Vivian Sigler said. "Working in the jail was fun because it was more hands on. But working dispatch you definitely see a lot more different things and deal with a lot of different situations so can be interesting."
Working in the same department as her husband has an up and down side, Vivian Sigler said.
"As far as dealing with the emotions of having a husband who's a police officer, it's a learning process," Vivian Sigler said. "Everyday I have different emotions. Some days it doesn't bother me. Some days it does. But, as far as working together, I think it's easier because I know the officers he's working with personally. I know they're going to do their part to back him up and to keep each other safe."
Robert Sigler said he's proud of his sons while fully aware of the potential dangers of their jobs.
"If I dwelt on it, it would bother me," Robert Sigler said. "Just have to accept that they've made their choices, they're taking precautions and hope for the best."
Val Sigler, when asked the same question, described her emotions as bittersweet.
"I'm extremely proud of both kids and of Robert for what they do," Val Sigler said. "They set goals and worked to achieve them. What parent wouldn't want to see their kids doing what they want to do? But at the same time, yeah, it's different when it's your kids. You want to keep them out of harm's way but then they just jump in anyway."
Val Sigler works as program director of Court Appointed Special Advocates of Johnson County through which employees and volunteers serve as the eyes and ears of judges and the voices of children going through the legal system in foster care and other situations.
"We make sure nothing gets dropped through the cracks," Val Sigler said. "Our purpose is to see that first and foremost the best interest of the children we represent is addressed."
It's a tough job involving children who in many cases have experienced and/or seen the worst of the worst situations, but also a fulfilling job, Val Sigler said.
"Some days there's hope in what we do," Val Sigler said. "Some days it's a struggle. Lot of tears and smiles, sometimes in the same day."
Val Sigler joked that her husband and sons suffer from the blue bug adding that she's proud they, herself and her daughter-in-law have a penchant for service.
"I think it just comes down to everybody in my family just genuinely wants to help good people and help keep bad people away from good people," Tanner Sigler said. "And just work to be the line between the good and the bad."
The answer to whether the Sigler brothers are competitive depends on which brother you ask.
"Somewhat competitive," Trevor Sigler said. "But really, I've always been better than my brother."
Not so fast, Tanner Sigler said. 
"It's never really been a competition," Tanner Sigler said. "I've always beat him at everything. Big brother has always been big brother. I've always been better."