Dry eyes were in short supply at times Thursday morning in the conference room at the Cleburne Chamber of Commerce but patriotic fervor remained high as speakers and attendees cheered and expressed gratitude for five World War II veterans present.
"I challenge our young people today who are in search of heroes to look no further than the men sitting in this front row today," Johnson County Sheriff Adam King said.
Thursday's short ceremony at the chamber marked the conclusion of a parade organized by Cleburne's American Legion Auxiliary Unit 50 to both honor surviving World War II veterans in Johnson County and to commemorate the 75th anniversary of the end of that war.
"The ALA has worked for over 100 years to honor our veterans and to serve our military and community," ALA Past State President and Unit 50 member Marty Peters said, in addressing the five veterans present. "Today's parade is just a small gesture. It can't possibly be enough for all you've done for us. But please know how appreciative we are and that we're going to continue for the next 100 years honoring our veterans and our military."
The parade, which began at 10 a.m., first stopped at  Wren Place Retirement Community and then Heritage Trails Nursing & Rehabilitation to honor veterans there before moving on to the chamber.
World War II veterans honored at Wren House included U.S. Army veteran Dale Gregory, U.S. Navy veteran Wesley "Churn" Martin and U.S. Marine veteran William "Bill" Smith. Also present at Wren House were several family members of those and other veterans.
U.S. Marine veteran Robert Stewart and U.S. Army veteran Johnny Boyd were honored at Heritage Trails.
"Because of COVID-19 concerns we had to practice social distancing and were not able to interact with the veterans at the first two stops," Peters said. "But they and the staff members were able to come outside and then there were several family members present and it was just a very special morning for the veterans and their families but also the staff members and other residents at both places. 
"Just after the parade I received a note from Rita Whitfield, the activities director at Wren Place, who said this morning was a huge deal for the residents because there haven't been any parties, special events or celebrations for about six months because of the virus so this is something they'll be talking about for weeks to come. The staff at Heritage Trails said they were thrilled too."
One of the veterans, Peters said, remained in Europe for about a year after the war ended.
"So, when he came back to America, the accolades and celebrations were all over and done with," Peters said. "So today was his first opportunity to be recognized, applauded and honored for all he did. He's in his 90s now, but he's finally getting that."
In addition to ALA 50 members, members of American Legion Post 50, Sons of American Legion Squadron 50 and American Legion Riders participated in the parade as did members of the Cleburne Police Department, Cleburne Fire Department and Johnson County Sheriff's Office. State Sen. Brian Birdwell, R-Granbury, and state Rep. DeWayne Burns, R-Cleburne, were also on hand, as was Don Nicholas representing U.S. Rep. Roger Williams, R-Austin. 
Veterans honored at the chamber included U.S. Army veterans Richard Stanley, Everett C. Stephens and Theron Collins, as well as U.S. Navy veteran Henry "Grady" Cheek and U.S. Army medic veteran Louis Real.
U.S. Army Air Corps veteran Rick Blaine and U.S. Marine veteran Donald Graves did not attend.
Birdwell, who also served in the military, remembered his uncle, J.W. "Buck" Birdwell, who served during World War II.
"My uncle, as you men did, saw things that were the worst of humanity," Birdwell said. "He was at the liberation of Dachau. He came home from World War II and poured himself into a bottle. In 1998, while I was in Japan, he passed away. My uncle saw things during the war that left him emotionally scarred for the next 50 years of his life. It's a sad thing that you gentlemen have had to do what you did for our nation."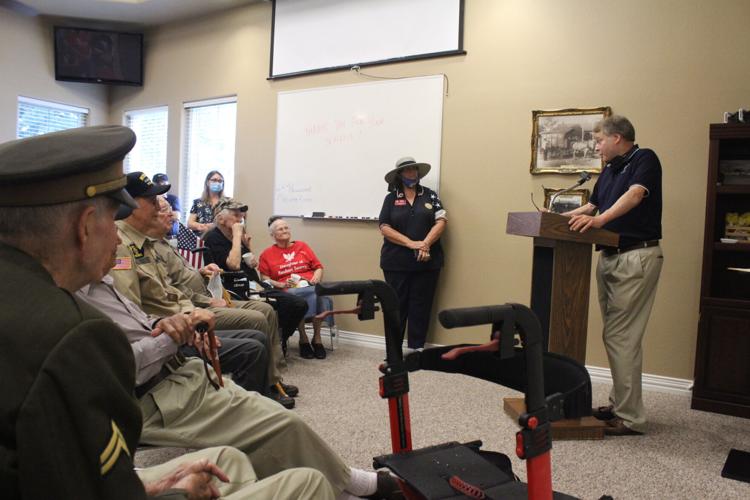 Birdwell read a quote from philosopher John Stuart Mill on the tension between the ugliness of war and the need of better men to be willing to fight for what is right and freedom.
"You gentlemen are those better men," Birdwell said. "God bless every one of you. As we're watching the travails of our nation right now, we not only need the Lord in our nation. We also need men like you."
Burns quoted John 15:13 and spoke proudly of Cheek, his grandfather. 
"He just turned 95," Burns said. "So, you can't keep telling people that you're just over 50 anymore."
Burns said that although he didn't serve in the military, many in his family did.
"They taught me from an early age that you respect others regardless of color, creed or where they're from," Burns said. "You love the Lord and you love this country. Thank you for your service. Thank you for doing what you did so that we can all be here today as Americans."
King told the veterans that although he, too, served in the military, he does not feel worthy to hold their hats.
"What I went through was nothing compared to the hardships you endured," King said. "When I was in the service and endured my slight little hardships what got me through was knowing what got you all through. I knew that if you all could get through what you had to live through then I could get through my little issues and skirmishes. So you've been motivating me for the majority of my life."
Nicholas, also a veteran, presented certificates of honor from Williams commending their valor, sacrifice and patriotism.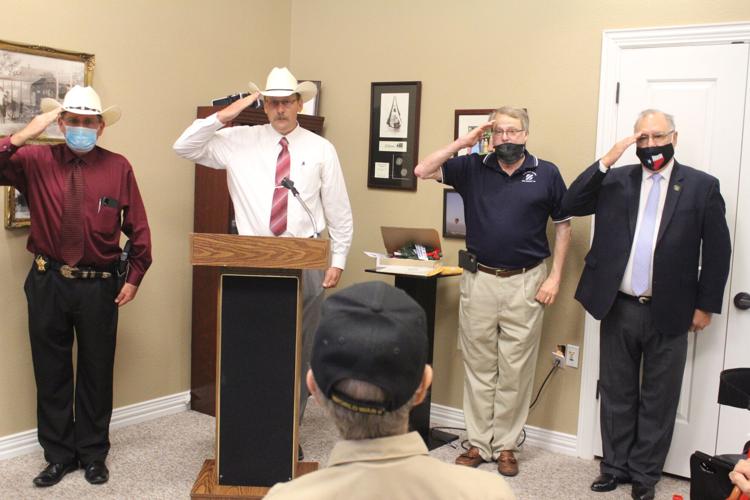 Nicholas, Birdwell, King and JCSO Chief Deputy Reinhardt lined up at the podium to salute the veterans.
ALA State President Brenda Towers called herself a proud granddaughter, mother, wife and grandmother of men and women who have served.
"I am a proud American and never more than on days like today," Towers said. "Myself and the ALA say thank you to the men and women of our greatest generation and their families."
Both deserve praise, Peters said.
"During World War II everyone in our country rallied together," Peters said. "Through victory gardens, rationing and no silk hoses everybody sacrificed. We had Rosie the Riveters who took the jobs that the men were not there to do. So we cannot forget the widows, the wives the families of our veterans both then and now."
Reba Stephens, wife of Everett Stephens, spoke lovingly of her and her husband's 70 years and counting marriage and their 27 great grandchildren. 
It is incumbent upon us all, Stephens said, to pass our history and stories of our veterans on to future generations. 
Reinhardt spoke of his father, who served 24 years in the military, and of his son who has a passion for World War II and Vietnam history.
"You all are heroes to everybody," Reinhardt told the veterans present. "And in my heart I always pray for you."
Robert Sparenberg, who serves as Stanley's caretaker, proclaimed that we are standing in America today because of our World War II veterans. Born in Belgium at the end of the war, Sparenberg said his parents and siblings witnessed the atrocities of German occupation firsthand. 
Sparenberg said his dream upon coming to America was to meet and thank the veterans of World War II.
"They are this nation's history and foundation," Sparenberg said. "We're here today because of them. I don't speak German because of them."
Peters, noting the passing of time, summed up Thursday's parade and ceremony at the chamber as both uplifting and bittersweet.
"Sadly, the opportunity to have five World War II vets in our midst is not going to be common in the days to come," Peters said.