Every student at Rio Vista Elementary School now have access to devices while in the classroom.
Each pre-kindergarten through first-grade class has access to a set of iPads and second- through fifth-graders have access to Chromebooks. 
Meagan Dupre, RVES instructional technologist, said they went from having two to three devices per class to a class set. Preparing their students for the "modern world" is the goal. 
"Part of that responsibility is not only making sure that they are literate students when it comes to reading but that they are literate in technology as well because it's the new language no matter what field they choose to go into this is going to be a part of their adult lives," Dupre said. "There is an increases responsibility on our school systems and on us to make sure that we're providing that type of education as well. We wanted to be able to give our faculty the ability to truly integrate technology into everything that they do and make it a seamless part of how we teach."
Chuck Lister, Rio Vista ISD technology director, said they wanted to give their teachers the ability to have all the resources they need at their fingertips. 
"We couldn't do that when we were trying to share these devices," Lister said.
This is the first week of putting devices into the classrooms, and RVES Principal  Jaylynn Cauthen said so far both the students and teachers are excited about them.
"The teachers are excited about learning ways that they can integrate this into what they already do," Cauthen said. "They take their professional craft and push it in a new direction and grow themselves."
This push for technology follows the district's new mission of "New Beginnings: A place where every day is a new beginning." She said the board of trustees will consider approving the new mission on Monday night during its regular meeting.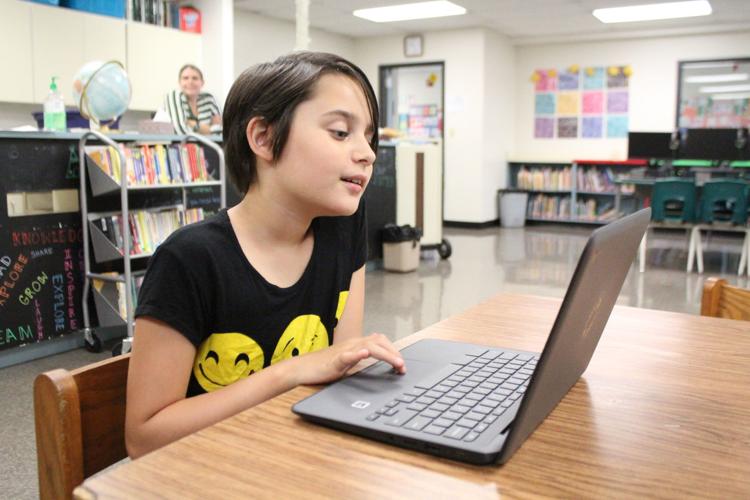 Also changing this year for the school is the addition of a couple of curriculum specialists in math; English language arts; and guided reading and literacy. 
The school received a READ grant — Reading Excellence and Academies Development — from the Texas Education Agency to help support reading professional development for teachers, according to its website. 
"Their job is to help the teachers and provide them resources to ensure that they're aligned to the standards," Cauthen said. 
Kindergarten teachers — Jenny Halvorson, Amber Montgomery and Kristi Wisenbaker — all agree that the specialists are very helpful when it comes to planning their lessons. 
For more information about the grant, visit www.tea.texas.gov.