Gossip mill rumblings crescendoed Monday into Tuesday as social media post claims of protesters possibly heading Cleburne's way steadily increased.
Expected on Tuesday, according to the posts, were bus loads of Black Lives Matter and/or Antifa members bent on targeting downtown's Liberty Hotel, Wright Plaza mural, Gone With the Wind Museum and Gen. Pat Cleburne statue.
Several on Facebook offered alleged credible evidence of such while several others labeled such claims unlikely or an outright hoax. That a clash not unlike the scenario rumored on Facebook between protesters and counter-protestors occurred last weekend in Weatherford further fueled chatter of the possibility of such being not out of the question in Cleburne.
Many also took to Facebook on Monday, vowing to show up Tuesday to counter-protest and protect Cleburne property. Claims and counterclaims abounded early Tuesday of buses and/or Antifa members spotted as did word of doctored photos of buses sporting Black Lives Matter logos.
The self-described patriots and counter-protesters began to arrive about 1 p.m. Tuesday and soon packed Wright Plaza, the sidewalks of South Caddo Street and other downtown locales. As of 4:30 p.m., no protestors, Black Lives Matter or Antifa members were to be found.
"We've not found any information to corroborate the rumors of Black Lives Matter or anyone else planning to protest in Cleburne," Cleburne Police Chief Rob Severance said at 3:30 p.m. "There are a lot of citizens out here right now who care about their community but everything's been peaceful and we're just here to help if we're needed."
County Judge Roger Harmon shared similar thoughts on the matter Tuesday afternoon.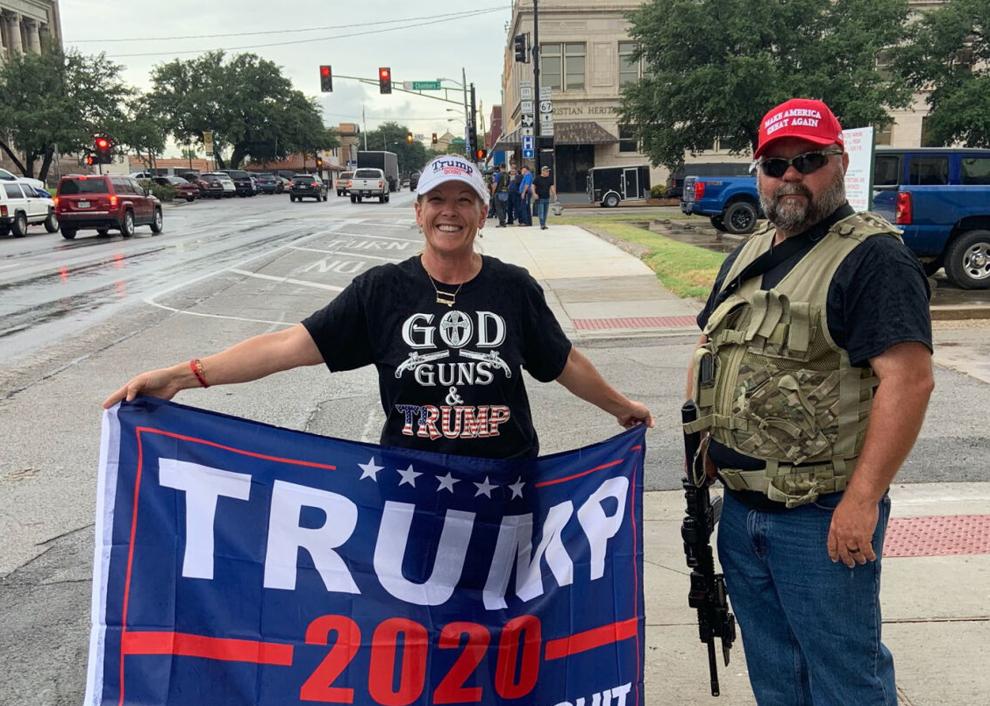 "I've been visiting with Sheriff Adam King and so far no one can confirm that there is going to be any protesters in town," Harmon said. "Unfortunately, rumors, especially on Facebook, get started and they can get out of control. We're still cautious to see if anybody shows up.
"But, as of now, we can't verify any credible evidence that anybody's going to show up today as far as protesters. As far as everyone else downtown today, I just hope everything's peaceful and works out without any problems."
With or without protesters, the counter protesters — many of whom arrived armed and/or displaying flags and signs — expressed pride in their city and county and a distaste for those who would impose their views upon it.
"I came to stand up for what's right for our nation and our president," Burleson resident Rebecca Taylor said.
A counter-protester further down the block said he showed up because he read on Facebook that a party was in the planning in Cleburne.
Nearby, Cleburne residents Angela Sotelo and Bob Hill held a Trump 2020 sign for passing motorists to see.
"We're here to show that we're not going to stand for it," Hill said. "This is America."
Sotelo agreed.
"We're here to protect our city," she said.
Two blocks down, three counter-protesters waved at passing traffic, receiving thumbs up and honks of approval from many.
"No, I don't have anything against peaceful protests," Cleburne resident Mike Perry said. "But we're against the fact that anyone would take aggravation toward our city. We live here. This is a quiet town."
Both of Perry's friends said they support the right to peacefully protest as well but said the tactics of Black Lives Matter protesters amount more to attempts to takeover and bully a city than to peacefully protest.
The city's Gen. Pat Cleburne statue, one counter-protester said, should only be removed if the residents of Cleburne vote to have it removed.
Several blocks away Cleburne resident Will Armstrong stood in front of the Gone With The Wind Museum waving flags with his son and his son's friend.
"More than anything, this is about coming out here to stand together as a community and not let people tell us what we can and cannot do," Armstrong said. "This is not about race. There isn't a racist person out here. This is about us standing together and not letting an agenda come and be shoved down our throats and tell us what we can and cannot do. We're standing for community and we're standing for our country."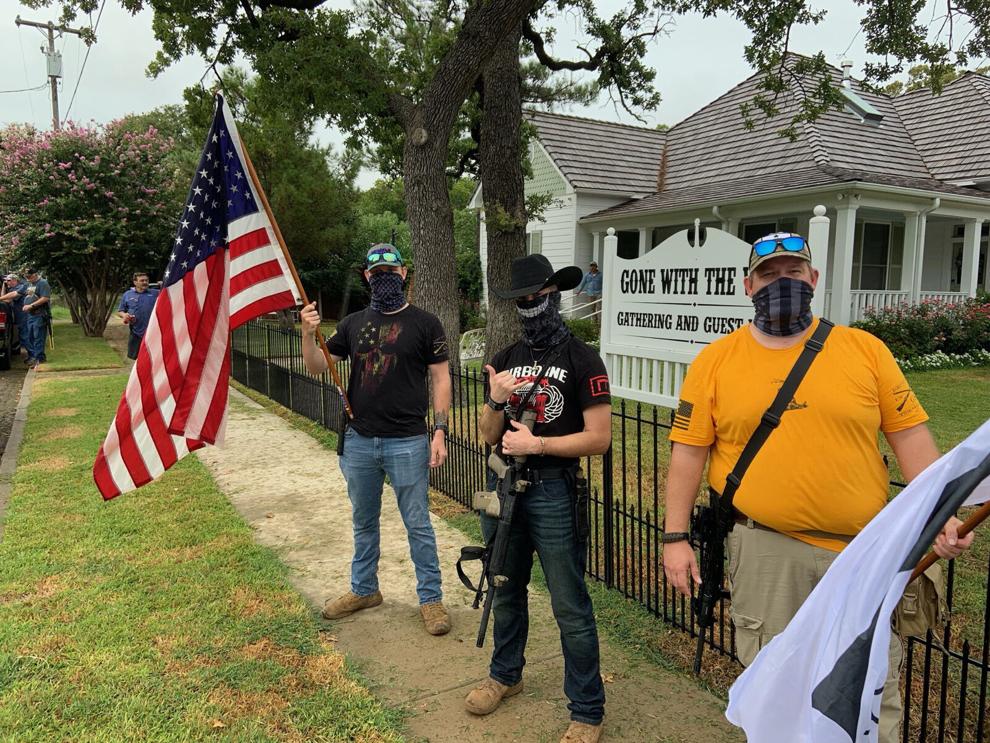 Cleburne Mayor Scott Cain said he supports the right of peaceful protest and counter protest with a stress on the peaceful part.
"What we need now is civil discourse and civil debate," Cain said. "We've seen across our country a lot of anger, hate and bitterness these past few months.
"But we've got to get through all that and tackle the issues instead of attacking each other."