Greeting fellow students as they walk through the doors in the morning, sitting with someone new in the lunchroom and respecting opinions of others are just some of the topics Rio Vista Middle School students practiced in the last week. 
Students participated in Start With Hello Week, a free program offered by Sandy Hook Promise that trains elementary, middle and high school students how to combat social isolation by showing them how to be more socially inclusive and connected to others. 
The initiative was created after the shooting at Sandy Hook Elementary School in Connecticut in 2012 when community members realized some young people suffer silently because they feel left out, alone or invisible. 
"Social isolation is a growing epidemic in the United States and within our schools, and it can be associated with violent and suicidal behavior," according to the website. "One study found that chronic loneliness increases the risk of an early death by 14 percent. 
"Young people who are isolated can become victims of bullying, violence and/ or depression, and as a result many pull further away from society, struggle with learning and social development and/or choose to hurt themselves or others."
Start With Hello Week activities raise awareness and educate students and the community through pieces of training, advertising, activities, public proclamations, media events, student contests and school awards.
The program is all about inclusion, RVMS teacher Kailyn Carwile said.
"It is where we teach students about the importance of reaching out to those in need or those who seem to be pulling away from society," Carwile said. "It is teaching students the signs and symptoms of loneliness and depression. The three steps are No. 1 see someone alone, No. 2 reach out and help and No. 3 start with a simple hello."
Throughout the week, student leaders in each class led the Say Hello powerpoint presentation and provided peers with strategies on how to meet and communicate with each other, she said.
"These strategies in the hands of our students will help all students feel included and valued here at RVMS," she said. "This is so beneficial for students. It brings them back to a reality where they can see their peers and themselves are on the same level. Everyone is important. 
"Also, it helps to make students more aware of others around them and how you can help. With the increased use of social media, recent studies have shown the decline of empathy within the younger generations."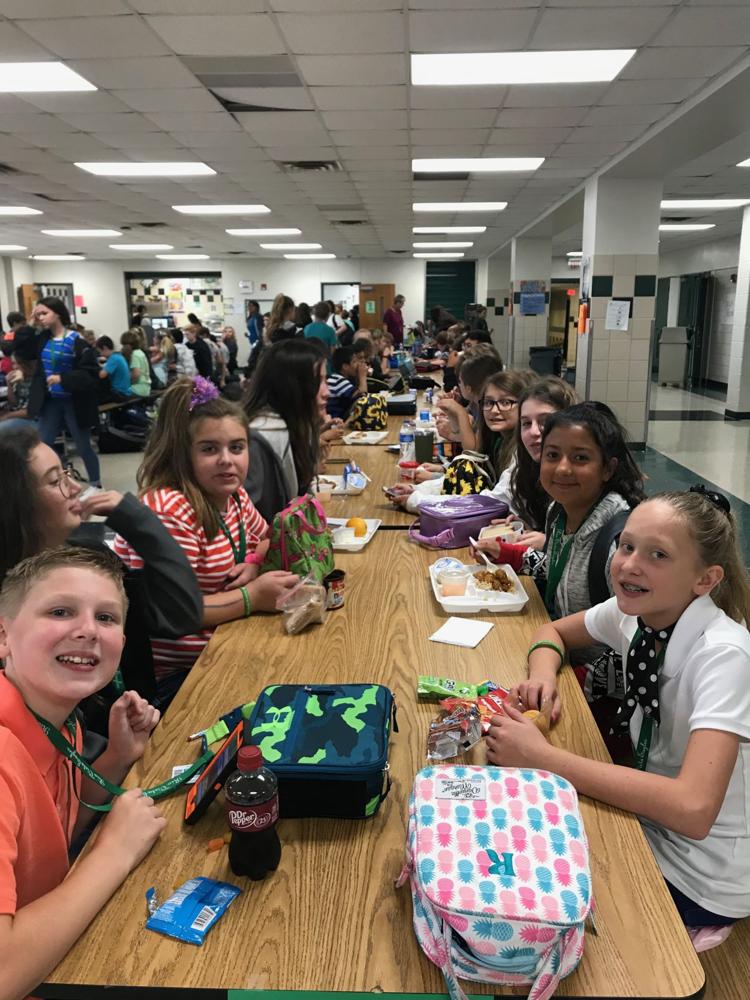 It's important to spark a reminder with these middle-schoolers that they have to walk a mile in someone else's shoes, she said.
"You never know what someone is going through, and just a small act of kindness can make all the difference," she said. "Throughout the week, the students get to learn just how fun giving to others through acts of kindness can be. They participate in activities of kindness where they are both the giver and the receiver, in turn, truly experiencing the power of it."
This is the first time the school has implemented the program, but they did participate in the Say Something program last year, which is another Sandy Hook anti-violence program, she said. 
"The students have actually been loving it," she said. "There is a difference in the atmosphere of the halls in RVMS. Bringing awareness to loneliness and learning to just say hello can be something that makes an impact of a lifetime. I truly hope that RVMS makes this a tradition for the beginning of each school year."
RVMS Principal Brent Batch said he believes the program is beneficial to their students.
"We have a student group called 'Eagle Cares,' and this program gives them a place to start," Batch said. "Middle school, pre-teen [to] early teen-aged students tend to care more about what their peers think of them than their parents. If we can get our students to just 'break the ice' by saying hello then a conversation can begin. 
"New friendships can be created, and you never know just what all you might have in common with someone else. Making connections like this helps students in their social-emotional becoming a more well-rounded person and student." 
They encourage their students to participate in the Eagle Cares club, he said.
"This is an honor," he said. "I personally try to model every day simple acts of kindness; greeting everyone I come in contact with; head nod; how are you doing; [or] a high five, etc. All of these things goes towards making my students feel special because I think they are. 
"While they are here on our campus, I feel like they are my kids. I want them all to feel important, loved and supported. I think modeling that for them makes a difference."
For information, visit sandyhookpromise.org.