All three sworn in to the Cleburne City Council on Tuesday expressed an eagerness to get down to work.
"I'd like to thank the citizens of Cleburne for their confidence in me," newly re-elected Single Member District 4 Councilman John Warren said. "If the Lord will allow me to serve out the next two years, it will be 20 years that I've served on the city council. I also served nine years on the school board. I'm thankful for having the opportunity to serve."
Newly-elected SMD 1 Councilman Derek Weathers joked that it's been a long time coming perhaps in reference to the fact that the city elections, traditionally held in May, were moved to November this year because of the COVID-19 pandemic.
Warren ran unopposed as did Weathers who now replaces former SMD 1 Councilman Bob Kelly who chose not to seek re-election.
The third to be sworn in Tuesday, Mayor Scott Cain, won out against opponents Tommy Molloy and John Paul "J.P." Lowery to secure re-election to his fifth term.
A canvas of the votes conducted by councilmen Chris Boedeker and Mike Mann preceded the swearing in ceremony. Cain explained that, given that he was on the ballot this cycle, he charged Cleburne Police Chief Rob Severance with overseeing the canvas matters.
Following presentation of colors by CPD Officer Nicholas Douthit and Cleburne Fire Department Engineer Justin Friesen and an invocation by Rev. Brian McClure of Friendship Baptist Church, 413th District Judge Bill Bosworth spoke of democracies necessary at times clumsiness as well as it's attendant call to optimism.
"Democracy is by design messy, cumbersome and frustrating," Bosworth said. "It's inefficient as can be at times. But it has to be that way so that there is a division of power. Everything kind of grinds along and bumps into each other, and it has to be that way.
"It's a pendulum that swings back and forth. You want to make sure you're doing your part and staying out of the way so you don't get hit by it. It will be noisy and it will be loud, but you have to trust in it because it's a wonderful way of managing our common government and our common good."
Bosworth, before swearing in the three candidates, called upon all residents to pledge involve themselves in the community and work to effect positive differences.
"That can be as small as letting someone pass instead of honking when you're driving to work," Bosworth said. "But pledge to do one simple thing for another person today even though they didn't ask for it. Reach out and do something for somebody today that's unexpected and that makes their day better. If we all did that everyday we'd all be better for it."
Bosworth encouraged all to remain hopeful for the future and to plant trees they'll never enjoy standing under the shade of, but at the same time to never stand for evil or fear speaking out when things go wrong.
"Remember always that God is first," Bosworth said. "People are second and individually we are all third. With that we will make Cleburne and Johnson County, Texas the place that is the envy of everybody else."
Once sworn in, Weathers also thanked God as well as his wife and son and the trust and support bestowed upon him by the residents of SMD 1.
"I also want to thank Dr. Kelly for everything he's done for me," Weathers said. "From mentoring to guiding to showing me how to do things right and what right looks like. I'd like to thank Mayor Cain for all his support as well."
The election, though it stretched out longer than expected, proved a wonderful experience, Weathers said.
"But I feel like the hard work is just now getting started and I can't wait to get to work with city staff."
Weathers concluded by employing Cain's long-running catchphrase.
"We're going to keep it a great day in Cleburne."
Cain's placed his hand on his grandmother's Bible as he was being sworn in.
"Her time in Cleburne was during the railroad generation, and that was a great century." Cain said. "Now we embark on a new century and a new decade."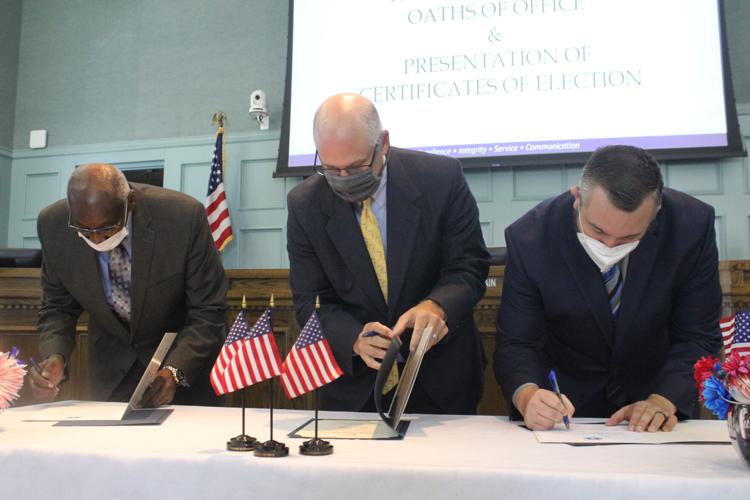 With that in mind, Cain challenged city officials and residents to strive for excellence.
"We've done some great things over the last decade, but the best is yet to come," Cain said. "We have a unique opportunity to do things that we never even dreamt possible. It's time to roll up our sleeves. I challenge each one of us to do something that is special and unique over this next decade. Let's become the city by which all other cities in the great state of Texas measure their success.
"That's a tall order. But I challenge my fellow citizens to take pride in our community, to get involved and to serve one another. I challenge our business community to lead and inspire."
Cain also thanked Kelly for his decade of service on the council as well as his military service in his younger days.
Cain himself referenced his famous slogan in concluding his remarks.
"We will make it not just a great day but a great decade for Cleburne, Texas."