The Cleburne Railroaders announced Tuesday they have released former MLB All-Star Rafael Palmeiro along with his son, Patrick Palmeiro, in a series of moves as the club trims its roster ahead of Thursday's season opener.
While Rafael Palmeiro put together solid numbers last season — for anyone, let alone a 53-year-old — the former Texas Ranger was limited to only 31 games due to injury and soreness. 
In the offseason, Palmeiro, now 54, underwent knee surgery that has restricted his participation in Railroaders' spring training and exhibition games.
"We want to thank Rafael for his contributions on and off the field during his time with the Railroaders," Cleburne Manager Brent Clevlen said. "Unfortunately, his body wasn't at a point where he's capable of being a regular in our lineup for a full season. One hundred games in 110 days is a lot to ask of any ballplayer, and at this point he's not 100% healthy."
At Railroaders media day on May 7, Palmeiro said his No. 1 goal and focus going into the 2019 season was centered around recovery from knee surgery.
"For me, I just want to be able to get on the field and stay healthy," Palmeiro said last week. "I had knee surgery in October. It's a slow process getting back. I'm not 100 percent. My expectations aren't orientated towards performance on the field because I know I can do it. I just want to be able to stay healthy, maybe not at 100 percent because I may not ever get back to that. But if I can get on the field and play and I'm able to do the things I'm capable of doing, that's my goal. That's my goal is to get on the field and stay healthy."
Last year, Palmeiro slashed an impressive .301/.424/.495 in 31 games with 21 RBIs, six home runs and 20 walks. But his inability to stay in the lineup — playing in only 31 percent of the team's games — held the four-time MLB All-Star back from contributing in a full-time role.
Palmeiro is one of just six players in MLB history to record 500 home runs and 3,000 hits in a career. He also won three Gold Gloves.
In their one season in Cleburne, the Palmeiros gave Railroaders fans a few memorable moments on the field in 2018, in addition to being available before and after most games for photo ops and autographs.
Rafael Palmeiro made baseball history May 21 as he became the oldest player in professional baseball to hit a home run.
Then on July 13, the father-son duo combined for three home runs in one game with Patrick connecting on two blasts while Rafael added a solo shot, living up to the preseason prediction made by Patrick that they would homer in the same game a la Ken Griffey, Sr. and Ken Griffey, Jr. hitting back-to-back homers in 1990.
The Palmeiros and Railroaders were also featured in June on "E:60," a series on ESPN.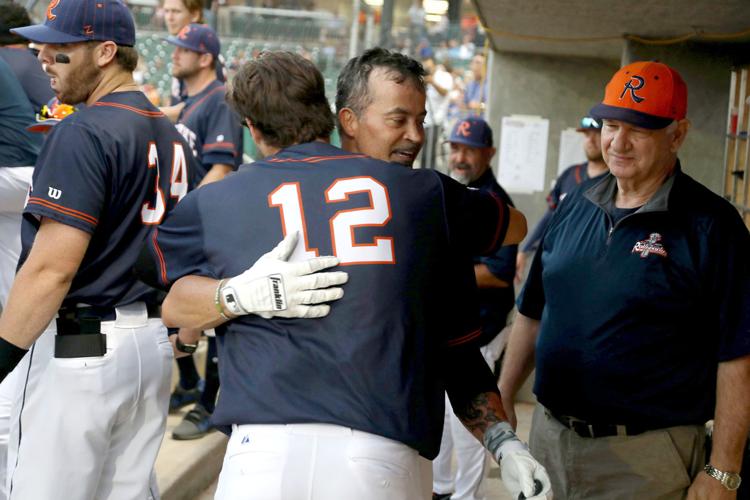 The Palmeiros signed with the Railroaders in May 2018 as Rafael hoped it would be the first step towards making a MLB comeback after 13 years away from the game.
"It's the team that gave me the opportunity," Palmeiro told the Times-Review when he signed with Cleburne. "I started this [comeback] about five or six months ago in the offseason. I was hoping that I could get a big league invite with one of the big league clubs but that didn't work out. This is a good place. It's not far from home. I have a chance to play with my son. I have a chance to play in front of my fans because I played here in Texas a long time. It's a great opportunity for me to get back on the field and get on this journey again."
Last season, Patrick Palmeiro hit .255 with nine homers and 48 RBIs in 97 games with a .306 on-base percentage and a .379 slugging percentage. He has spent the last four seasons in independent baseball and reached Single-A Kannapolis (Chicago White Sox) in 2013. He was originally drafted by the Pittsburgh Pirates in the 22nd round of the 2008 MLB Draft out of Colleyville Heritage High School.
The Railroaders also released left-handed pitcher Jacob Hill and placed left-handed pitcher Alex Burgos on the inactive list.
The Railroaders open the 2019 season at 7:06 p.m. Thursday when Cleburne hosts the Sioux Falls Canaries for the first of a four-game set. Then the Railroaders open a three-game series at 7:06 p.m. Monday against Winnipeg.