The conclusion broke hearts but the grandness of the Cleburne Railroaders' overall 2019 season calls for celebration, club officials said during Tuesday night's appreciation dinner for season ticket holders and other fans. Those same officials over and over credited Cleburne fans for making the difference while urging those same fans to prepare for greatness ahead once the 2020 season kicks off in May.
The Railroaders, after two lackluster seasons, spent much of 2019 occupying first place in the American Association and, at season's end, just missed the playoffs.
Brad Allred, Cleburne Railroaders director of broadcast and media relations, called Tuesday's event bittersweet yet promise filled.
"Now that the initial hurt is starting to subside there is so much to be excited about when it comes to 2020," Allred said. "There's still a lot of hurt. But that's a good thing. It's good to set lofty goals and there's so much to be excited about in what we did in 2019."
Five Railroaders were named All Stars, more than any other team in the American Association. The team logged 57 wins, a 24-win jump from the 2018 season. 
"We spent 67 days in first place," Allred said. "No other team was in first place longer than our Cleburne Railroaders."
Josh Robertson, director of baseball operations, was recently named American Association Executive of the Year.
"These are not accomplishments," Allred said. "They're benchmarks, two very different things. Benchmarks are achievements that set foundations and develop culture. Accomplishments are what come after benchmarks have been set. 2019 was a great time when memories were made and a culture was developed and a foundation was formed. It was the first chapter in a journey that represents everything we love in the great game of baseball.
"If you enjoyed what 2019 brought let me be very clear, 2020 will bring new expectations in our history. Jump on the train and let's enjoy the ride."
More important than that, Allred and Railroaders President John Junker said, is that the players carried themselves as well off the field as they did on.
Character matters, Junker said, and it's important that Railroaders players and staff be part of and involved in the community.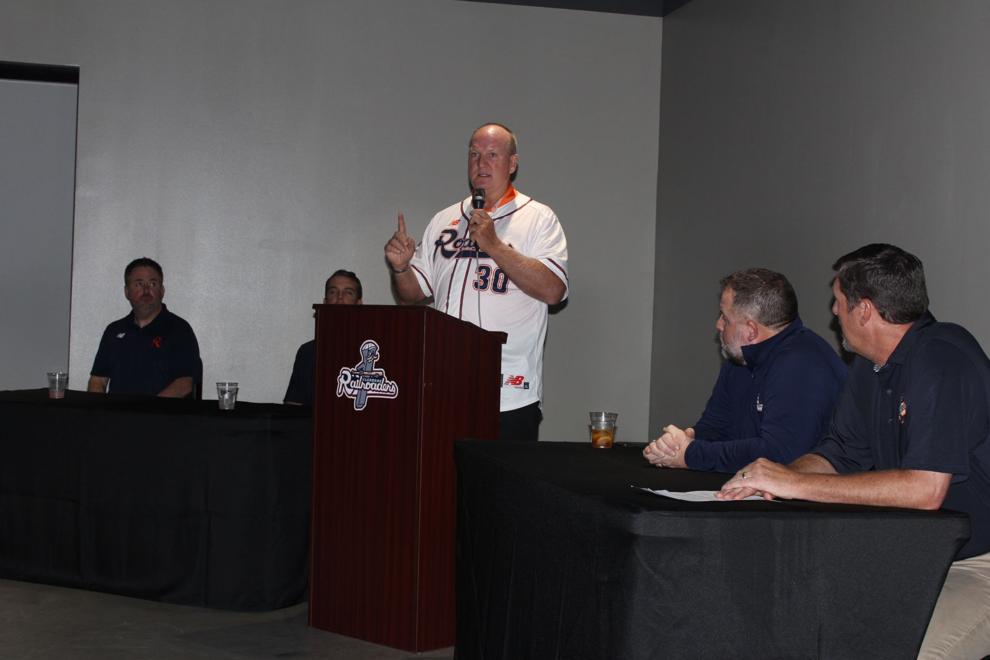 Railroaders Pitching Coach Mike Jeffcoat  predicted success ahead.
"We had a lot of success on the field this year," Jeffcoat  said. "We've turned the corner and are headed in the right direction. We're going to continue in the right direction. We're in this to win it. 
"I look forward, this time next year, to having trouble getting everybody in this room. I hope you're fired up as I am."
Robertson noted that although the St. Paul Saints won the championship this year, the Railroaders bested them four out of the six times the two teams met during regular-season play.
"We're a family," Robertson said. "We're all in this together."
That, Robertson and others said, includes the fans as much as the team and staff.
Allred agreed.
"The best fans in sports are in Cleburne, Texas," Allred said.
Junker thanked Cleburne Mayor Scott Cain.
"Your passion for baseball, your vision for The Depot and your heart for this community is incredible," Junker told Cain. "That led to this unbelievable space and stadium and I want you to know we're going to take it to the next level."
Cleburne voters in 2016 approved the sale of bonds to fund The Depot and the land surrounding it. In addition to baseball, The Depot hosts concerts and other events throughout the year. Plans call for bringing restaurants and retail to the land surrounding The Depot. 
Ownership of the Railroaders switched hands before the 2019 season at which point Junker came on board as president.
Junker joked that 14 months ago he didn't know what the American Association or Cleburne was.
"But this is a special place," Junker said. "And the biggest thing that led me to even consider it was the people here. And because of you, we have a winner."
The secret, Junker said, is to surround yourself with people who know what they're doing adding that the Railroaders' staff is among the best in the business in that regard.
Manager Brent Clevlen agreed, thanking fans for their support and crediting the team's turnaround and success to the fact that all involved stepped up.
Cain concurred.
"The season fell a little short," Cain said. "But the ownership and players were amazing. I think we have a bright future because they showed us this season the potential Railroaders baseball has for Cleburne, and this is what we built The Depot for.  I can't wait for opening day to come in May."
Cleburne resident and season ticket holder Ron Layland said he and other fans present appreciated the dinner and gestures on their behalf.
"Tonight was an excellent opportunity for members of the Railroaders' family to come together and celebrate our love of baseball and the 2019, and certainly we're looking forward to bigger things in 2020."