Model trains, free train whistles and picture boards depicting possible museum renovation ideas greeted attendees of Tuesday's Cleburne Railroad Museum Public Input meeting at the Cleburne Conference Center as did a questionnaire.
The current railroad museum will soon expand into two adjacent buildings and officials said they want to make sure the new space and renovations meet the public's expectations and wants.
Officials from both the railroad and Layland Museum and members of the Cleburne Railroad Museum Expansion Advisory Committee were on hand to greet visitors during the 5-hour come-and-go style meeting and answer questions.
"We had a flurry of people right before 3 p.m. when we started, actually some here before 3 p.m.," Layland Museum Manager Stephanie Montero said. "We're expecting quite a few more right after 5 p.m. but then we're staying here until 8 p.m. so people can come after dinner."
The Cleburne City Council last year allocated $635,000 in the current year's budget for expansion and renovation of the museum, a portion of which will come from the Cleburne 4B Economic Development Corporation.
The current Cleburne Railroad Museum, 206 N. Main St., opened several years ago and was at the time referred to as the temporary version a larger museum to come.
The museum was one of several 4B projects approved by voters in 2002 and the last of the projects to be completed. Through documents, photographs, exhibits and interactive features, the museum lays out the story of Cleburne railroad history in particular and national railroad history in general.
"The upcoming expansion essentially triples our size," Montero said. "We're going from 1,800 square feet to about 5,000. So, with this opportunity to do something really special, we want to make sure it's exactly within the budget and space we have but also to make sure it's exactly what the people of Cleburne want to see because they've been waiting a long time to see this museum come to fruition."
The two-page questionnaire attendees were encouraged to fill out covered topics ranging from layout and details of the new museum as well as programs and activities.
"So, what kind of front desk would they like to see?" Montero said. "What kind of gift shop. What type of displays? Would they rather have a big, open display area or something where there's surprises as they walk around so they don't see everything all at once?"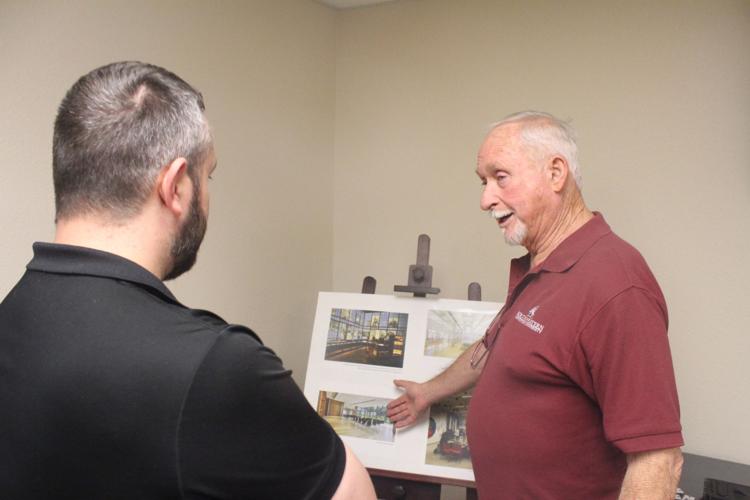 One question, for example, addresses how best to set the entrance lobby mood. Choices include a small front desk, a front desk in front of an open museum concept where all the displays are visible or a retro front desk outfitted to resemble a train depot ticket window.
Other questions ask attendees what they most like about the current museum and what they would most like to see in the new version.
Cleburne businessman Ron Layland — the Layland Museum is named after his grandfather — serves on the Cleburne Railroad Museum Expansion Advisory Board and the Layland board.
"Hopefully, during this meeting, we'll get comments from citizens as to what they'd like to see on the inside of the new museum as far as the layout structure and other things," Layland said.
Layland said he'd love to see an elevated electric train traveling room to room similar to the one in Chaf-In Restaurant.
Cleburne businessman Sam Walls, who donated the electric train set to the current museum, said he'd also like to see that feature expanded in the new museum
Cleburne resident Linda Burt Wallace called the museum near and dear to her heart.
"My dad worked for the railroad," Wallace said. "My grandfather was a machinist and he also worked for the Harvey House for a short while. Sonny, Melvin Burt, my uncle, was a care department employee and also an engineer eventually for BNSF. My cousin, R.P. "Rip" Benson, was a superintendent in New Mexico.
"So it's been a railroad family and this museum means a great deal to me. I see it as my way of giving back to my family members who worked the shops in Cleburne and remembering them and carrying their story and our history forward."
Cleburne resident Bettye Cook, who volunteers for Layland and the Cleburne Public Library, said she excitedly awaits the new museum to come.
"I think it's finally time to do the railroad museum and do it right," Cook said. "My ideas are education based and I have a lot of ideas. I'd like to see a film on our local railroad history that could be fun and interactive. I also was talking to Linda Burt Wallace on the idea of sponsoring overnight trips where people could take the train from here to Temple.
"I've even had some people say they'd like to see a trip from here to Chicago. I rode the train there last summer to try it out and it was a fantastic trip. The train takes you right into Chicago three blocks from the Palmer House Hilton Hotel. You can get out, walk all over the city, walk back and get right back on the train."
Cleburne resident Derek Weathers said his interest in local history attracted him to the meeting.
"I wanted to see some of the proposed plans and find out what they're thinking of putting in the bigger museum," Weathers said. "Also wanted to look at some of the issues like parking and things like that. But I've always loved local history so I think this is going to be a really cool, and important, project."
Tuesday's town hall also served to spread word of the planned renovations and expansion, Cleburne Parks and Recreation Director Aaron Dobson said.
The city recently hired an architect for the project, Dobson said. They will take public feedback into consideration when drawing the plans up. Sometime after that construction of the project will bid out. The project, once started, should take about 22 months to complete, Dobson said.
Donations still needed for 3417
The Cleburne Railroad Museum Train Crew Club is still accepting donations for Cleburne's iconic Engine #3417.
The steam locomotive, built in 1919, is one of five still existing from the 50 built by Baldwin Locomotive Works for Santa Fe.
The engine spent most of her 35 years of service based in Cleburne.
Donated to the city in 1955, the engine was moved to Hulen Park where she remains today.
A party is planned for Oct. 19 to celebrate the engine's 100th anniversary.
The Cleburne Railroad Museum Train Crew Club is accepting donations to upgrade fencing and landscaping around the engine. Construction of a shed like covering and an information plaque is also planned.
Donations are tax deductible. For information, contact the Layland Museum at 817-645-0940.
Donations may also be mailed to Project #3417, 201 N. Caddo St., Cleburne, TX 76031-4903. Checks should be made payable to CRRMG Project #3417.
The Cleburne Railroad Museum, 206 N. Main St., is open 11 a.m. to 3 p.m. Tuesdays through Saturdays.