From vintage action figures to modern Melissa & Doug educational toys, one of downtown Cleburne's newest businesses has something for everyone to play with.
Central Station Toys opened just a few weeks ago, and owners Stephanie and Chris Hill said business has been great so far.
The couple and their children — Keenan, 16; Erin, 14; and Taylor, 7 — moved to Cleburne a few years ago from Dallas.
"We fell in love with a house here," Stephanie Hill said. "We came to see and it drove around town and it was just charming. We loved how people were friendly and the pace of life was just a lot more peaceful."
After getting settled into their new home, Stephanie Hill said they began toying around with different ideas.
"Every time we would pass a building in different areas of town, we'd go, 'Oh, that would be a fun place to have here,' or, 'We could do this in this place.' 
They had a vision of owning a business downtown, but had to come up with something they knew and could market.
Hill works in hotel property management, but in his spare time has an online business selling collectable toys — so they thought of doing a toy store.
In preparing to open a new business, Stephanie Hill said she did a lot of research in the toy industry and spoke to other downtown business owners.
"I went to an entrepreneur presentation and we had to talk about our business ideas," she said. "Since we weren't from Cleburne, we weren't really sure what the market would be. A lot of people liked the idea of us having a toy store here, and we liked it because there really isn't a lot for kids to do. Business has been really good so far. "
The store had a soft opening on Halloween, and officially opened the second weekend of November.
"When we had the sneak peek for trick-or-treating that was really fun," Stephanie Hill said. "The kids were excited and the parents were excited."
The store features new retail and collectables.
"We have these new awesome 3D mechanical wooden models that wind up and move with gears," Stephanie Hill said. "Most people haven't seen anything like that and they are really popular.
"As far as collectables, they might be Legos or lunch boxes. Right now we've got 101 Dalmatians that was part of the McDonald's Happy Meal collection from awhile back. We have a variety of things."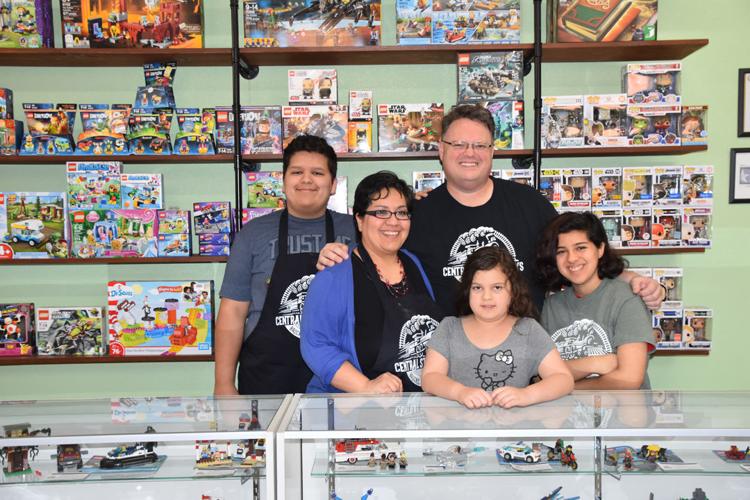 In one section of the store, customers can choose a stuffed animal to make and dress.
"I have done a traveling animal stuffing business, so we do that here," she said. "I love seeing when kids make their own animal. You make a wish on a star and you put it inside and then you name it. Once their creativity starts, their face lights up when they make something themselves."
In another area, tables of Legos — called the Brick Yard — await both children and adults.
"You can get a day pass or monthly pass and come a build," Stephanie Hill said. "With the monthly pass, a kid might come in with an amazing idea and not be able to finish when it's time to go. So they can leave it with us and we will hold onto it for them so they can come back and expand on their idea."
The passes are to play in the store only, but some small projects can be taken home.
"We do have take-home boxes that if your creation will fit loosely in that box, then they can take with them," Chris Hill said. "The boxes aren't very big, but they do fit a good amount of Legos if they are loose."
If you're not up for building something yourself, the store offers prebuilt sets.
"I love going through and playing with the Legos," Chris Hill said. "I love playing getting them built and displaying them."
Their children all help out at the store. 
Erin is the brick expert.
"She builds things and she can just do it from her creativity," Chris Hill said. "We'll have some displays of hers up soon, her own personal collection."
Stephanie Hill said what she loves most about the store is the stories customers tell her.
"We had some of these Fisher Price toys that were from the '70s and people tell us stories about how they use to play with them and now their grandkids play with them," Stephanie Hill said. "It's so cool because it's almost like a museum for some people. There are memories attacked to those items."
The store has room for birthday parties and plans are in the works for game nights.
"Our party area will be available for game nights," Chris Hill said. "So if they want to come in and play whatever they want — Dungeons and Dragons, Pokemon, games I haven't heard of — they can do that."
Have some Lego sets you no longer play with?
"You can trade in your Lego sets or bricks," Stephanie Hill said. "We'll buy them from you and give you store credit."
Pricing of the toys is meant to fit the needs of all customers.
"We have kids come in who have earned money or got money for their birthday and they come in and are so excited to buy something," Stephanie Hill said. "So, we try to have different price points for people that come in for antiquing or a kid that's earned their money." 
Store hours are noon to 6 p.m. Tuesday through Friday, and 10 a.m. to 6 p.m. Saturday. For information, visit Central Station Toys on Facebook.