Members of the top 10 percent of the Cleburne High School graduating class heard from a fellow academic leader from the Class of 2011 at the annual Pinnacle Bank Honor Graduates Breakfast.
Rev. Haley House served as the guest speaker at the event, less than a week after graduating from Asbury Seminary in Wilmore, Kentucky. 
House, who earned a Bachelor of Arts degree in medical humanities from Baylor University in 2014, was inspired to serve in vocational ministry during a college internship at First United Methodist Church of Waco. She is now the lead youth pastor at FUMC Waco and is in the process of ordination in the United Methodist Church. 
"We always look forward to hearing from a graduate who, like this year's honorees, was a member of the CHS Top Ten Percent," Pinnacle Bank branch President Amber Witte said. "It's very meaningful to the graduating seniors to hear from someone who was also committed to academic achievement. It's something they share. It's also exciting to bring back these honor graduates who are now out in the world doing great and remarkable things.
"Hayley is a perfect example of the Cleburne graduates who continue to reflect Jacket Pride. It was wonderful to celebrate her latest achievement as we recognized the 37 academic leaders making up the 2019 top ten percent."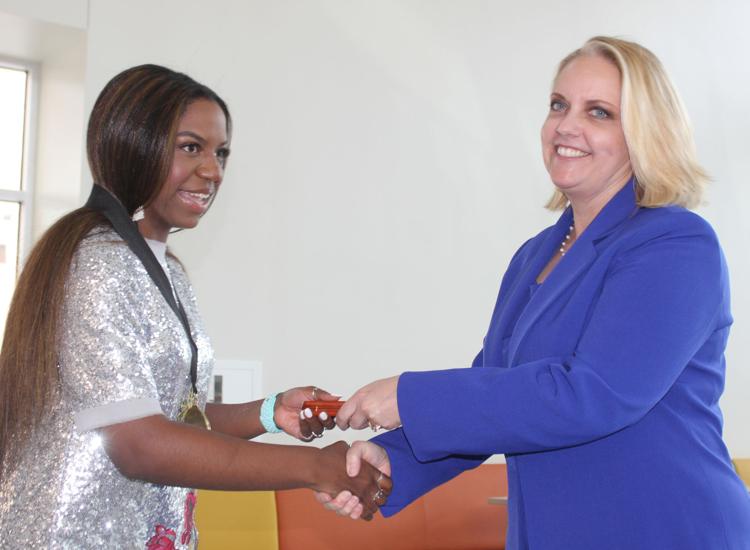 In her four years at CHS, House was a member of the Golden Pride, serving as drum major in her senior year. She was elected FFA chapter president as a junior and was also a member of National Honor Society, Exchangettes and Beta Club. She was honored by her CHS teachers in being named to Who's Who.
"Eight years ago I was sitting where you are right now," House told the honorees. "Graduation weekend was full of excitement and celebration. That evening I was dressed head to toe in cords representing various clubs and organizations, my National Honor Society stole and honor stole with my top ten percent medal around my neck. That was a medal that 90 percent of the graduating class did not have. All of these things represented what I had accomplished during my time at Cleburne High School. I was proud, just like you should be proud of your accomplishments."
House said that as she entered her first freshman-level class at Baylor, she quickly realized that 80 percent of those in that same college classroom had also been in the top ten percent among their fellow graduates.
"I felt like I had gone from the top of the class to one in the pack," she said. "I felt as though a part of who I understood myself to be was stripped away. The issue was that I had made these accomplishments who I was, rather than something I had done or achieved. The awards had become woven into my understanding of my identity.
"However — and more importantly — I also realized that although I was the one who had received these awards, I didn't get to where I was alone. The thing about the medals you are receiving today, at face value, tell me your GPA was high enough to land you in the top ten percent of your class, academically. But these medals also represent all the people that journeyed with you, supported you, encouraged you and cheered you along the way.
"Your medal represents your family that raised and supported you, your teachers that never gave up on you and stayed late to check on you. They fostered your love of learning by always being available to answer your questions. It also represents your friends and classmates that laughed with you, studied with you and cheered you on. This medal represents a lot of really good things, but more importantly it represents the people in your life. Life is more meaningful when we share it with others."
House also offered some advice to the honorees as they prepare for that giant step forward into college.
"You'll be having your share of all-nighters in preparing for exams," she said. "I have found ice cream to be a great help in these situations. I encourage you to sit in the first three rows of the classroom or lecture hall. But the most important thing to remember is you can't do this alone. Find people that will encourage and support you. Stay after class and get to know your professor. Get to know your study partners by asking questions about their life. And, find really good friends."
Members of the CHS Class of 2019 top ten percent recognized at the Pinnacle Bank Honor Graduates Breakfast included valedictorian Tarek Arouse, salutatorian Christopher Morton, Meredith Johnson, Jordan Price, Elyse Bradley, Tabitha Lane, Randall James, Arturo Rolon, KaiLi Hall, Amelia Kuykendall, Abby Jones, Caroline Kelley, Bimod Pun, Emily Davis, Juan Gonzalez III, Sarah Medina, Lauren Bentley, Maxwell Tindall, Lexi White, Ivan Suaste, Stephanie Dominguez, Chloe Scott, Emily Wren, Irene Flores, Mara Jackson, Isaac Nuñez, Allison Coleman, Smith Boles, Erika Green, Jennifer Fuentes, Wren Blanchette, Andrew Dosch, Britney Gavitt, Joseph Pengelly, Edwin Facundo, Annie Gerlock and Jake Witte.