The county's three playoff qualifiers headline the Classic Chevrolet Buick GMC of Cleburne 2020 All-Johnson County boys soccer superlative selections.
Alvarado, Burleson and Joshua account for nine of the 10 superlative awards for the 2020 All-Johnson County team.
The Owls' four superlative honors headline the group, led by Joshua junior Griffin Gayler as the All-Johnson County MVP. Gayler scored 15 goals and added eight assists in helping lead the Owls to a 12-5-5 overall record and a second consecutive playoff berth.
"Griffin is a player that has a lot of intangibles," Joshua Coach Thad Goodling said. "With his speed and explosiveness, he's the type of player that can take over a game if he needs to. It's his raw athleticism ultimately, and it's hard to stop him. Over the last couple years, his touches have gotten better as he's worked hard to really refine his game. With a player like that, it gives the rest of the team a confidence boost knowing they have somebody who can take a lot of the pressure. 
"Over the course of the season, we had a lot of injuries and he had to do a lot of the work up front for us. He stepped up to the challenge and the guys around him stepped up with him. Once we got healthy as a team is when we really saw him become that special MVP-caliber player. The last two games of district he had four goals and two assists."
The Owls went 6-3-2 in a tough District 14-5A to wind up finishing third — only two points out of first place in the standings — before the season was canceled due to COVID-19.
The Burleson Elks' all-county recognition is headlined by junior Caleb Yauger as the offensive player of the year for a second consecutive season. Yauger accounted for 20 goals and three assists this season.
"Caleb has good technical ability and good speed and he uses both of those to his advantage," Burleson Coach Travis Hughes said. "The biggest thing he does is he's going to outwork people. When he's around the goal, he's hungry to score and is willing to do what it takes to make something happen in front of the goal."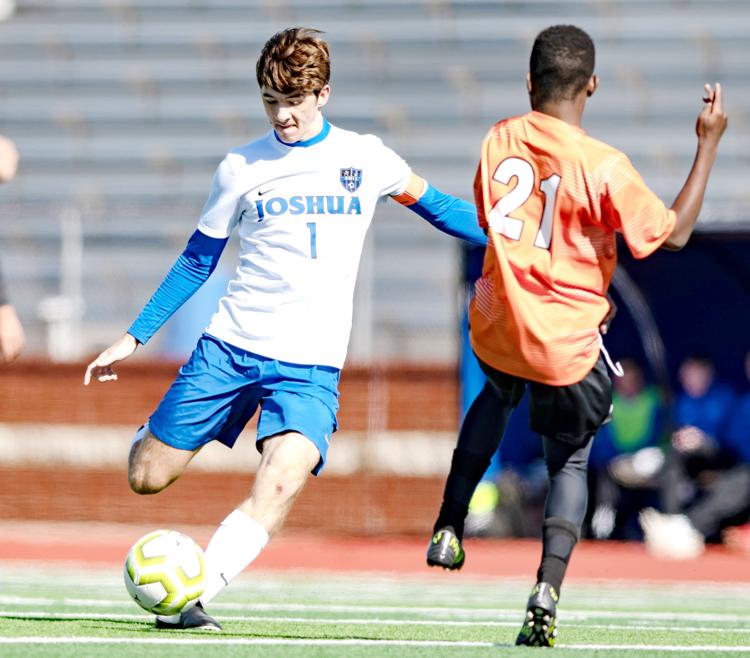 The All-Johnson County defensive player of the year honor goes to Joshua junior Nolan Walker, who netted three goals with six assists while providing a calming presence on the Owls' back line.
"Nolan is such a smart player," Goodling said. "He has the ability but he reads the game so well, especially with the fact that we changed him from a midfield role last year to defense this year. That was what solidified the defense in front of [goalkeeper Mario Miranda]. Nolan's got the speed to cover some ground and he was the one back there that moved everything around to where it needed to be."
Joining Gayler and Walker as all-county superlatives for the Owls is junior Mario Miranda as the top goalkeeper in Johnson County. Miranda boasted a 0.95 goals against average in his third season as the Owls' netminder.
"It's awesome for Mario to get that honor," Goodling said. "There were times that you're worried about what's happening on your end and the next thing you know Mario comes out of nowhere and he makes the save. One save that sticks out is the Cleburne game; they had a player with a point blank shot and Mario came up and made the save. He's the type of player that just sees it. He's a natural and he has that knack for finding the ball before it gets in the back of the net. He knows his angles and his fundamentals are very sound. He anticipates things before they happen and gets in position to make tough saves."
The All-Johnson County midfield player of the year is a split decision between Alvarado senior Santos Salinas and Burleson sophomore Luke Peterson.
Salinas' impact for the playoff-qualifying Indians was immeasurable. As the District 12-4A utility player of the year, Santos impacted the game in a variety of ways from his midfield position. 
"Santos is one of the most unselfish players to ever come through our program," Alvarado Coach Israel Stephens said. "He always was willing to do whatever the game plan asked of him. Sometimes he had to get up and down the touchline all match long to track defensively and then put in crosses on the attack; other times it meant forsaking almost everything else to man-mark the best players in the state. He did so unquestioningly and at an extremely high level."
Peterson put up big numbers from his midfield position with 14 goals and nine assists for the 12-5-6 Elks.
"Everyone knows where he is all the time and he still does big-time stuff when it counts," Hughes said. "He impacts the game tremendously no matter where he is. He's always a threat going forward, but he had nearly as many assists as goals because he's unselfish. He's simply a ball winner in the middle. 
"He's super athletic. Last year, he was newcomer of the year as a freshman in soccer and then he was newcomer of the year as a sophomore for football this year. That just shows how much of an overall athlete he is. He's willing to do whatever it takes to win."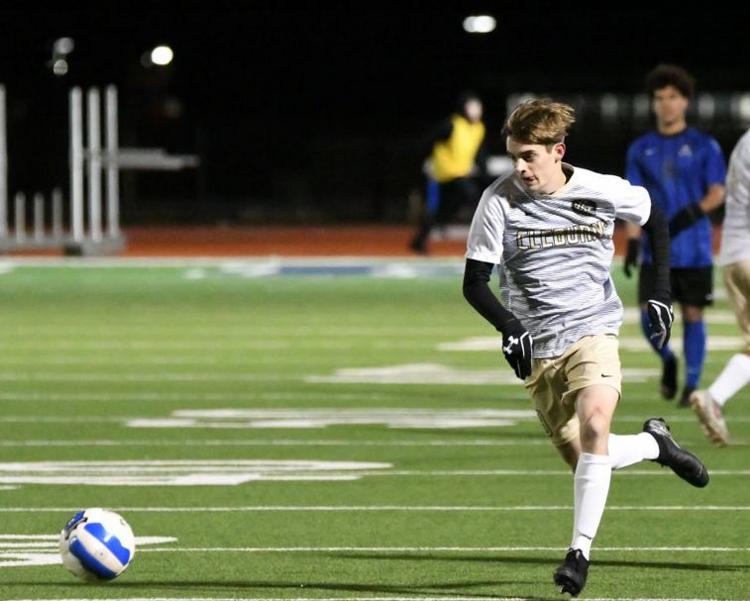 Sharing the All-Johnson County utility player of the year accolade is Cleburne senior Rylan Light and Burleson junior Anthony Mohammed.
Light is a two-time All-Johnson County superlative recipient after also being named newcomer of the year in 2019. This season, Light filled a number of roles for an injury-plaged Yellow Jacket team, finishing with a team-high eight goals to go along with two assists.
"Rylan played multiple roles for us this season and without any hesitation he stepped up," Cleburne Coach Drew McKinnie said. "There were times he played as a striker, but mostly he had to solidify the midfield and he proved that he can do more than just score goals. Due to our plague of injuries, there were multiple times that Rylan also had to fill roles in the back line as a defender. No matter where Rylan was on the field, he impacted the game and showed his versatility."
Mohammed scored five goals and added three assists as a versatile contributor for the Elks.
"He's super versatile," Hughes said. "He played anywhere for us in midfield or back line. He's always willing to do what he can to help the team. He's a talented enough kid to, when he does move around, he makes an impact no matter where he lines up."
Alvarado sophomore defender Isaiah Soto joins Salinas as a superlative recipient for the Indians as the All-Johnson County newcomer of the year.
"Reading the game is one of the toughest things to learn and Isaiah was ready to learn from day one," Stephens said. "He always asked questions, always paid attention to sessions on the whiteboard or in the film room. When people talk about being a student of the game, they mean players like Isaiah. It is no wonder he was able to use his natural athleticism to become one of the top defenders in the state as just a sophomore."
Rounding out the 2020 All-Johnson County superlatives is Goodling as coach of the year after leading the Owls to the playoffs for a second straight season.
"I appreciate it and it's a great honor, but I got to give it back to the boys, though," Goodling said. "These boys are what did everything for us this year. We went through our adversity but the team as a whole, all 20 boys, worked and fought and played hard for us. There were games we had guys who wouldn't normally start that were starting for us and they executed the game plan. I've got to thank the boys for that."
The All-Johnson County superlative awards are selected by the Times-Review based on all-district selections, statistics, team success and coaches' nominations.
Editor's note: We were unable to take the traditional all-county team photos this year due to group restrictions and social distancing recommendations because of the COVID-19 outbreak.