Conversation remained respectful and civil though the questions at times became pointed during a recent sit down in Rio Vista between state Rep. DeWayne Burns, R-Cleburne, and officials from throughout Johnson County.
At issue specifically were several bills passed during the recent legislative session. More broadly, concerns revolved around local control and the perception held by several local officials that Austin is fighting to chip it away.
Representatives from the Johnson County Commissioners Court, Cleburne, Burleson, Alvarado and Joshua attended, as did Rick Thompson, senior legislative manager of the Texas Association of Counties.
Issues discussed included Senate Bill 29, which local officials argue affects the ability of cities to enforce local building and standard regulations and maintain overlay districts, and SB 2, which enacted a growth cap of 3.5 percent, something local officials say will hamper the ability of cities and counties to grow and provide needed services in the years ahead. The cap — which represents growth percentage, not a tax increase — does not take effect until next year. (Many governmental entities within Johnson County including Johnson County, Cleburne, Burleson and Cleburne ISD have either already enacted property tax cuts or proposed such cuts for their upcoming fiscal years.)
Discussion also touched upon recent voter-approved changes to annexation rules and legislative action curbing cities ability to charge franchise fees.
"There's always two sides," Thompson said in discussing the purpose behind the meeting. "We wanted to pull our leadership across Johnson County together to try to get an idea of how to deal with these changes and what to expect moving forward. Because, at this point, we don't know the impact the 3.5 cap is going to have. We invited Burns here to get an understanding of the state's perspective on governing  counties and cities."
County Commissioner Rick Bailey said he hopes the meeting is the first of an ongoing dialog.
"We definitely want to follow up before the next legislative session because we'll be living under the cap by then," Bailey said. "I think Johnson County should be OK but I think it's important that we monitor how the cap affects the less prosperous counties and send DeWayne to the next session with a clear message of our needs of Johnson County and our cities moving forward. We want to continue this because we don't want to wait until the 11th hour."
Thompson agreed.
"The next [legislative] session starts the day after the last," Thompson said.
Burns said he welcomed the meeting.
"I need your input during the interim and the session and I appreciate you all's willingness to share with me when you feel passionately or otherwise about issues. I always want to work with you because I feel like I'm an extension  of our local government and a tool for you guys to use in Austin."
All present said they appreciate Burns' support and accessibility. Although local officials mainly targeted upper state leadership, they did at times question Burns on his support of bills they believe to be detrimental to local governments.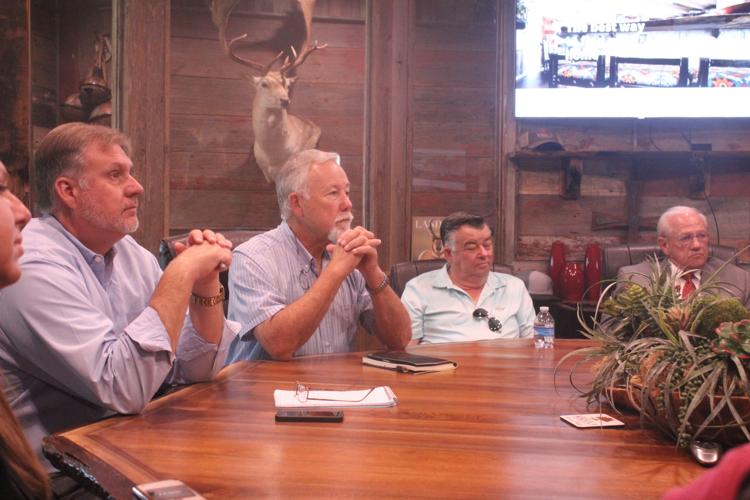 Franchise fees
House Bill 3535, which Burns voted for, exempts entities providing telecommunications, cable or video services from paying cities compensation for both use of public right-of-way and a franchise fee.
Cleburne City Manager Steve Polasek asked Burns to explain his reasoning behind supporting the bill, which takes effect Sept. 1.
"The way it was explained to me was that folks are double paying for the same cable," Burns said. "Two different services, but the same cable. So if we eliminate one of those charges then hopefully those savings will be passed on to the rate payer."
The House Research Organization's analysis of the bill, from the perspective of those who testified in support of it, falls in line with Burns' characterization of the current law as double taxation.
"Current law was established to ensure that telecommunications companies paid for the use of city right-of-way for phone services and that cable companies paid a franchise fee," the analysis reads. "However, this law is now outdated due to the development of technology and the bundling of cable and phone services."
Opponents testified that the bill will cost cities millions in revenues and be a huge gift to corporations. 
"It is reasonable to charge companies a fee on service of cable and for phone service, since companies profit from both," the analysis reads.
The bill will cost Cleburne about $150,000, Polasek said.
"The taxpayer owns that land and it's not a requirement that we lease it out," Polasek said. "AT&T, Charter and Spectrum paid their lobbyists a tremendous amount for this. The reality is there's no guarantee in that bill that those savings will be passed on to the consumer and we all know AT&T is not passing those savings on. That $150,000 I guarantee you is not going to get passed on to the people of Cleburne. That money is going straight back to those companies. We're not going to see reductions in our bill."
Annexation
Johnson County voters last year approved measures that make it harder for cities to annex absent the approval of residents in the areas under consideration for annexation. State legislation and/or similar voter initiatives led to similar rules in several other Texas counties.
Bailey and County Judge Roger Harmon said the consequence is that growth, already underway, is going to his the unincorporated areas of the county, increasing the demand, and cost, of road maintenance, law enforcement and other services.
"The bigger picture," Polasek said. "Is that cities have driven the growth of Texas period. "I get it. There are some cities that have abused the annexation process but there are very responsible cities that have not. You have to be able to manage growth and basically what this does is put handcuffs on cities in talking annexation. If we phase out cities Texas dies."
Counties will in effect become cities, Polasek said.
"And then, for the county, how many wells can you sink?" Polasek said. "How long till your volunteer fire departments can't cut it? People living out in the county in those subdivisions are going to be wondering where's my library? Where's our parks and where can my kid play ball and, while we're at it, what about all these stray dogs running around out here? And how far is the county going to be able to stretch the sheriff's office?"
The question of annexation needs to be revisited, Polasek said, to find some semblance of middle ground to cities to "grow properly in a controlled way."
Burleson Place 3 Councilwoman Katherine Reading agreed.
"We need to stop trying to politically pacify the idea that we can stop growth," Reading said. 
Building regulations
Local officials fear that new building regulations will allow for shoddy and/or inappropriate buildings in downtown and other areas of town. 
Burns said he and members of the Republican caucus supported the bill based on private property rights.
"I didn't realize when the bill came through what impact it would have on some of the overlay districts," Burns said. 
Burns added that he didn't want to hit manufacturers like James Hardie Building Products in the pocketbook.
Polasek said that Hardie products have never been an issue in any of the cities he's worked in over the past 28 years.
"Keller, for example, had minimum masonry requirements on commercial buildings," Polasek said. "That could be Hardie, brick, stucco, stone. Doesn't matter. We didn't tell them what to use. We just said masonry type product. It drove up property values and protected what that community wanted. That's the choice that community made and they should have the right to make that decision. What they don't want are metal buildings on their main downtown areas and places like that."
Reading added that Burleson and most other cities have waiver processes whereby builders can go before the council to request a waiver.
Alvarado City Manager Rick Holden said that a planned car wash would have to meet the city's masonry requirements now, but not after Sept. 1.
"So we're going to have a big metal tubular car wash right in the middle of the business district," Holden said. "The community doesn't want that. It doesn't fit into any business practice."
Cities need to have the ability to maintain local standards, Polasek said.
"No one ever came in out of the goodness of their heart and said we're going to do this the right way because it's the right thing to do," Polasek said. "The come in and say , 'How do we maximize our investment and make the most money we can within the parameters of what the city will allow us to do?'
"If the state takes those parameters away do you think the builders are going to come in at the upper level? No, they're going to come in at the lower levels."
Chip away
Cleburne Economic Development Corporation Executive Vice President Jerry Cash chimed in on the perceived weakening of local control on the state's part.
"Something's changed in the upper leadership of the state of Texas that's caused a lot of these issues," Cash said. "You didn't see this under governors Perry or Bush. There's something with our lieutenant governor and speaker. I don't think it's so much with the governor but something is going on. The only way to fix that is at the polls in November."
Officials present said they view the Texas Municipal League and Texas Association of Counties more as advocates for smaller cities and counties rather than lobbyists in reference of legislation affecting the ability of cities and counties to make use of those organizations. 
Burns stood firm that he opposes taxpayer funded lobbying but concurred that both organizations perform other needed, and cost saving, tasks.
The argument, local officials said, is that smaller cities and counties cannot afford to send representatives to Austin during legislative sessions but nonetheless still deserve representation and to have their voices heard. Which is where TML and TAC come in.
"The perception we got from the governor and lieutenant governor is of killing cities and counties and taking away our voices," Polasek said. 
Joshua City Manager Josh Jones agreed.
"We interpret this as [cities] don't know what we're doing to our poor residents and the state is coming in to save us from ourselves." Jones said.
Jones asked Burns if he thinks the Austin philosophy of chipping away at local control is going to continue. Burns said he can't speak for the leadership of the state other than himself.
"The scenario you've described doesn't apply to me," Burns said. I've served on the school board and county boards so I'm pretty aware of what goes into things and how the sausage is made. I don't think I've ever given the impression that I want to undercut any authority of city councils or local government. I've screamed at the top of my lungs that we don't need to declare war on local leadership."
Burns said he always has and always will remain accessible to local officials.
"Don't assume I know everything," Burns said. "I don't. But I'm going to listen to you guys before anyone else. Let's just keep our lines of communication very open. We're not going to agree on everything and we'll have different perspectives on certain issues. But I'm certainly not against you."