"Can we have a kiss on the cheek?"
As she covered her mouth to hold in giggles, that's what 8-year-old Marenda Howell of Alvarado bashfully asked Andrew Sevener as she and her friends approached him during a meet-and-greet Monday.
Sevener performed a concert for his hometown at Alvarado High School's Charles Head Football Stadium, and later visited with more than 100 fans.
"Of course," Sevener said as Marenda, 9-year-old Cheyanne Jacobs, and sisters, 11-year-old Tiernan Hopper and 7-year-old Brooklyn Hopper, lined up for a kiss.
It was a moment they had waited months for after watching Sevener make it to the top four on season 16 of NBC's "The Voice."
Sevener signed an autograph for each of the girls, who could not contain their excitement.
"I'm hanging this up on my wall and kissing it every night," Brooklyn said.
Sevener, during his concert, played a mix of cover songs he performed on "The Voice," as well as a few of his original songs including, "War zone" and "Hung over."
"Man, I was expecting like 20 people — thank ya'll for coming out," he said. "I can't thank ya'll enough. Thank you to my mom and dad; they've been amazing people and an inspiration. 
"There's so many things that have happened in my life, and it's all happened right here in Alvarado, Texas. I would be nothing without this town and these people. I appreciate every single one of ya'll coming out tonight."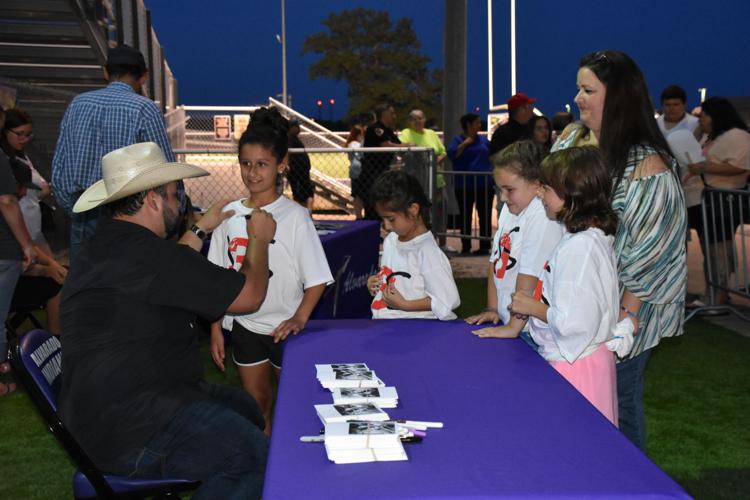 Todd Massey of Alvarado also thanked everyone for coming out, and shared a prayer.
"We're so thankful, God, you brought us together for such an awesome event," he said. "We thank you for the way you've used Andrew, and what he's meant to this town. He will always be part of this town." 
Alvarado Mayor Tom Durington presented Sevener with a plaque on behalf of the city of Alvarado.
"A few years ago, I watched Andrew play football here behind us," he said. "He even played in the state championship game. But, he went from state recognition, to his other talent — which, I didn't know about until later — to national and international fame. So, this city of Alvarado and the city council would like to recognize Andrew for his achievements and being a voicefor the city of Alvarado."
Alvarado High School football coach Jeff Dixon also presented Sevener with a No. 62 football jersey, signed by all of his former coaches.
"I just want to tell ya how proud I am of ya," he said. "The way you competed, and the way you represented in front of just everybody. You didn't forget our town and you were so humble about it and you made me very proud. Not just me, but you made our town, our community, your family and our school district proud. We're just so grateful and wish you the best."
During the blind auditions in April, Sevener was selected to be part of Team Blake, coached by country music artist Blake Shelton. 
During the Battle Rounds, he and his opponent Hannah Kay performed "Tequila" by Dan + Shay together. Shelton, who chose Sevener to win that round, said his performance was so well, he almost didn't need a microphone.
During the live Cross Battle, Sevener sang Travis Tritt's "Modern Day Bonnie & Clyde" as he faced off against The Bundys of Team Kelly Clarkson. Voters chose Sevener to move onto the next round.
Sevener the following week was saved from elimination and landed a spot in the top 13 with his performance of Randy Houser's "Boots On."
On May 7, fans again voted to keep Sevener on the show after his live performance of Luke Combs' "She Got the Best of Me," and he made it to the top eight.
He took to the stage again on May 13 and performed Charlie Daniels Band's "Long Haired Country Boy." Using #voicesaveandew, fans helped Sevener advance to the top four.
After performing three live songs — a duet with country music artist and coach Blake Shelton of Free's "All Right Now," his original "Rural Route Raising" and Hinder's "Lips of an Angel" — Sevener on May 21 was named fourth place of season 16 of NBC's "The Voice."