More than half of those who attended Wednesday night's Professional Rodeo Cowboy's Association Rodeo stood up when the announcer asked who in the crowd had ever served in the military or as a first responder.
The first night's performance of the 65th annual PRCA Rodeo was dedicated as Military and First Responder Appreciation Night.
"You know what tonight is about?" rodeo announcer West Huggins said. "It is about those people who have taken it upon themselves to take a job that doesn't pay a whole heck of a lot; to protect you, to protect me." 
In attendance, Huggins pointed out 99-year-old J.R. Fields, a U.S. Navy veteran who served during World War II.
"He has been able to see the world in a lot different eye than you and I have," Huggins said. "A man that was able to go to a country you've probably only heard about in books. And a man that was able to bring freedom back to America."
As the crowd gave Fields a standing ovation, Huggins said that spirit is what Texas is all about.
"Let me tell you something; what that man gave us in the rodeo business is a dream," Huggins said. "A dream to be what we wanted to be, and that's a cowboy."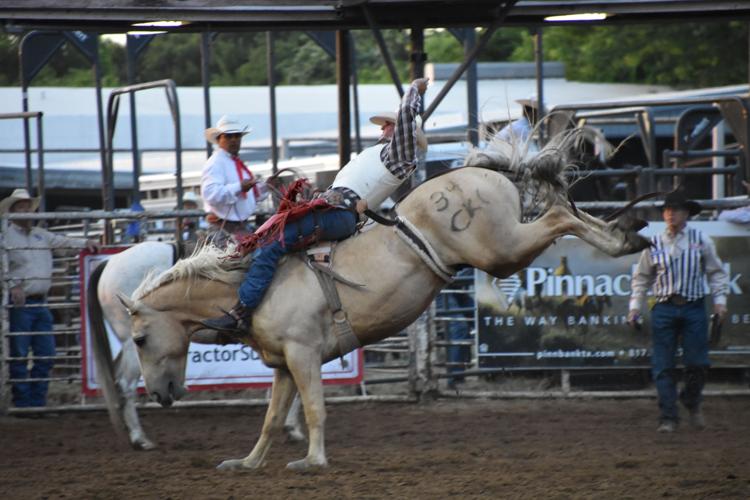 Remaining rodeo events
Attracting competitors from all over the world, the PRCA brings world champion bull riders, ropers and barrel racers, and provides the largest funding event for the year which enables the JCSP to continue to support area youth and benefit activities.
Tonight's performance begins at 8 p.m. and is lupus awareness night. Everyone is encouraged to wear purple.
"The reason we are doing lupus awareness is because we and every other rodeo have done tough enough to wear pink on Friday nights," Puryear said. "We decided to do something different and maybe start a new trend. Wear your purple and let's help find a cure and bring awareness to lupus."
The top 20 from mutton bustin' contestants from last weekend's preliminary events will come back tonight and Saturday to compete for the top prize during the rodeo.
Saturday, the last night's performance, is the championship finale. 
Tickets purchased at the gate cost $12 for adults and $8 for children older than 7. Children 6 and under are free to get in.
For sponsorship packages, call Shana Peacock at 817-648-1434.