Two girls from North Texas won the 2020 Miss Joshua Scholarship Competition on Saturday and will represent the state at the Miss Texas competition soon. 
Amber Mckenzie, 24, of Mesquite was crowned Miss Joshua, with Alexxia Carter, 13, of Fort Worth winning Miss Joshua's Outstanding Teen at the Hamptom Inn & Suites Fort Worth — Burleson. 
This competition was the first local preliminary competition in Joshua for the Miss Texas and Miss American scholarship organizations, Executive Director Amanda Jolley said. There were 10 girls who competed, with five in each category.
"It was tough competition," Jolley said. "The judges really had their work cut out for them because each and every contestant was talented, beautiful and extremely well-accomplished. I am so proud of all of them. 
"They were all so happy for Amber and Alexxia, after it was over they were all quick to give them a big hug and congratulations. It was a really special day."
The Miss Texas Scholarship Organization is a non-profit organization that awards scholarships to outstanding young women to help advance them academically and professionally, according to its website. Participants have gone on to achieve major success in diverse fields including medicine, law, business, broadcast journalism, theater, politics, literature and more.
The girls must maintain a high GPA, be available to make appearances, share their platform and be involved with their local community.
McKenzie is a graduate of Stephen F. Austin State University with a degree in business communication and corporate education. She plans to earn a Master of Science degree in cybersecurity in hopes of becoming a Certified Professional Data Engineer.
"I decided to compete in the Miss Joshua Competition because of the steps Miss America is taking to be more inclusive by empowering women through scholarships to further their education," she said. 
There were four phases of the competition: private interview (35 percent), on-stage interview (15 percent), talent (35 percent) and evening wear/social impact statement (15 percent).
"My absolute favorite part of the competition was private interview and talent," she said. "Not only did I have the opportunity to share my passion for raising awareness about hunger amongst students and young adults in the state of Texas, I also had the opportunity to play my fiddle."
She felt nervous but said she was at peace no matter what the outcome was.
"I even had a wardrobe malfunction during evening wear portion of competition," she said. "The overall amount of love and encouragement I received from my pageant sisters was truly heartwarming. I'm just overwhelmed with joy.
"When I was crowned I couldn't stop crying. I spent so many hours preparing for the competition — interview training, talent rehearsals, etc. It just felt unreal. I won over $16,000 in scholarship to further my education, and I'm truly blessed."
She will represent Joshua at the Miss Texas competition from June 22-27.
"My ultimate goal is to be apart of this wonderful community and volunteer with local organizations within the city of Joshua," she said.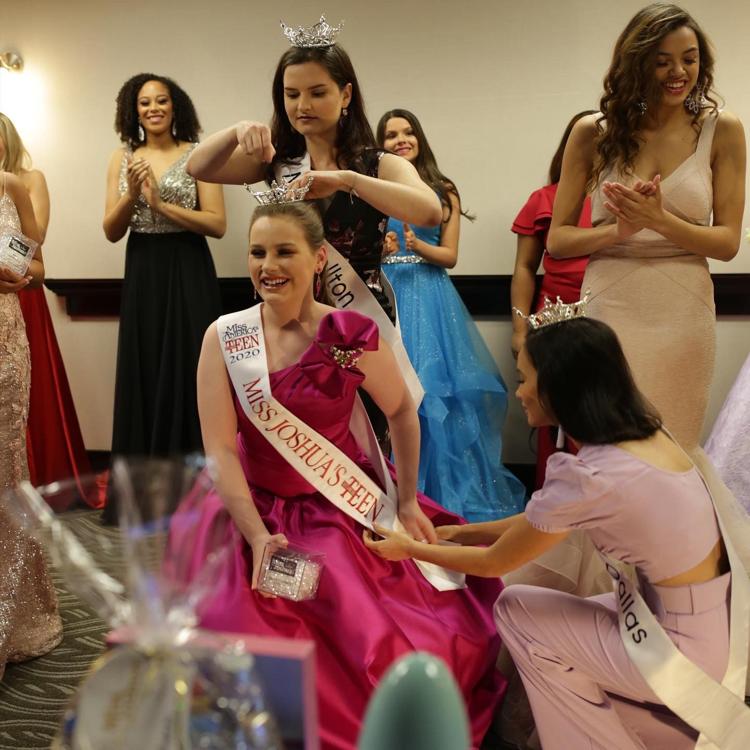 Carter attends the online school, iUniversity Prep, and said she was a Lone Star Princess for three years. 
"The on-stage portion is personally my favorite," she said. "We start with the opening number/introductions where we would do a production number and then introduce ourselves to the audience. Next is lifestyle and fitness where each contestant gets to showcase their self confidence. I was a little nervous but super excited to see what the outcome would be."
There has been so much positively, support and love from her family, friends and other contestants and current titleholders since she was crowned.
"This summer I will be competing in the Miss Texas' Outstanding Teen pageant, but before that I will be making many appearances and giving back to the community," she said. 
For information, visit misstexas.org.