Her husband would always point it out, Elaine McFall said.
"He'd say, 'There's our new fire station,' every time we passed it by on the [Chisholm Trail Parkway] going to Fort Worth," Elaine McFall said.
That station — Johnson County Emergency Services District No. 1's Station 83 — hosted Wednesday's dedication and ceremonial push in of the newly arrived R.C. McFall Express, a fire engine named in honor of McFall who passed away in October at the age of 73.
McFall served on the rural fire district board, as a county commissioner and, after that, as a commissioner on JCESD's board among other posts and accomplishments he achieved throughout his life. McFall also served on the North Texas Tollway Authority's board and played an instrumental role in the realization of the Chisholm Trail Parkway.
JCESD officials in June officially renamed the JCESD No. 1 facility the R.C. McFall Complex. Former U.S. Congressman Chet Edwards spoke during that ceremony as did a host of local governmental and fire service officials.
"We were able to tell R.C. we were going to name our facility after him before he passed away," JCESD Executive Director Tom Foster said. "But he didn't know about the fire engine. 
"I told his family members at the dedication of [the R.C. McFall Complex] that we had one more surprise for them and this is it. We wanted this to be more for his family, something they can always see and know is out there helping people and making a difference."
The engine is one of two recently purchased by JCESD. The other will house out of the district's station in Lillian.
Given that Station 83 sits about a block from the Chisholm Trail Parkway it's only fitting that the R.C. McFall Express should be housed there, Foster said.
"The Chisholm Trail Parkway was a venture that R.C. McFall had a big hand in," Foster said. "The station sitting right here on the toll road, we thought this would be another way to honor R.C. for his contributions to Johnson County fire service and the Chisholm Trail Parkway."
McFall family members — wife Elaine, daughter Lori Wilson, son-in-law Randel Wilson, and grandchildren Kynlee and Logan Wilson — joined firefighters and guests in checking out and admiring the bright red engine fully bedecked with a multitude of equipment.
"That signature, that just does it," Elaine McFall said.
The name R.C. McFall Express graces the back side windows of the truck underneath which the windows sport a replica of McFall's signature.
"That's his original signature on those windows," Foster said. "We had it modeled after his signature on documents."
Lori Wilson, who was seeing the engine for the first time, said she too was genuinely touched to see her father's signature recreated on the truck.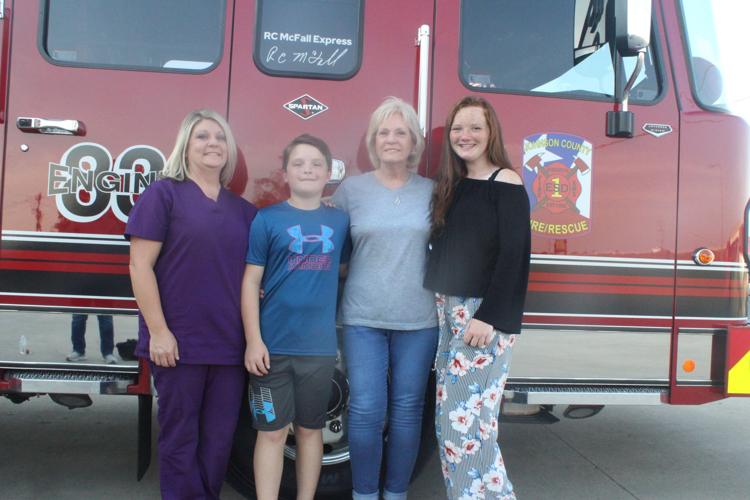 Both fire engines arrived about two weeks ago, Foster said, and have already been placed in service.
"We had the ceremony today because we're in the middle of budget and had to work out a time when we could get our firefighters, paid staff and guests all out here at the same time," Foster said.
Station 83 Chief Donny Hallmark commented that the R.C. McFall Express is much cooler than the engine it replaced.
The tradition of the push in followed performed first by McFall family members then, for good measure, once more by the firefighters present.
"The tradition goes back to the days of horse-drawn fire apparatus," Hallmark said. "Once they returned from a call they would unharness the horses then push the apparatus back into the station. So, firefighters today, we still bless our new rigs with that tradition."
Once the engine was in the station Kynlee and Logan Wilson took turns climbing into the driver's seat.
"I like it," Kynlee Wilson said of the truck named after her grandfather.
Her brother agreed.
"It's really cool."
Their grandmother seemed at a loss for words.
"I don't know what to say," Elaine McFall said. "It's just an honor, a very big honor."