A dream years in the making is becoming a reality this Christmas season.
Christmastime in Texas, a drive-through light park right off the Chisholm Trail Parkway in Joshua, debuts Friday.
"I've been interested in putting together something creative for a long time," Greg Shipman said. "The idea started about six years ago. It's been a lot of years of planning. It took a long time to get to this point."
Shipman and his wife, Valarie, and business partner Greg Turrel and his wife, Kim, said they are excited to open this new venue.
A first for Johnson County, the 36-acre park features a mile-and-a-half drive full of unique lighting fixtures designed by the park owners themselves.
"Johnson County doesn't have anything along the lines of what we're putting together here. There's other communities that have lots of things from an entertainment perspective. We selected Johnson County because it looked like it would be appreciated and was something that would benefit the community," Greg Shipman said. "With the new Chisholm Trail coming through it opened up the opportunity to find some property that was still raw. It's a great location."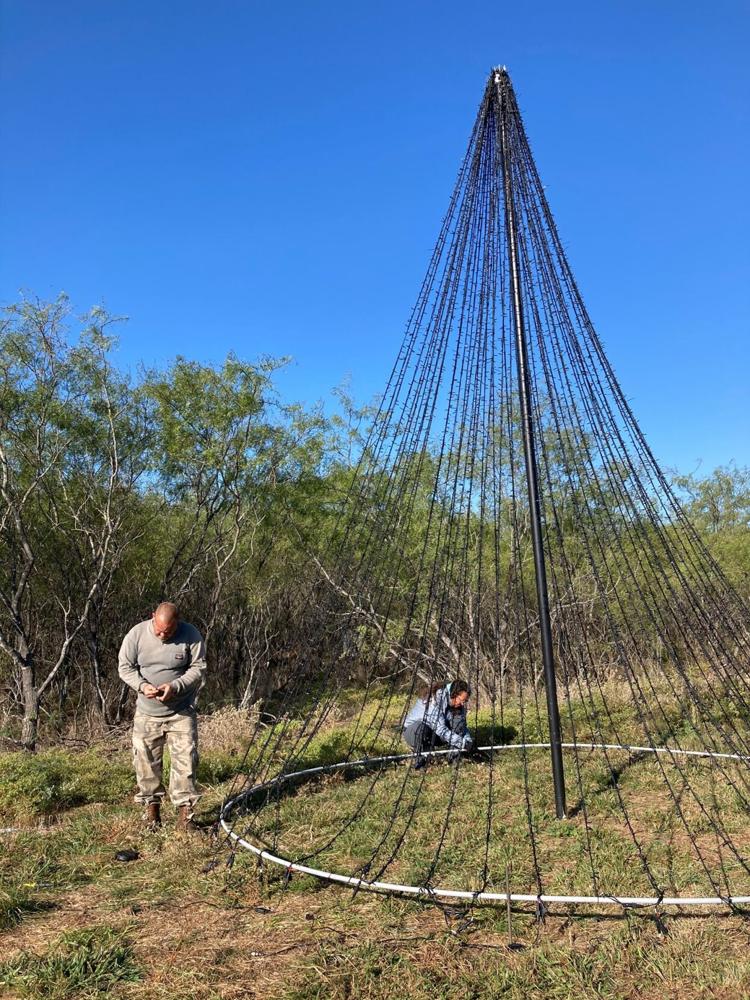 The property was so raw that the first two years were spent clearing trees and creating the road. The partners and their wives work from dawn to dusk, seven days a week to get the park ready.
"There was a lot of planning," Greg Shipman said. "The building of these roads. I had mapped it out on a piece of paper what I wanted it to look like but it's difficult to come out here when it's all trees and you have to be able to tell the guy, 'This is where I want you to cut.'
Shipman used an app on his phone to walk the route and clip ribbons on trees to show where to clear trees. It was a family project, with their sons holding the ribbons and clearing paths for the Shipmans to walk.
With the difficult part done, the structure creating began. Ninety percent of the show structures are original.
"Just in my head I would make things up and I would look at things that other parks have done, trying to include some of the traditional stuff they do because I think some people have an expectation of things like Santa Claus and others," Shipman said. "For some — like cow vs. alien — I drew it and sent it off to a company and they would make it for us."
The park has several different themed areas, everything from aliens to Texas country.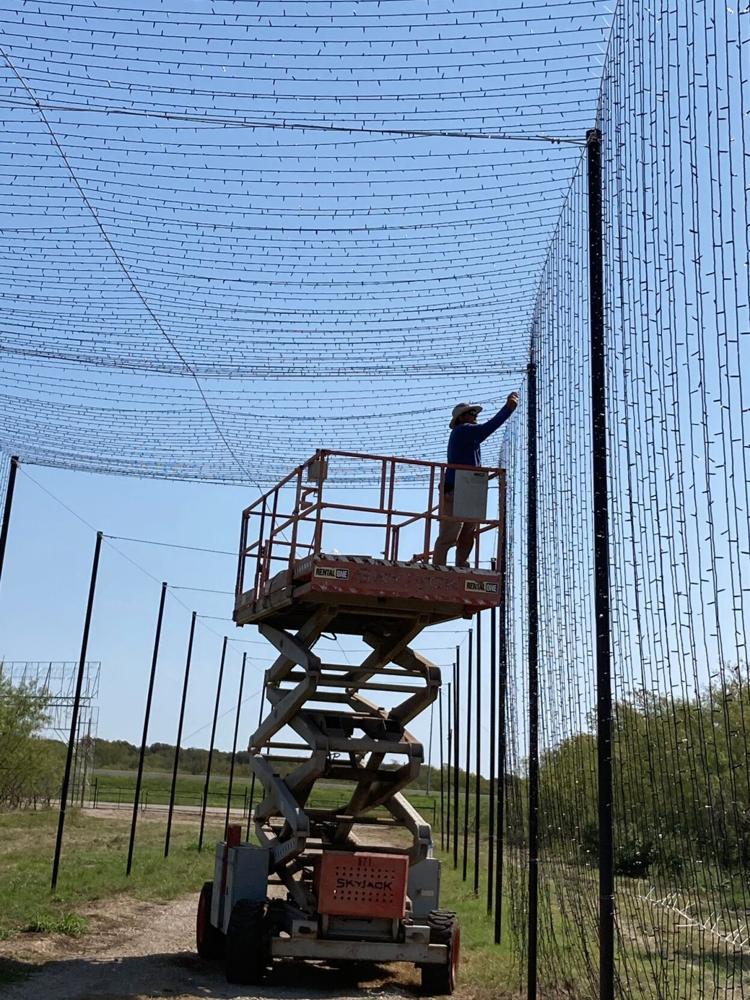 When you first arrive, you drive through the traditional Christmas area, which showcases nutcrackers, Christmas trees and Santa.
The Texas section is next, with the Alamo and Davy Crockett with a musket. Longhorn steer, oil derricks and windmills fill that area, but the highlight is Big Texmas, a twist on Big Tex.
The 12 Days of Christmas and other areas will have speakers to sync with the music that visitors can listen to on the radio station provided at the entrance.
Two special areas pay tribute to first responders and military service members.
"Over the years we'll make new sections and continue to add to it," Greg Shipman said.
Other future plans include vendor spaces and an 80-foot-by-100-foot event tent.
"We canceled the vendors this year," Greg Shipman said. "We didn't want to have any direct impact on somebody's relatives this year at Christmastime. We all come out here and gather and if even one person gets sick that's too many."
Despite that, Shipman said they hope the park will be successful.
"A lot of people are still excited about the drive-through because we're all hungry for entertainment," he said. 
The park wouldn't be possible without the help of their neighbors, Shipman said.
"One of the things we were worried about was whether the neighbors were going to be mad or if they were going to be happy this was coming in," Greg Shipman said. "We've met all of our neighbors and all of them are extremely excited about us being here so we were relieved."
The neighbors were so excited that many  helped, whether by loaning equipment for them to use or volunteering their time to help prepare the park.
"Our neighbors have been extremely helpful," he said.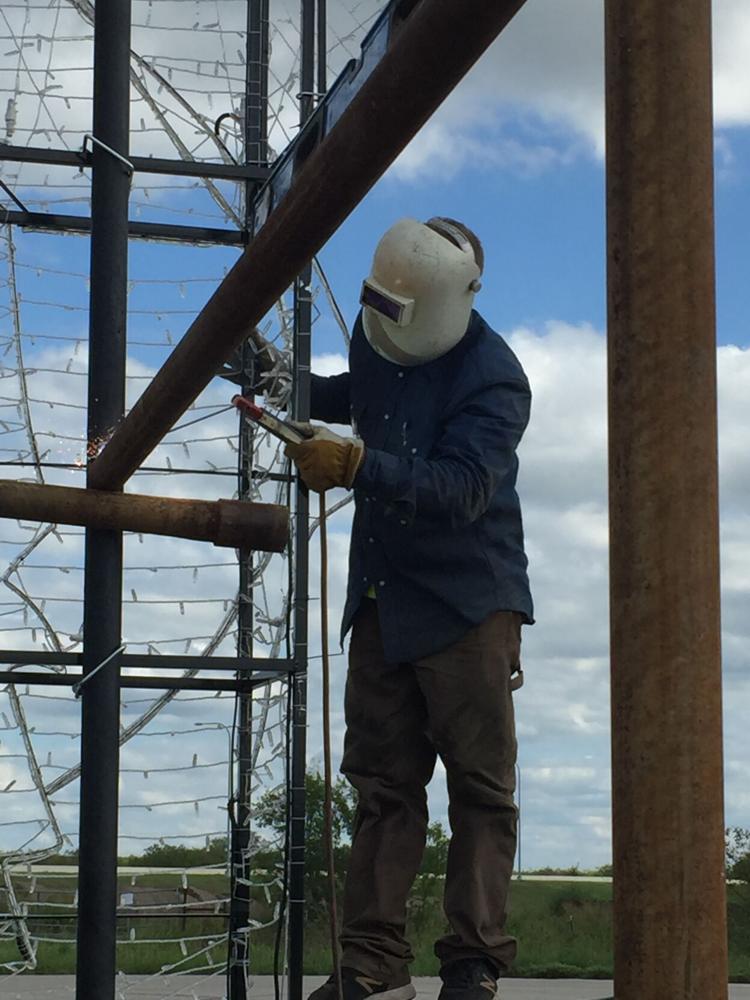 When some of them heard about the park, they came over and started helping wrap lights. One neighbor who is a naval recruiter brought volunteers. Another loaned a scissor lift. And one lent a gravel mixer.
"Just volunteering," Valarie Shipman said. "We tried to pay them and they wouldn't take it."
Between the Shipmans, Turrels, their children and volunteers, the park was decked in millions of lights.
"For Greg," Valarie Shipman said. "His background is in IT; he's not a builder. But he thought of this vision, researched it and figured it out. It's been a learning experience."
With Greg Shipman's background in production and project management and Greg Turrel's background in real estate and real estate management, the pair was the perfect match to run the park.
College friends, they reconnected after raising their children.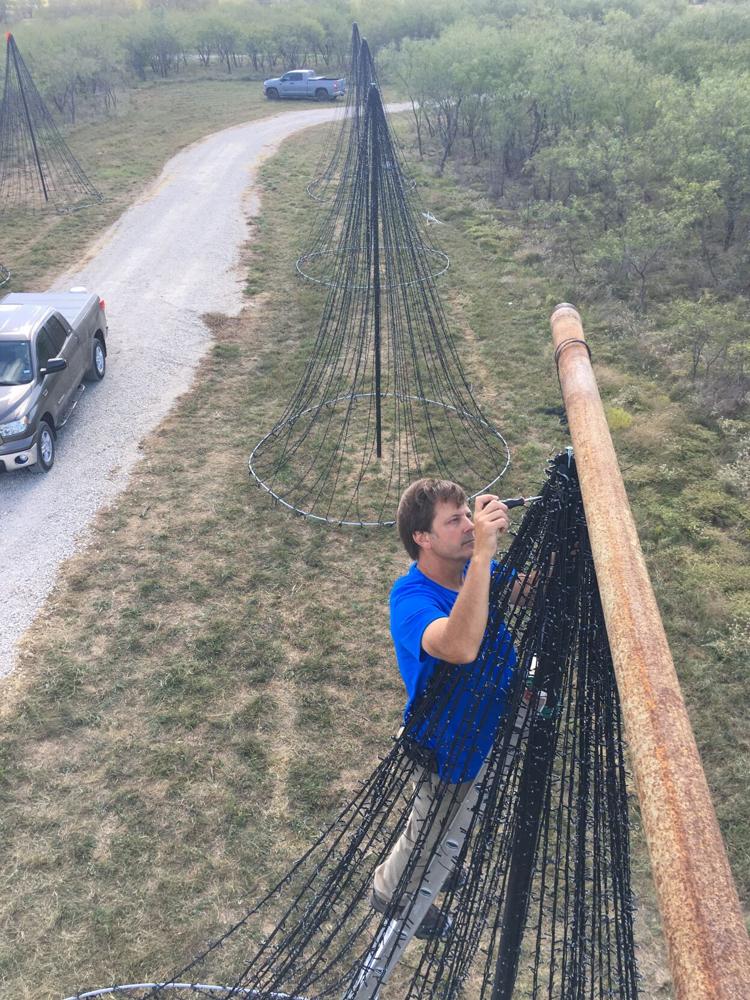 "I called Greg up because he was a perfect partner to help me with the financial side and also with the business acumen," Greg Shipman said. "And also I knew that he would work hard, just like we all do, and help me get it done."
First United Methodist Church in Joshua is partnering with the park to help with the ticket booth and traffic flow. Johnson County Sheriff's Office deputies is also helping control the traffic.
A parking area has enough room for 300 cars once the vendor part is open, but there's room to expand.
"We are going to play it by ear based off what kind of traffic we get each night to see if we need to expand for more parking," Greg Shipman said.
The park, which is at 5801 CR 904Z in Joshua, is open from 6-10 p.m. Sunday through Thursday and 6-11 p.m. Friday and Saturday through New Year's Eve.
Tickets are $35 for a family vehicle; $50 for passenger vans, limos and small motor homes (below 27 feet); and $80 for shuttle buses (no longer than 27 feet). No commercial buses or school buses are allowed in the park.
Sponsorships are also available. For information, visit christmastimeintexas.com or call 469-420-0050.