A new outreach program in the form of books has been launched by a Cleburne church, and it's only one of their many outreach programs.
When The Rev. Kenny Rigoulot with United Presbyterian Church noticed his wife, Jennifer, and her friends doing porch swaps of books to read, it sparked an idea. After discussion during a meeting at the church, the elders chose to install a Little Free Library on their property.
"This idea of something like the Little Free Library was mentioned before, but it didn't get much traction," Rigoulot said. "But now people are at home and they've got more time and people need access to more resources. It was mentioned by one of our elders and Bliss was in on the Zoom call and she jumped right onboard."
Bliss Goodloe, the church's administrative assistant, researched what needed to be done to accomplish this.
"As long as you have a charter plaque, whether you build it yourself or you buy from them a pre-fabricated one, you pay for your spot on the map and it's a one-time fee," she said.
After purchasing a kit, Goodloe spent several hours over three or four days painting it.
"We bought the pre-fabricated one because I have a lot on my plate as is," she said. "It took a minute, a lot of coffee and headphones with good music."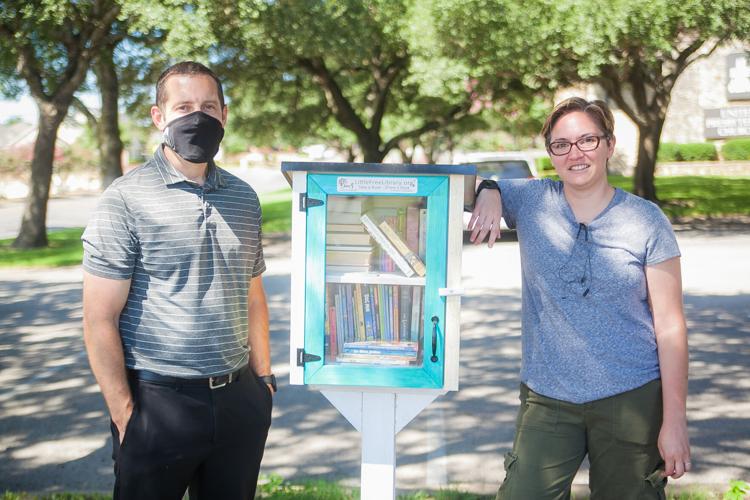 On July 9, the church held an unveiling.
"We had 15 or so people," she said. "With this being during the time of COVID we didn't expect a huge crowd but in that we didn't have a lot of physical bodies there we have had an outpouring of book donations. It's been incredible.
The donations continue to come thanks to the church's Facebook group for the project, UPC Little Free Library.
"I drive up [Westhill Drive] to come to work so I'll catch people who have stopped and they're looking through the library," Goodloe said. "It's like Christmas morning for me to see them actually utilizing the library like that. It's been fabulous."
They plan to put a bench out by the library for people to sit on while they look at the books.
According to the directory at littlefreelibrary.com, UPC's is only the second registered library in Cleburne. The first is at the Cleburne Public Library, 302 W. Henderson St.
Facing COVID
While attending in-person worship services has been a worry for most during the pandemic, UPC was already a step ahead with their online worship broadcasts.
"We've been streaming live for several years now as a ministry to our homebound and those who are sick or traveling," Rigoulot said. "We record the services for those who want to catch us later if they can't join us on Sunday morning. We've got two teenagers that run our media, and they do a fantastic job. Shout out to Kirkland and Isaac for streaming our services."
Since the pandemic, the church's viewership increased so they added ProPresenter, where people can follow along with liturgy.
"We encouraged people to stay home when all of this started and watch online," he said. "We realized that there were a few who don't have internet so we offered to put the services on DVD and deliver it to them. We delivered communion supplies to our members so they can have communion when we do online.
"Like many other churches we're kind of offering both. Now we're asking people to prayerfully consider whether they want to come in person or watch online."
There has been a massive uptick in views of the church's services, Goodloe said.
"Because it's online a lot of people that may have family and friends here but live out of state don't really have a chance to visit," she said. "So they'll watch their church services and then they'll watch ours. 
"I've noticed a lot more comments. In the beginnings it was mostly likes or the love heart but now it's, 'I'm here today' or 'It's good to see you guys virtually' and that's been great."
Those watching online are from all over the world, including one of the member's sister who lives in Bolivia.
"Her church was not able to do anything online so she's been worshipping with us online," Rigoulot said. "A variety of folks that have connected across the globe has been really neat to see."
Other projects
The church has several ministries they support throughout the year and because of the pandemic they've been trying to help even more this year.
"In our session meetings, when the elders and the leaders of the church discuss different missions and ministries we were asking what we could do in this time, so we have helped with a variety of other missions," Rigoulot said. "We've increased our giving to Meals on Wheels, Operation Blessing and Salvation Army. We've helped with the Home Plate Project with the Cleburne Railroaders."
Also this week, the church delivered snacks to Cleburne Police Department, who they often partner with for several projects.
"We partner with them for the women's self-defense class that they offer," he said. "They've hosted that here. Officers Shane Wickson and Neal Sandlin have both come out and helped our safety team. We really appreciate our police department."
Officer Kerri Abbott organizes the women's self-defense classes. The last one was postponed because of the pandemic but they hope to bring them back soon.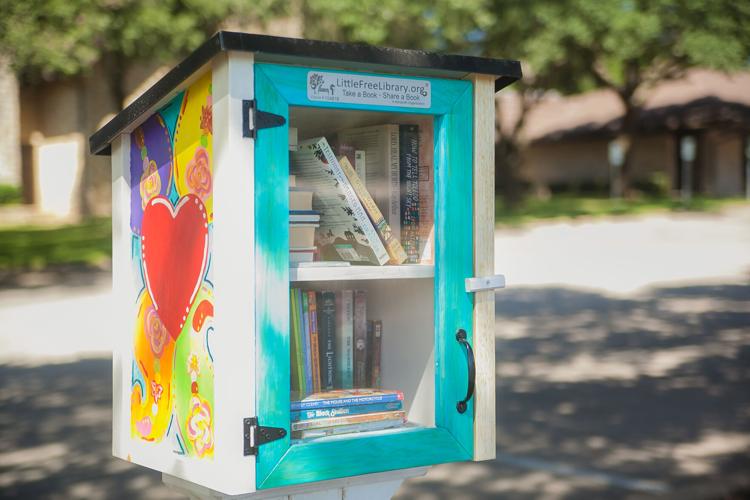 One of the church's other big ministries is Sunshine Preschool, a school for 3- and 4-year-olds to prepare them for kindergarten.
"They have 15 registered for the fall but of course they didn't come back from spring break," Rigoulot said. "We were able to do a little graduation while physically distancing outside and we invited a Kona ice truck to come out. Trying to celebrate those milestones any way we could."
Another ministry the church supports is Presbyterian Children's Homes and Services, which has campuses in Waxahachie and Itasca.
"Right now we're doing a school supply drive for them online," Rigoulot said. "They gave us an Amazon wishlist and it's been neat to see people helping them directly or through donations to the church designated for that."
Church members have been helping any way they can. 
"We had a church member come in the other day who's been making masks and selling them," he said. "She said she didn't want any of the profits so she asked us to put that towards the school supply drive. It was really neat to see how people are caring for the community and helping keep people safe."
Services at UPC begin at 11 a.m. Sundays and can be viewed at cleburnepresbyterian.org.