Brody Nelson's passion for Legos and his compassion for fellow "soldiers" battling cancer has led to "Legos for Little Warriors."
Since the launch of Brody's initiative, more than 1,100 Lego kits in a variety of themes and sizes have been donated to the Legos for Little Warriors campaign. One delivery has already been made, by Brody, to St. Jude Children's Research Hospital in Memphis. Plans also include donations to Cook Children's Medical Center, Court Appointed Special Advocates of Johnson County and Texas Proton Oncology in Irving.
The idea for the project was born in late September during Brody's participation in Fort Worth's St. Jude Walk and Run to End Childhood Cancer. 
"We organized a team for the walk, and raised more than $6,000," Brody's mother, Courtney Nelson said. "More than $1,600 was contributed in Brody's name. During the walk, he turned to me and said, 'Do you know how many Legos that would buy for St. Jude kids?'"
The topic would continue to come up, but began to take shape when Brody requested Legos — to share with other children — as presents for his 10th birthday, celebrated in October. Several Cleburne High School baseball players, he considers teammates, were among those attending his party — with gifts of Legos. 
Word of his project quickly spread, with friends and fellow members of Westhill Church of Christ joining the initiative. Brody's connection to an oncology doctor with Cook Children's led to a halftime presentation of Legos during a benefit basketball game in his honor sponsored by Amputee Basketball Invigorated and Heritage Christian Athletics.
Brody was also contacted by Dallas Stars Defender John Klingberg with an invitation to join Klinger's Kids. Klingberg, working with the Dallas Stars Foundation, recently established the Klinger's Kids project to focus on children with life-threatening illnesses.
Nearly one year ago — Jan. 8, 2017 — Brody was rushed to the hospital by his parents after they were unable to wake their son from sleep. It was determined their healthy, active, baseball-playing third-grader had a plum-sized tumor on his brain, prompting an 11-hour surgery to remove the growth, later diagnosed as malignant.
After 30 radiation treatments, the Nelsons were told in June that the treatments were not working. The tumor that had been removed had grown back, to the size of a lemon, and other tumors were developing.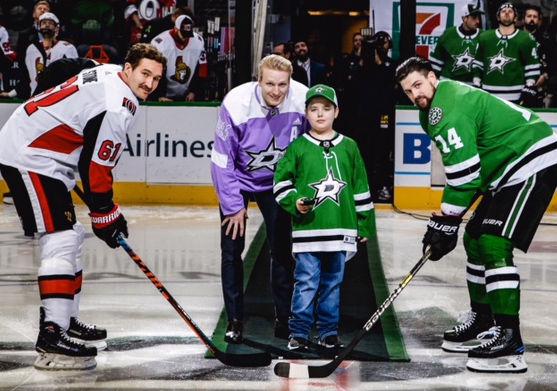 The family turned to St. Jude, where the children's research hospital staff discovered a mutation in the tumor that could be addressed by a new treatment series known as TRK — or "Star Trek." After two rounds, the larger tumor was not of a measurable size — and the other tumors were gone. After several months into the two-year treatment program, Brody is going strong, with no tumor growth detected.
Brody's invitation to become a Klinger's Kid included the opportunity to attend a Stars practice and a pre-game visit to the team locker room. 
"John talked with Brody and they had the chance to get to know each other," Courtney Nelson said. "Brody now considers John his second best friend, right behind Cal Williams, his first and best friend and fellow Coleman Colt."
When the Stars learned of Brody's Legos for Little Warriors initiative, they invited him to drop the puck at their "Hockey Fights Cancer Night" with the Ottawa Senators on Nov. 23. Stars season ticket holders were invited to bring Legos to benefit Brody's project.
"None of us knew what we were walking into that night," Courtney Nelson said. "We just stood there and watched people drop off Legos for 40 minutes. The Stars shared his story right before he dropped the puck and at the end of the game we were presented with seven huge tubs filled with Lego kits.
"It made me feel like I wanted to cry — and Brody did. We all shed some tears. It was cool to see children being the ones to drop off the toys. Kids 'get' Legos — they are the universal language between kids."
The two cars taken to the Stars game that night by family and friends of "Team Brody" weren't big enough to transport all the Legos. The family took a trailer back the next day to collect the remainder.
"It was great for Brody to see that kids, and people who don't know him or his story, want to help kids at St. Jude and Cook Children's who may be stuck in the hospital during the holidays," Courtney Nelson said. 
The momentum behind Legos for Little Warriors continues to build. Brody's bedroom is filled with boxes of donated Legos, which are quickly taking over his father's home office as well. His favorite waiter from Barrera's was one of this week's donors. 
"Originally we said we wanted to end the Legos drive by Christmas," Courtney Nelson said. "Now, one of my Cleburne High School classmates has started a drive. In three days they collected $907.00. We can take that money and shop for Legos in Memphis during Brody's December treatment at St. Jude."
A new collection effort is now in the works in the form of a competition between Cleburne and Palestine high schools, led by their softball teams. The drive will be announced, and begin, when students return from the Christmas break.
"Palestine Coach Regis Andrez is a CHS graduate and a good friend of the Nelsons," Cleburne Softball Coach Paul Chavez said. "We are still working out the details on the way we will be coordinating this on our end, but we are very excited about the opportunity to involve our students in a good cause for a brave young man."
The Lady Jackets and Lady Wildcats softball teams will scrimmage in Cleburne on Feb. 2, during which the Legos for Little Warriors that have been collected will be presented to Brody. Chavez said both teams will then accompany the Nelson family to either St. Jude or Cook Children's to deliver the toys.
Brody is all smiles as he gives a guided tour of the donated kits of all sizes and themes piled in closets, on tables, in corners — even the end of his bed. 
"Legos just take you away," he said. "You can build so many things or whatever you want. I know about those kids who are sick in the hospital and can't go home. I knew if I could bring them Legos it would make them feel a little bit better. I kind of feel like Santa Claus. I'm Lego Santa."
His mother, too, realizes the power of the building toys. Brody never makes a trip to St. Jude without a box of Legos to help make him through his days as a patient.
"We never dreamed it would turn into something this huge," she said. "The best part of this is the kids and their response to Brody's initiative. They see what Legos will do for hospitalized and hurting children, when they might not understand other benevolence projects. We are so happy to see what has happened so far."
Donations to Legos for Little Warriors may be taken or mailed to 1100 W. Westhill, Cleburne, TX 76033. To view the video of Brody's appearance at the Stars game: foxsports.com/southwest/video/1379025475508.