The newest leader at Rio Vista ISD is no stranger to the district.
Jaylynn Cauthen, who was officially named the district's superintendent on Sept. 2 after 21 days as the lone finalist, graduated from Rio Vista High School in 2003.
"This is home for me," Cauthen said. "Being back on campus with teachers I had as a student has been a really cool part."
Cauthen received her bachelor's degree in elementary education and teaching from Texas State University in San Marcos. She received her master's degree in educational leadership and superintendent certifications from Tarleton State University, and she is in her last year of the doctoral program.
After teaching for a few years in Buda and Glen Rose, Cauthen and her husband, Lance, moved back to Rio Vista. He is the vice president over drilling operations for Pinnergy out of Godley, and together they have four children — three of whom attend Rio Vista schools.
"My immediate push for moving back into Rio Vista after being gone was when I started having my little ones beginning to begin school," she said. "It's very different being at Rio Vista vs. a bigger school. 
"Everyone knows their name, everyone's watching out for them. It's a village. That is literally what it is. The fear and anxiety that can come along with your kids, running around and trying to be a teacher and trying to be an administrator, that is very much alleviated." 
After teaching at Rio Vista, Cauthen moved up the ranks to middle school principal and then elementary principal.
"The staff and the teachers that teach here teach here because of a passion," she said. "There's a lot of draw that could have people go other ways, but the people that are here are here because they want to be here. They want to have passion. That you can't buy. You can't find it anywhere else. 
"That community and that cohesiveness and there's a foundation being built here that I saw start happening at the elementary where families who were my age, that I graduated with, have begun to move back. We all have young children, so that's being built. That's really exciting."
Deb Davis was Cauthen's English teacher when she attended RVISD as a middle schooler.
"What a joy it was to have Jaylynn in class as a student and now as a leader of Rio Vista ISD," said Davis, an eighth-grade English and reading teacher at Rio Vista Middle School. "She has climbed her way to the top — from student to teacher, and then from principal to superintendent. 
"Without a doubt, Jaylynn's greatest passion is that she always has a heart for the kiddos at Rio. To have known her in her youth, it's neat to see how much she has grown in her love for God, family, community and school district. I pray blessings and favor for the countless hours she puts into every decision for our district! Good things are happening at Rio Vista ISD." 
Part of the teamwork that Cauthen appreciates about Rio Vista ISD includes the school board.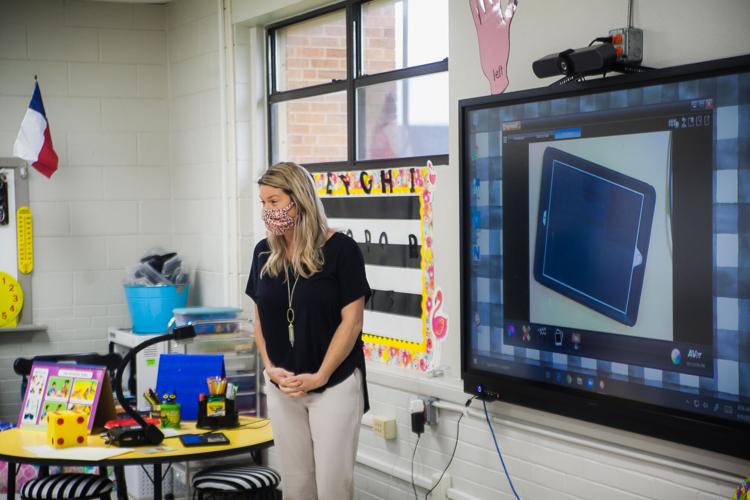 "The school board and myself have a really amazing relationship. We are constantly in communication and on the same page. It's made it a lot easier to function in these times where you kind of just have to make decisions and make things happen. They trust me and have supported me fully in any and everything I want to do."
The board is led by President Chris Pinyan.
"Jaylynn is a hometown girl that's worked hard for this day, she has an incredible work ethic and has done a great job at leading our district through this COVID-19 pandemic," Pinyan said. "Jaylynn has done a great job of surrounding herself with an administration that brings a lot of experience and success in their careers. 
"Although Jaylynn is young in her career she has proven to be a forward thinker and is enthusiastic about moving our district forward to be very successful in all that we have to offer our students. We are very excited for the future of Rio Vista ISD and with the exceptional administration team, teachers and coaches we will be turning some heads and putting our awesome little town on the map."
Smooth sailing
Rio Vista started school on Aug. 19, and things have been running smoothly, Cauthen said.
"It's going really great," she said. "Every day is a different challenge but it's also extremely exciting to see all the kids and the staff excited about being here. We've started to see the influx of every body that was doing online learning coming back. Every day they're flooding back in because they see that it's going to be OK. We're doing a really good job."
Though some questioned the possibility of a "normal" school year, Cauthen said the district has met any of its challenges head-on.
"We're not just surviving," she said. "We're thriving. That is a really neat feeling because as much stress that can come along with being in this role right now and COVID, it's exciting because we have lots of success going on athletically. That can bring a whole other level of pride to the community, especially when people are just desperate to get back together, learning and working and being the community we are. 
"Not only that but we've hired two amazing new administrators who bring a lot to the table with expertise in instruction. Having an administrative team and myself and that cohesiveness that has happened and the knowledge and expertise that is going on, the leadership is the best it's ever been at Rio Vista ISD.
Chief Financial Officer Tammy Witten
Assistant Superintendent Jeanne Cobb 
Administrative Assistant and Human Resources Director Debbie Payne
Special Pops Coordinator Ashley Jones
Early Literacy Center Director Cassie Lloyd
Elementary School Principal Michael Zook
Middle School Principal Michelle Drake
High School Principal Charles Mims
Athletic Director Kasey Black
Technology Director Chuck Lister
Facilities Director Brent Batch
Maintenance Director Monnie Bigham
School Resource Officer Rob Best
"We've hit the ground running and everyone's just working together and doing things that we didn't even know were possible because we have got so many great people helping with that."
To accommodate their 784 students, as well as the staff, the district made several important decisions.
"We heightened our cleaning," Cauthen said. "Previous to now, we had a company we were working with that was contracted in and did our custodial services for us. We ended that contract and hired our own, so we were able to double our cleaning staff."
Facilities Director Brent Batch doubled the custodial crew, purchased large sanitizing spray machines for each facility, and a handheld sanitizing spray machine for every classroom.
The challenges that came from COVID-19 put her in a unique position for her first year as the district's leader, she said.
"There's lots of challenges right now with COVID-19," she said. "Dr. [Clyde] Stillman from the region center told me the other day, 'You are in a very unique situation, because every superintendent is in their first year of being a superintendent this year because every day is different than what the normal superintendent role has held in the past.' I guess that could be looked at as a positive.
"There's definitely still a lot to learn and a lot of challenges, but now we just tread water and try to stay up-to-date with every single thing that TEA puts out, CDC puts out, just trying to make sure that we're doing every thing we can to try to keep faculty and students safe."
Some of those efforts included the addition of two buildings to the campus to help with social distancing.
"We spent the summer remodeling two buildings that were kind of being used as tech buildings and storage," she said. "That allowed us to really spread every body out to where there's two grade levels in each building."
One is used for pre-kindergarten and kindergarten students, while the other houses fifth and sixth grade.
The district also hired a full-time school resource office through the Johnson County Constable's Office, Rob Best.
"Another really exciting thing we've done is we've made a huge leap into technology," she said. "We've been playing around with that, trying to trickle technology in and get it across the board one-to-one. 
"We took that leap 100 percent this summer because we knew how necessary it was. We moved to everyone has Chromebooks or iPads and they go home every night."
One-to-one iPads were purchased for pre-kindergarten through first grade and one-to-one Chromebooks were purchased for second graders through seniors.
"That was huge because we've kept them in the classrooms but we knew that they needed to go home in case they got sick or something and couldn't come back," Cauthen said. "So they wouldn't be dealing with the whole distribution thing, that they were ready at any moment to go remote."
The district, with the help of Technology Director Chuck also purchased 90 ActivPanels — one for every classroom on the campus.
"They're huge TVs that have live cameras so they can follow the teacher as she's teaching," Cauthen said. "They're live and can record."
They purchased every teacher a laptop that connects to the ActivPanel so they can teach remotely if needed.
"We're doing asynchronous," she said. "We can do full remote if necessary."
While COVID threw a kink in this year and last year's school years, there is one positive out of it all.
"I feel like it's taken education to a whole other level," Cauthen said. "It opens a whole new door, se per ate from COVID — that kids don't have to miss the instruction just because they're sick. There is that capability of them being counted present and to receive the exact same instruction that the kiddos are receiving sitting there in those seats.
"It's looking at the silver lining. As much as it is hard, the day-to-day COVID stuff, all the new and wonderful that's happening definitely overrides all of the stuff that we're dealing with."