Members of the Keene Chamber of Commerce were honored on Thursday during the 26th annual awards banquet at the Keene Community Center, with awards for outstanding service in 2019.
Chamber President Paul Gnadt welcomed guests and presented awards.
The Community Improvement Award honors businesses for contributing to the beautification of the city through new buildings and/or well manicured grounds and landscaping, thus presenting a positive image and improving the quality of life.
Kevin Sellers presented this year's award to Keene Adventist Elementary School.
"Tonight we're going to journey to the east side of town, where Keene was founded, where it has transformed itself from kind of a 1980s rundown to a beautiful up-to-date campus with actual grass on the front lawn," Gnadt said. "A new exterior paint job and a complete overhaul of the interior of it's two buildings, and a much needed gymnasium is on the way."
The Community Service Award is given to an individual and/or organization who has given extensive and continued service to the community. This year, two recipients received the award.
Richard Bothe presented the awards to Keene Police Chief Emmitt Jackson and Keene Fire Chief Dan Warner.
"These two public servants are everywhere, but nowhere will they be as visible as they will one week from tonight at the annual Starfest, which they helped plan," Gnadt said. "They also help plan and organize the Fourth of July parade, the Christmas light parade and fireworks show, planning routes and determining the necessary safety precautions. Their entire careers are about safety and each leads a group of professionals that are personable and very prepared."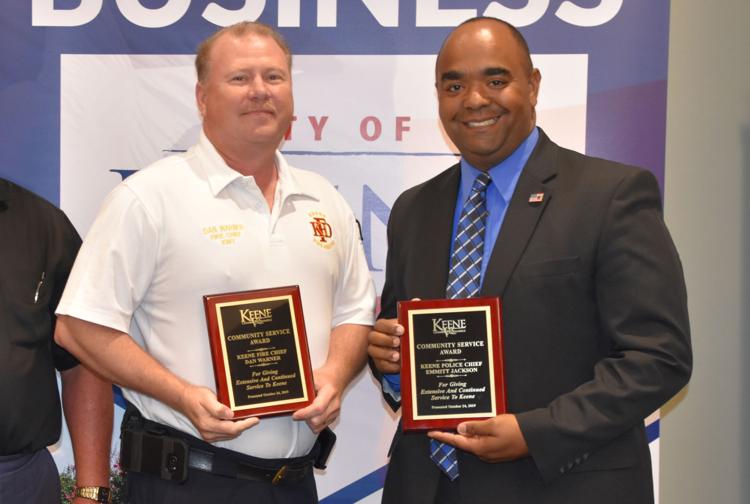 Gnadt presented the pioneer award, which is given to those whose long ago contributions and influences helped make Keene what it is today.
"Tonight's honoree moved to Keene in 1956 where she served as janitor at the old post office on Hilcrest," Gnadt said. "She and her husband moved to Arkansas, but returned to Keene to follow his career. A chance meeting with the postmaster resulted in our honoree being offered position as clerk, which she held for 37 years, serving five postmasters and training them all.
"During this time she was appointed to city council to fill an unexpected opening. The pioneer award is presented to June Hollis."
The Young Entrepreneur Award is awarded to a young business person who has made a commitment to Keene.
"This year's honoree grew up in Keene and graduated from Chisholm Trail Academy," Gnadt said. "He went to Hill College Training Academy, joining the fire department in Keene where he became chief in 2008. Medical challenges caused him to resign in 2017, but he accepted a business challenge when he purchased Zimmerman's Paint and Supply, a company that had been in business in Cleburne since 1913.
"He relocated it to Keene next to Hopps Automotive, thus putting the new business on the tax roles and providing a new service. The Young Entrepreneur Award is presented to Matt Gillin."
The Phillip Sparks Helping Hands Award is given to an individual who provides continued assistance without seeking compensation or recognition.
"This year's honoree initially joined the Southwestern Adventist University family in 1979," Gnadt said. "She formally retired in 2014 after 35 years teaching business and computer science. 
"Understanding the financial struggles of students living off campus, she launched a student food bank two years ago, volunteering her time and energy to keep these students well fed. The Phillip Sparks Helping Hands award goes to Judy Miles."
The Citizen of the Year is an individual who has been a model citizen and given dedicated and extensive service to individuals, organizations and the community on a continued basis.
"This year's citizen is also citizens," Gnadt said. "A group of a specific assembly who lead this organization and whose vision and creativity has energized this town and made a difference in the quality and meaning of life. The Keene Adentist Church operates a community foodbank, kids eat-free backpack program at Keene ISD, a clothing outlet for needy families, exercise classes for seniors and all ages, a program that provides transportation to anyone to anywhere within 10 miles of Keene for those who need to go to the doctor or grocery store. 
"It all translates into feeling good about life in Keene. Whether or not you are a member of this particular organization, in Keene you're goin to do business with somebody who is. So, the Keene Chamber of Commerce Citizen of the Year is Keene Adventist Church Senior Pastor James Winegardner and the administrative team at the church."
Keene ISD Superintendant Ricky Stephens introduced campus principals who presented each teachers their award for public school educator of the year.
"Things are going great at the schools, for those who didn't know we have over 1,100 students for the first time in school history and we are busting at the seams," he said. "A lot of that comes down to great leaders."
• Wallace Sullivan was the recipient for Keene Alternative School.
• Caitlin Fellers was the recipient for Keene Junior High School.
• Mari Maldonado was the recipient for Keene Elementary School.
• Thomas Kennedy was the recipient for Keene High School.
Keene Adventist Elementary School Principal Todd Coulter presented awards for private school educator of the year:
• Joshua Samaniego was the recipient for Keene Adventist Elementary School.
• Cheryl Blackburn was the recipient for Keene Adventist Middle School.
Chisholm Trail Academy Principal Tommy Simons presented the award for CTA to Debera Hall.
Russ Laughlin, director of spiritual life at Southwestern Adventist University, presented the award for the university to Jared Wood.
The banquet ended with entertainment by Christian comedian Dennis Swanberg.
2019 Keene Chamber of Commerce Awards Banquet