Editor's note: This is Part 1 of the Joshua mayor town hall. Part 2 will appear in Tuesday's edition.
Two Joshua residents are running for the mayor seat in November, and both answered residents' questions and heard their concerns on Thursday night during a town hall meeting at First United Methodist Church Joshua.
FUMC Senior Pastor Dale Wilbanks was the event's moderator as about 50 residents asked candidates Joe Hollarn and Robert Fleming how they would conduct city business and if they had any goals. 
Both had filed to run for the seat in the Nov. 23 special election, which was necessary because Kenny Robinson resigned in August after two months in office. Robinson was sworn in in June after defeating the incumbent, Hollarn, who was seeking his fourth term.
Question: Why do you want to be mayor, and what are your qualifications? 
Fleming: Alright, for those of you who don't know my name is Robert Fleming. I moved here in 2004 from southestern Texas down south of Houston. I'd like to be the mayor because there's a lot of great folks in this community. There's a lot of great people here. There's a lot of people who have great, high expectations, and there's people who just don't understand what's going on. I spend a lot of time before I got to the Planning & Zoning Commission just trying to educate people. City government isn't for everybody. There's a lot of things that people don't understand about it. I don't understand every bit of it. I'd be a liar if I said I did, but I work hard, I'm honest and I do my due diligence. People that know me in this community that know me personally, they know I take things personal. That's why I want to be the mayor. My qualifications are not near as long as Mr. Hollarn here, but I've been on the Planning & Zoning Commission for almost a year and a half. Right around a year and a half. I've also been on the Heritage Preservation Committee for almost the same amount of time. Everything that goes through on our agenda, every single agenda item that I've ever seen on any of my boards I drive out, I got sit and I take the time to envision what's going to happen there. So, I don't take this lightly. That's it. 
Hollarn: Good job, Robert. My name's Joe Hollarn, if anybody didn't know. The first thing I want to do is just thank everybody in the audience tonight that came and is willing to invest the time in our community to find out who is running for office, finding out what each of us stand for and especially on a rainy night tonight. That shows that y'all really have a commitment, and I really do appreciate that. I also want to thank Pastor Dale and the First United Methodist Church for allowing us to do this. The reason I want to be mayor is I was mayor for nine years, and I really enjoyed it. When I was growing up, I grew up in Richardson. Then after I got married, moved back to Richardson, had five kids. When I was a kid, I felt safe. Of course, a lot of our kids don't feel that way today. I felt like there were people in Richardson that were looking out after me. Then as I went through school, as my kids were growing up and they were going through school, there were always people that were looking out for them. It was a great community, and there were people who were serving like Robert and I are. That's what it takes to make a community great. So, when we moved out here we moved to Joshua in 2005. So, we've been here about 14 years. My wife, Debbie, and I — like I said — we have five kids. The No. 1 thing I wanted to do when we moved here was I wanted to start giving back. I felt like it was time to pay back. I'd gone through and raised my family and grew up as a kid, and I depended on other people to take care of me. Now, it's my opportunity to get out there and give back. So I started out, I was chairman of the Planning & Zoning Commission for two years. Like I said, I was mayor for nine years. I was vice chairman of the Johnson County Economic Development. When Louis Vuitton came into town, wish I could say I had something to do with it, but we didn't. They wouldn't even tell us who was coming. But it was an interesting committee to be on. I've been on the Joshua ISD Education Foundation since its beginning. I've really enjoyed that. I think education is one of the reasons people want to move to Joshua. We've got a great school district. When the Chisholm Trail Parkway came in, I think that opened up the doors to a lot of people who were wanting to move to our community. I also serve on the board of the [Joshua Community] YMCA. Been on the [Joshua School & Public Library] board, so I've gotten to know a lot of people. I think that's sort of what helps my qualifications. I've learned and I've met people all over our neighborhoods. I have never turned down anybody that wanted to come and talk to me. I've always had an open door. I won't say that everybody that came in that talked to me left in a great mood. Sometimes it didn't go well, but whenever I could I would try to help them. I've got a good relationship with the [Johnson County] commissioners and the county judge, some of the mayors in the other towns because I've worked with them. As far as time goes, I'm semi-retired. I live about 10 minutes from city hall, so I've got the ability if something's needed I can get up to city hall real quick. I can respond. Like I said, I just liked being mayor. I think it's a fun job. I get to do lots of things and would just appreciate your vote when this is all over. Thank you.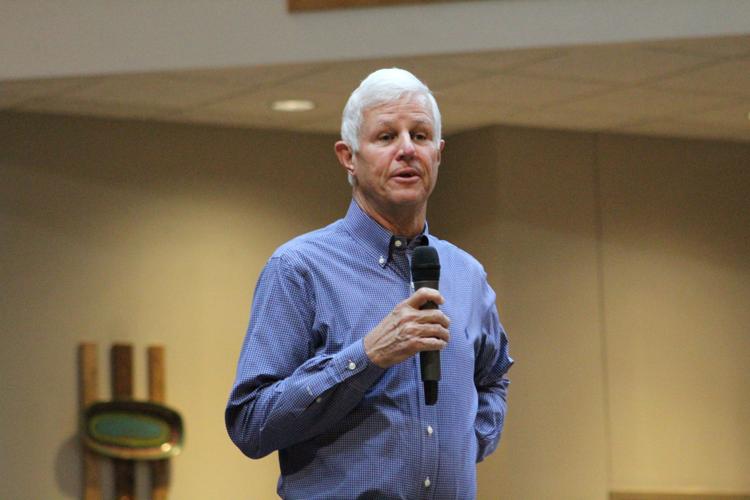 Q: Have you had any military experience? 
Hollarn: Military, yes ma'am. I was in the service for two years from 1969-71. I don't know if I was fornuate or not. I got drafted, and I got sent to Fort Bliss. I spent two years in Fort Bliss. When I got out, I was an E-5. Quite honestly, it made me grow up. I was 20 years old when I went in and 22 when I got out. If I probably had my brothers, I think everybody ought to serve in the military in some capacity. Not necessarily fighting, but I think that's excellent training for any young individual is to be in the military. 
Fleming: So, I joined the United States Army when I was 17 years old right after 9/11. I went to basic training two months after 9/11. I think, like Joe said, I mean it makes you grow up. I mean, it will turn you into a leader pretty quick. You learn a lot of stuff there. You don't have your family to back you up. 
Q: I know the city of Joshua is not directly responsible for our water bills, but what are you going to do to address the raising prices in bills that the Johnson County Special Utility District is putting on residents? 
Hollarn: That's a great question. I wish I had a crystal ball that gave you a good answer for that one. All I can say is I know in reading some of the comments lately that people are going to the [Public Utility Commission.] I told one lady that I would be willing to lead something, but that's something I won't be able to do myself. I've got to have everybody come in and help me. If one person goes up there, I'm not sure what good that will be. If we have a contingency, I don't mind being the speaker. I'm willing to do that, but it's going to take a lot off people to go up and just ask them the right questions and listen to what they have to say. 
Fleming: Alright, so my answer to that is obviously you have JCSUD like the rest of us and I think where there's smoke there's fire. There's been a lot of this kind of remark going on here recently, a lot. I think just simply going down talking with somebody at JCSUD, if I was elected say hey and kind of understand what's the process, what's going on. What do you say on your side? I think they will talk to us. I really do. I think they'd understand that the people have questions and they want answers. I think that's where you start, just a simple go down and have a talk and let's see where it goes. If it needs to go further, which it probably would, I think we need to bring that to the council and say hey look I know this isn't our water district but what can we do as a city to give our citizens some relief because if you're getting ripped off you're getting ripped off. I don't think it's just one person. I think that's kind of the general consensus for a lot of folks. Maybe it's just an error on their part. Maybe it needs a little more pressure.