Nineteen of the 38 automatic external defibrillators the Johnson County Sheriff's Office recently received sat display style on a conference table in the sheriff's office Friday morning. 
"This is a big deal," Sheriff Adam King told the 20 or so assembled. "This is a big day. We are going to use these and we are going to save some lives out there."
The situation, so far as King knows, is unique to Johnson County.
"I don't know of any other police department, other than maybe some of the smaller departments, that can say 100 percent of their patrol vehicles out in the field has an AED in the car. I'm sure there are probably some out there, but I don't know of any."
King commended members of the Johnson County Commissioners Court, most of whom were in attendance, for allocating money in the current budget to purchase 37 of the machines. King also praised the Johnson County Sheriff's Office Citizens Police Academy Alumni Association members for their help in securing another machine. The association is a 501(c)(3) organization, which supports the sheriff's office in numerous ways including soliciting donations for unbudgeted items.
Alumni Association President Scott Zirger and member Andy Irwin in turn thanked Alvarado VFW Post 9299. 
"We gave a presentation to the VFW on the need for the AEDs and they donated $2,050 to our association," Zirger said. 
The association hopes to continue raising donations to purchase additional AEDs.
Their efforts are appreciated and much needed, King said. 
"They realized the importance of this and took it on," King said of the association. "We still have some deputies who don't have AEDs and we want to get them for our detectives and some other employees eventually. But the first thing and the most important thing was to get them issued to all of our patrol officers, and I'm very grateful to the commissioners court and the association for all their support and help in that."
King characterized the AEDs as difference makers.
"Because the patrol deputies are out in the field already," King said. "A lot of times when they answer a call that turns out to be a medical situation they beat the ambulance or firefighters to the scene. They may beat them by a minute, two or more. That fact, and having AEDs in the patrol vehicles now, can be the difference between life or death in these situations."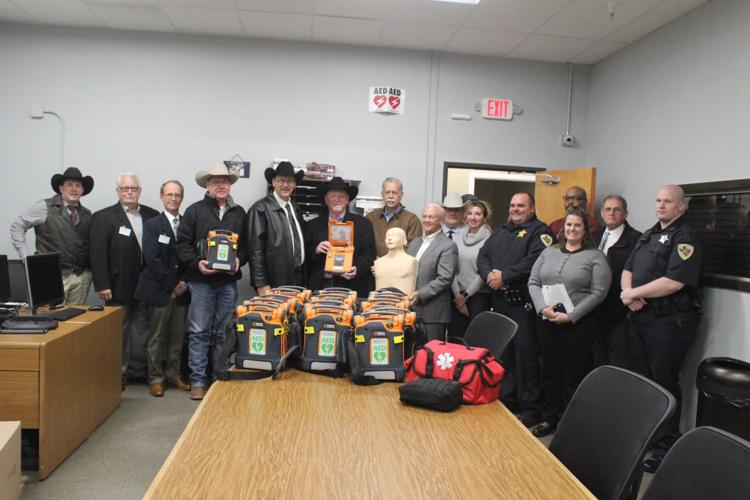 Deputy Aaron Pitts, who serves as JCSO's public information and community outreach officer, agreed.
"In cardiac arrest situations an AED is vital to survival," Pitts said. "Every minute you wait to apply [the AED pads] the chance of survival decreases by 10 percent. That's massive."
Pitts worked with different companies to secure good pricing and the best equipment possible.
"When I researched them I looked at a lot of different models," Pitts said. "My main factors of consideration were durability, functionality and technology. I wanted to make sure we had the best possible AED in our patrol cars and had models that will last, survive and do the job. And I found that with the Cardiac Science AED."
The AEDs cost about $1,050 each, Pitts said. 
"So this was a very large expense," Pitts said. "But how many lives are we going to save by having these in our patrol vehicles? When you break it down to that there is no price comparison."
Johnson County Judge Roger Harmon agreed.
"One life saved is worth it all," Harmon said.
The brand chosen is dependable and user friendly, Pitts said as he pointed out the indicator light on each of the units.
"The light shows green or red," Pitts said. "Green is good to go. The unit automatically runs through tests every 30 minutes checking the pads, the batteries, everything. There are pads for adults already in the unit and connected and then each unit comes with a set of child/infant pads as well.
"When I was comparing units I wanted one that was really simple to operate because that's important in an emergency and stressful situation. With this system you just look at the indicator light. You don't need to open the unit up, turn it on and run a diagnostic test at the start of your shift."
Pitts demonstrated the ease of operating the machines, which deliver audible commands in either English or Spanish. 
The machines compliment the first aid and trauma kits, which are also now in every JCSO patrol vehicle, King said.
The warranty on the machines lasts eight years, Pitts said, though they may last longer, while the batteries come with four year warranties. 
Commissioner Kenny Howell called the AEDs a common sense purchase and a win for the county.
"This was money well spent," Howell said. "This was an easy decision for me. It's not like we bought something for the sheriff's office. We bought something that's for this entire county for every citizen. Because we're almost certainly going to save some lives with these devices."
Commissioner Larry Woolley echoed Howell's sentiments.
"Our ambulance contract costs the county a lot of money," Woolley said. "What these cost is just a small piece of the pie that enhances the safety of our people. I firmly believe in the importance of these. I bought one for my house back in August after I went through CPR and AED training."
Donations needed
Zirger and Irwin said they and other association members plan to visit area organizations and groups to spread word of the need for additional AEDs for the sheriff's office. In the meantime, individuals and groups are welcome to make donations. For information on the Johnson County Sheriff's Office Citizens Police Academy Alumni Association or to make a donation, email sales@zirger.us.